Posted on
Thu, Dec 22, 2011 : 10:55 a.m.
Individual potato and Brussels sprout gratins made a special holiday side
By Jessica Webster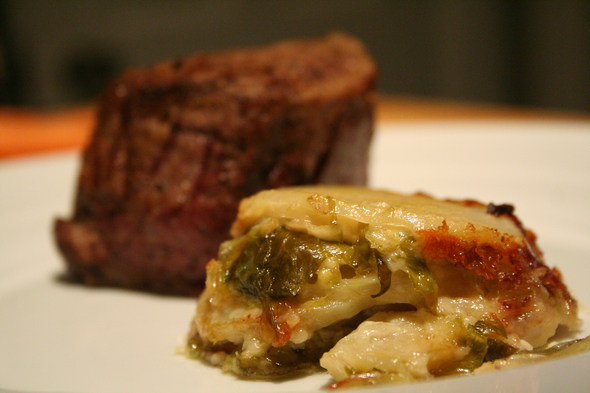 Jessica Webster | AnnArbor.com
I was talking to my favorite Produce Station clerk about holiday meals the other day, and the contortions that we go through to make each aspect of the meal special. We've got the holiday napkin rings, the holiday napkins, the water pitcher, and a rare appearance by the water glasses. We'll put together a playlist of tasteful holiday music and classic jazz. There will be a roaring fire in the fireplace and we'll be pouring some carefully chosen wine.
Oh — and the food. Yeah, Christmas dinner is all about kicking it up a notch. This is not the time for just meat and potatoes. It's time for fancy meat and fancy potatoes!
Peggy Lampman has a great (and easy!) recipe for standing rib roast that's looking mighty tempting this year. Augment that with a tasty horseradish custard, and we're halfway there.
You can doll up mashed potatoes if you're looking for something special for the holidays (try Zingerman's Roadhouse's pimento cheese mashed potatoes if you're looking for inspiration), but I'm going the au gratin route this time. Inspired by a recipe I saw on "The Next Food Network Star", I started playing around with potatoes and other ingredients to come up with a potato dish that's easy but still different enough to qualify as "fancied up."
You can make the gratins without the Brussels sprouts if you're not a fan. Just reduce the cooking time for the shallots to 2 minutes. Add the wine and cream and proceed with the rest of the recipe as written.
Individual Potato and Brussels Sprout Gratins
1 tablespoon unsalted butter
1 tablespoon olive oil
1/2 pound brussels sprouts, thinly sliced crosswise
1 large shallot, minced
1/4 cup dry white wine
1 cup heavy cream
Vegetable spray
2 large russet potatoes, roughly peeled and thinly sliced
1/2 cup grated gruyere or comte cheese
Salt and freshly ground black pepper
In a large, deep skillet, melt the butter in the oil. Add the brussels sprouts and shallot and cook over moderate heat, stirring, until softened, about 8 minutes. Add the white wine and cook until evaporated, 1 minute. Add the heavy cream, season with salt and pepper and bring to a simmer. Let cool to room temperature.
Preheat the oven to 375 degrees. Spray 12 muffin tins with vegetable spray. Position potato slices on the bottom of each muffin cup. Using a slotted spoon, spread a thin layer of the brussels sprouts over the sliced potatoes and top with a bit of grated cheese. Repeat the layers until you have reached the top of the muffin tin. Season with salt and pepper and top each gratin with 1 or 2 tablespoons of heavy cream.
Cover with foil and bake for 30 to 40 minutes, removing the foil halfway through cooking time. Remove the gratins from the oven and let them sit for about 10 minutes. Loosen the gratins by running a knife around the edges, and then invert them onto baking sheet and serve.
Jessica Webster leads the Food & Grocery section for AnnArbor.com. You can reach her at JessicaWebster@AnnArbor.com. You can also hear her spinning tasteful classic jazz and holiday music on 89.1 FM on Christmas day.