Posted on
Sun, Jan 10, 2010 : 7 a.m.
Indulging in birthday cheesecake
By Mary Bilyeu

Jeremy is 19 years old today -- my baby!!! Once he was a little bitty thing, smaller than an Easter ham; now he's 6'3" and proud of his full beard ... sigh.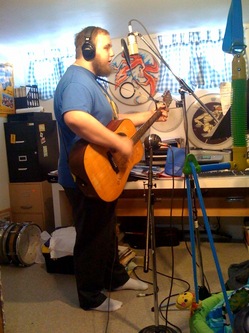 Photo taken by John Churchville, musician and mentor extraordinaire
But no matter how Jeremy may grow up and whom he continues to evolve into, one thing remains the same: the tradition of Jeremy's birthday cheesecake.
Those who actually have cheesecake recipes (most people, I've found, simply order it at restaurants) think theirs is the best recipe ... I'm here to disagree. I, in fact, have the very best one, which has been in the Bilyeu family for 50 years now.
When my ex-mother-in-law was pregnant with my ex-husband, Stuart, her first child, naturally her friends held a baby shower for her. And one of her dearest friends -- whose name I should remember, but can't, because I am eternally grateful to her every time I use this recipe! -- brought cheesecake for dessert. Everyone loved it and asked if she would share the secret, which she gladly did. (Aside: one of my most significant pet peeves is people who won't share recipes. Each time I make a recipe given to me by a friend, I feel a bond and remember that person so fondly! And if someone doesn't share a recipe -- planning to pass it along to a daughter, perhaps, but not to anyone else -- it may eventually die with them. Why not share it with people who appreciate it, spreading joy in the universe and in others' lives???)
Anyway, once Stuart and I became engaged, his mother invited my parents and me over for dinner so that the families could get to know each other. And she served this cheesecake, which -- as always -- was a huge hit. I asked for the recipe, so that I could continue the family tradition of baking it for special occasions ... and she actually shared it with me! (Suffice it to say that this was a surprise ....) I have, however, tweaked the recipe ever so slightly over the years. The original version has an amazing flavor, but it produces a dessert with an almost pudding-like consistency. I grew up in New York City -- there is only one kind of cheesecake, and it is drier and more firm rather than creamy. The secret is to turn off the oven and to let the cheesecake rest for a bit before refrigerating it.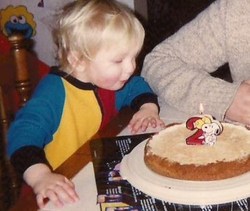 Mary Bilyeu, Contributor
Every year since he was 2, Jeremy has asked me to bake a cheesecake for his birthday. (He often thinks that he should vary his choice, but inevitably tradition reigns.) That year, we had planned to have a family birthday party; however, one of the risks of being a Capricorn in Michigan is that snow will intrude on any plans you might make. A foot of snow fell on Jeremy's 2nd birthday, preventing anyone from coming out to our house; Jeremy didn't know the difference -- he simply took all the giant Tonka trucks he'd been given and spent hours playing in the snow! And Stuart, Jeremy and I spent the rest of the day gorging on cheesecake ... we were very happy gluttons.
And so, A VERY HAPPY AND HEALTHY BIRTHDAY TO MY BELOVED JEREMY!!! You have to at least share a little bit of your cheesecake, to thank the woman who not only baked it, but who is going to spend the rest of her life making you feel guilty for torturing her through 17 hours of labor before you showed up to stick your tongue out at her in defiance ... :)
Photo taken by Stuart Bilyeu, proud father
Jeremy's Birthday Cheesecake
Crust:
1-1/4 cups graham cracker crumbs (from 16 squares -- not rectangles) 1/4 cup sugar 1/4 cup melted butter
Preheat oven to 375 F. Grease a 9" springform pan. Mix ingredients with a fork until well blended, then pour into the pan. Press crumbs against the sides of the pan, then be sure to cover the entire bottom with crumbs, pressing the crumbs to help them adhere. Refrigerate crust while preparing filling.
Filling:
1 pound (2 8-ounce packages) cream cheese, at room temperature 1/2 cup sugar 2 eggs 1 teaspoon vanilla extract pinch of salt
Place all ingredients into a large mixing bowl, and beat well with an electric mixer. Pour into the crust and bake for 20 minutes. Remove from the oven and let stand on a rack for 20 minutes. Raise the oven temperature to 475 F.
Topping:
1 pint sour cream 1/4 cup sugar 1 teaspoon vanilla
Place all ingredients into a small mixing bowl and combine thoroughly. Carefully pour the topping over the filling, then bake for 10 minutes. Turn off the oven and open the door slightly; leave the cheesecake in the oven to set for 30 minutes. Remove the cheesecake from the oven and refrigerate it for several hours or overnight before cutting.
Note: You may try making this with low-fat ingredients, which I have never done and cannot vouch for. It's cheesecake -- eat it in all its sweet and fattening glory, to nourish your soul without compromise!!!
Mary Bilyeu has won or placed in more than 60 cooking contests and writes about her adventures as she tries to win prizes, feeds hungry teenagers and other loved ones, and generally just has fun in the kitchen. The phrase "You Should Only Be Happy" (written in Hebrew on the stone pictured next to the blog's title) comes from Deuteronomy 16:15, and is a wish for all her readers as they cook along with her ... may you always be happy here!
You can contact Mary at yentamary@gmail.com.