Posted on
Wed, Aug 21, 2013 : 4:22 p.m.
Late summer cocktails: What are your favorites?
By Jessica Webster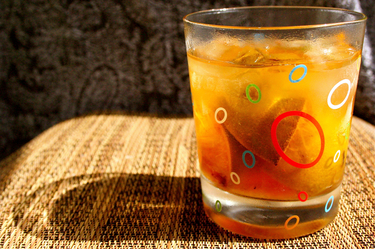 Jessica Webster | AnnArbor.com
I invited my friend Jen over for an after-work drink tonight, with the promise that we'd invent some new
cocktails
. Inventing new cocktails sounds like fun, right? We'll just mix up some alcohols with some herbs and maybe muddle in some seasonal fruits.
And then I remembered the last time I invited a friend over to invent some new cocktails. We ended up with a bunch of glasses of very strong cough syrup-tasting concoctions. Clearly, some better planning is in order.
I've posted recipes for a couple of my favorite summer sipping cocktails on AnnArbor.com in the past, and they're definitely contenders for tonight's gathering. I'm a big fan of the classic Brazilian caipirinha, especially when the limes are caramelized on the grill, and Italy's beautiful negroni is a favorite standby in my house.
Today, though, I'm scouring the Internet for interesting seasonal cocktail recipes. Esquire's Eat Like A Man food blog has a slideshow of late summer cocktails that includes Paul King's Porch Swing, a tequila drink with watermelon and thyme.
Serious Eats has a list of 5 Drinks to Toast Summer's Twilight, including the Philly Smash, made with rye and muddled berries.
What's your favorite summer cocktail? What do you like to sip while lounging on the front porch during the waning days of summer?
Jessica Webster leads the Food & Grocery section for AnnArbor.com, a part of the MLive Media Group. Reach her at JessicaWebster@annarbor.com. You also can follow her on Twitter or subscribe to AnnArbor.com's email newsletters.