Posted on
Wed, Dec 30, 2009 : 8:29 a.m.
McLaughlin Farm - home of Highland cattle
By Corinna Borden
In my Farm to Fork series I visit local farms around Ann Arbor and share what I learn.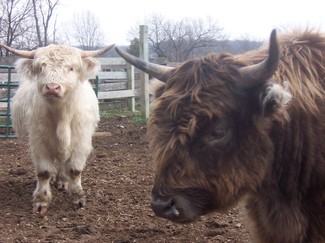 Corinna Borden | Contributor
John and Cathie McLaughlin, of
McLaughlin Farm
, are mainstays of the
Westside Farmers' Market
and the
Okemos Market
. This past summer, I was lucky enough to take home one of their steaks for my grilling husband to throw onto the fire. The grass fed
Highland Beef
was saturated with flavor with a captivating almost gamey depth.
Six weeks ago I was reading the Arbor Brewing Company menu when my eye was snagged by a box outlining the local farms they support. Lo and behold! McLaughlin Farm supplies the meat for the hamburgers as one of their natural, organic, local suppliers. Time to visit the farm!
McLaughlin Farm has been home to cows for a long time. John McLaughlin's grandparents purchased Sharpe's Dairy farm in 1932. Cathie and John McLaughlin purchased the land in 1980. Over the next 15 years they used the remaining barn and intact land to raise cattle (Holstein crosses, Angus, Herford, among others), sheep, turkeys, chickens, and rabbits. The whole family participated in 4-H and agricultural fairs.
The McLaughlin's were introduced to the shaggy, docile, and social Highland cattle at the end of the 1990s at agricultural fairs. "Our daughter liked them, she was the reason we investigated them. They do well in a cold climate, they are good on grass, fairly sociable, and easy to raise."
Highland cattle come from Scotland and were registered in the first American herd book in 1884. The McLaughlins raise steers (castrated males) that they purchase from Lea White Farms (located in Charlotte) until they weight about 1100 pounds, "you would not want a steer much bigger than that because they will be really fat." They are raised on grass and they live outside all year long. Protected by their thick hides and shaggy fur, the cattle will huddle at the tree line during the bitter winter days.
During the winter the cattle eat bales of hay that John McLaughlin deposits throughout the fields. In the summer they use a rotation system so the steers do not overgraze the area of extant alfalfa and reseeded clover and perennial rye. "There is a lot of work that goes into the fields," he says with a smile. Highland cattle like to browse the bushes when given a chance and will clean up debris, a rarity for their class of ruminants.
McLaughlin agrees with Michael Pollan about the difficulty of being a small producer. "If I have a whole bunch of roasts left over from the summer farmers markets, what am I supposed to do with them in the winter?" Until our culture wholeheartedly embraces nose to tail eating (as espoused by Fergus Henderson) the answer lies in freezers. McLaughlin Farm rents space in the same industrial size freezers used by the Locavorious CSA. His description is captivating: "It is a huge place. Trainloads of food go in there, semis constantly coming and going. It is unbelievable."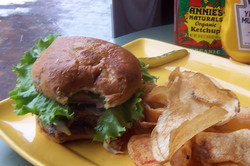 Corinna Borden | Contributor
What was unbelievable to me was the serene countenance and peace surrounding the Highland steers staring at me as I stood by the gate. It was a meditative experience watching them chew, chew their cud.
Chew, chew
.
A few days later I was chewing away at a burger at Arbor Brewing Company courtesy of one of their companions. My memory of the steak from the summer was not disappointed. There was still a depth to the meat that tasted more of wild plains than domesticated barns. The grass had done a good job.
The Farm to Fork series focuses on local farms around Ann Arbor. If you would like me to visit your farm drop me a line and say hello. You can also check out my website!