Posted on
Thu, Mar 15, 2012 : 7:53 a.m.
Meatball subs make great 'planned-overs'
By Jessica Webster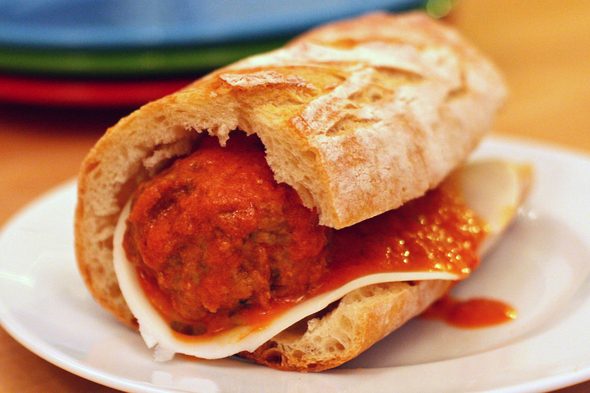 Jessica Webster | AnnArbor.com
My mother always used to tell us that she loved to cook, but figuring out what to cook could drive her crazy. I can identify. When cooking for two adults and a child, it can be a struggle to present a diverse menu that appeals to everyone.
When I do find a dish that everyone loves, it goes into regular rotation. I make spaghetti and meatballs — one of my son's favorite meals — at least once a month. The recipe serves 6 or more easily, so we often find ourselves eating leftovers for lunch and/or dinner for several days in a week.
To keep things interesting, and to keep us from getting bored with a beloved meal, I've been looking for ways to extend favorite dishes while changing them up a little. Macaroni and cheese can go from a centerpiece of a meal one day to a side dish the next. And spaghetti and meatballs can easily morph into a delicious meatball sub.
The key to a good meatball sub is a crusty baguette, a perfectly browned and seasoned meatball, and a smooth, creamy sauce. For the bread, I chose a Zingerman's city baguette. Wider and with a softer interior than the French baguette, it makes a great sandwich bread.
For the sauce, I stuck with a long-time favorite. I've shared Marcella Hazan's very simple tomato sauce with butter and onion in a past column, though I find myself deviating slightly from her 3-ingredient recipe on occasion, adding a few garlic cloves (I can't help myself!) and a half cup of cream.
I've also been tinkering with my meatball recipe for the last few years. The original recipe is from Bon Appetit, and I still love how moist the milk-soaked bread makes these meatballs. I've gone from a straight ground-sirloin meatball to a mixture of ground pork and 85 percent lean grass-fed ground beef.
I served meatball subs with steamed broccoli for a recent weekend meal. Rather than turning his nose up at leftovers, my son gobbled down his food and urged me to open my own restaurant. It's nice to be appreciated.
Classic Meatball Sub
Meatballs
3 slices Italian bread with crusts
approximately 1 cup milk
1 1/2 pound ground sirloin
1/2 pounds ground pork
1/4 cup grated Parmesan cheese
2 large eggs
1 tablespoon minced fresh Italian parsley (or about 1 1/2 tsp of dried parsley)
1 large garlic clove, minced
1/2 teaspoon salt
1/4 teaspoon freshly-ground black pepper
Preheat oven to 375 degrees. Place bread in medium bowl; cover with milk. Let stand until bread is soft (about 10 minutes.) Combine meat in large bowl. Mix in cheese, eggs, parsley, garlic, salt and pepper. Squeeze bread almost dry and discard the milk. Blend bread into meat mixture. Shape mixture into (approximately) 24 medium-sized meatballs. Place meatballs on a greased broiling pan and bake for 20 minutes, turning once about halfway through. When done cooking, add the meatballs to your favorite tomato sauce (I love Marcella Hazan's very simple tomato and butter sauce.) Serve it over pasta, and then reserve the leftovers for meatball subs.
For the subs
8 slices provolone cheese
1 fresh baguette, cut into 4 sections
Slice the baguette sections in half lengthwise and carefully hollow them out, cutting out excess bread from the inside of the loaf to make room for filling.
Layer two slices of provolone cheese on each section of the baguette. Then carefully spoon three meatballs and a few spoonfuls of sauce on each sandwich. Top with red chili flakes and freshly grated parmesan cheese if desired. Make sure to provide extra napkins!

Jessica Webster leads the food section for AnnArbor.com. You can reach her at JessicaWebster@AnnArbor.com.