Posted on
Fri, Mar 22, 2013 : 4:41 a.m.
Mediterranean Appetizer Platter - perfect accompaniment for roast lamb
By Peggy Lampman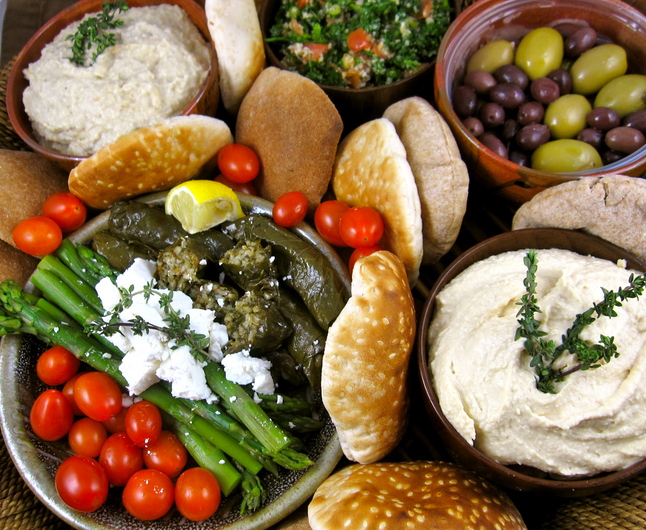 Peggy Lampman | Contributor

My dinnerFeed web site is a lean, mean fighting machine! To receive my lastest dinnerFeed posts by email, sign up here.
I threw this platter together in 15 minutes. If I'd made the items from scratch, it would have taken hours, but with so many great Middle Eastern delis and restaurants in our area, not to mention the containers of Mediterranean pre-packs lining grocery cooler's shelves, why bother if time's an issue.
Usually I let the Mediterranean Market do the work for me, as they make these items from scratch. Roast lamb would be a welcome accompaniment to the healthy platter.
Don't forget the pita, which is baked fresh in their open hearth ovens. Purchase a bag of warm whole wheat and another bag of sesame pita, and finish your feast with their delicious baklava.
Time: 15 minutes to assemble
Yield: 6 servings
Ingredients
8 ounces prepared hummus
8 ounces baba ganoush
8 ounces assorted Mediterranean olives
8 ounces tabouli
12 grape leaves
12 asparagus spears, blanched
1 pint cherry or grape tomatoes, washed
8 ounces feta, cubed
Pita bread for dipping
1 English cucumber, washed and sliced, for dipping
Instructions
1. Fill small bowls with hummus, baba ganoush, olives and tabouli.
2. Arrange grape leaves, asparagus and cherry tomatoes on a small platter; garnish with feta cubes. Serve with pita and cucumber slices.
Peggy Lampman is a real-time food writer and photographer posting daily feeds on her website and in the Food & Grocery section of Annarbor.com. You may also e-mail her at peggy@dinnerfeed.com.