Posted on
Tue, Feb 5, 2013 : 4:50 p.m.
Nutella cocoa for World Nutella Day
By Mary Bilyeu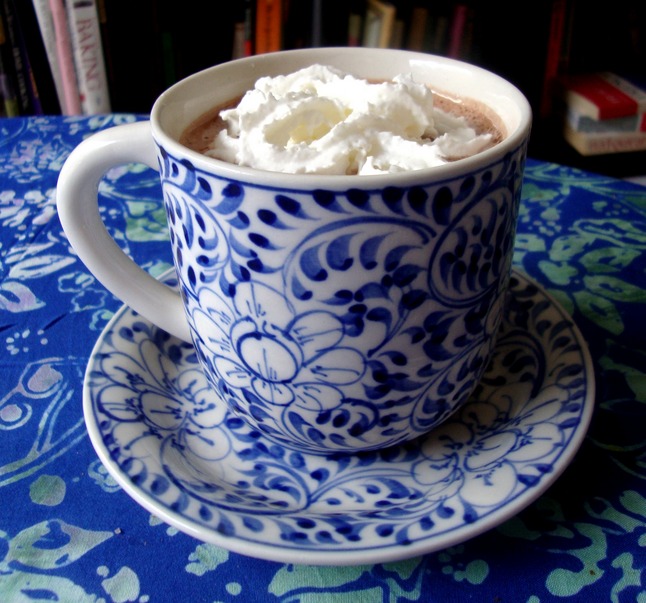 Mary Bilyeu | Contributor
It's
World Nutella Day
— yay!
I debated whether to make a cake and stir Nutella into the frosting, as Jeremy suggested, or whether to bake some cookies or try to devise some other sort of newfangled recipe.
But we all know that while baked goods and other treats made with Nutella are fabulous, really, all anyone actually needs is a jar and a spoon. So why complicate your life?
I decided to just prepare a simple cup of rich cocoa, and stir in some Nutella to make it even more seductively sublime.
But if you'd like to complement your cocoa with still more Nutella, here are some other recipes to choose from:
Peanut Butter Pancakes with Nutella Sauce
Banana Nutella Cake with Coffee Glaze
Krispy Kreme Peanut Butter Dream Sandwich
Chocolate Cake with Nutella Buttercream Frosting
Nutella Cocoa (adapted from a recipe for Hershey's cocoa)
4 tablespoons sugar
2 tablespoons cocoa powder
6 tablespoons Nutella
2 cups whole milk
whipped cream, for serving
Divide sugar, cocoa powder, and Nutella among two mugs. Heat the milk in a small saucepan until it's very hot and small bubbles appear around the edge. Slowly pour the milk into each mug, stirring with a fork to combine the ingredients well. Top with whipped cream, if desired.
Makes 2 very rich servings.

Mary Bilyeu writes for AnnArbor.com on Tuesdays, Wednesdays, and Fridays, telling about her adventures in the kitchen - making dinner, celebrating holidays, entering cooking contests, meeting new friends ... whatever strikes her fancy. She is also on a mission to find great deals for her Frugal Floozie Friday posts, seeking fabulous food at restaurants on the limited budget of only $5 per person. Feel free to email her with questions, comments, or suggestions: yentamary@gmail.com.

Go visit Mary's blog — Food Floozie — where she enthuses and effuses over all things food-related; and look for her monthly articles in the Washtenaw Jewish News. "Like" her on Facebook, or send a tweet on Twitter, too.

The phrase "You Should Only Be Happy" (written in Hebrew on the stone pictured in this post) comes from Deuteronomy 16:15 and is a wish for all her readers - when you come to visit here, may you always be happy.