Posted on
Tue, Feb 16, 2010 : 7 a.m.
It's Mardi Gras day!
By Mary Bilyeu

Paczki
are not the only things available on today's pre-Lenten menu, even if they are a requisite item. If we're going to indulge (and even though I won't be giving anything up for Lent, I'm still happy to participate in the revelry today),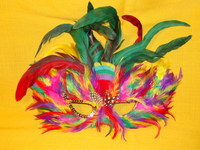 why not do it right?
Paczki for breakfast (be sure to buy the really authentic ones - including plum and rose fillings - from
Copernicus
, the Polish market at 617 S. Main), and then a "Nawlins"-style dinner … just without the parades and
krewes
and drunkenness and having to find a place to pee. (Take a few moments to listen to Benny Grunch's classic song - albeit with a stupid video -
"There Ain't No Place To Pee On Mardi Gras Day"
.)
But what to serve from this amazing tradition? I'd already made gumbo and bread pudding - both Louisiana classics - with my Thanksgiving leftovers. Po' Boys? Beignets? Red beans 'n' rice is traditionally served on Mondays, because it could be left to simmer on a back burner on laundry day. Even in the immediate aftermath of Katrina, pots of the dish were cooked simply because, as one resident said, "It's Monday, darlin'." (See the New York Times article I read this in, about efforts to return to normalcy after the hurricane.) And then I thought of a sausage and rice dish I hadn't made for decades.
My mother taught me the very basics of cooking, but for the most part I am self-taught. When I was in college, I started taking cookbooks out of the library and watching cooking shows on PBS (which is still the only place to watch cooks, rather than those who build Disney princess cakes or who mix Ritz crackers with mayonnaise on the so-called Food Network). And little by little I tried, I tinkered, I tasted.
One of my favorite shows featured Justin Wilson, a Louisiana-born humorist, storyteller and cook. His down-home folksy style was endearing, and his tales were always entertaining, particularly told with his very distinctive drawl. He never made anything terribly fancy or intimidating, just things that looked really good! And one of them was a very simple dish of Andouille sausage cooked in a mixture of white wine and Creole mustard, served over rice.
I added vegetables for color and for nutrition. I used chicken stock rather than wine, because all of the alcohol doesn't burn off and there was a concern among my guests about ingesting any. And I served the sausage over brown rice for health reasons, as well. But the recipe is still true to Louisiana and, especially, to the memory of Justin. To use his catch phrase, you will love this dish, "I gahr-OHN-tee!"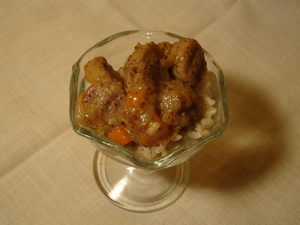 Mardi Gras Sausage and Rice
1 tablespoon bacon fat
2 tablespoons oil
2 large garlic cloves, minced
1 large onion, chopped
2 large carrots, peeled, diced
1 pound Andouille sausage, sliced thin
1-1/2 teaspoons kosher salt
1/4 teaspoon lemon pepper
generous sprinkling of Creole seasoning
3 tablespoons Creole mustard
1-1/4 cups chicken stock
generous splashes Tabasco sauce
1 tablespoon cornstarch
2-1/2 cups water
pinch of salt
3 cups instant brown rice
Heat bacon fat and oil in a 10" skillet over medium heat. Add garlic, onion and carrots; cook 8-10 minutes, stirring frequently, until onions are translucent and carrots are tender. Add sausage and cook just until browned. Add salt, pepper, Creole seasoning, mustard, stock and Tabasco; bring to a boil over high heat, then lower heat to medium. Cook 5 minutes, stirring occasionally; place cornstarch into a small dish and take 1/4 cup of the sauce (without sausage or vegetables) and add to cornstarch; stir this mixture back into the sauce. Stir well, and continue cooking for 10 minutes until sauce is thickened.
Meanwhile, bring water and salt to a boil in a medium saucepan; stir in rice, cover saucepan, and lower heat to simmer. Cook for 15-20 minutes until water is absorbed and rice is tender.
Serve sausage over rice, and laissez les bons temps roulez!
Mary Bilyeu has won or placed in more than 60 cooking contests and writes about her adventures as she tries to win prizes, feeds hungry teenagers and other loved ones and generally just has fun in the kitchen. The phrase "You Should Only Be Happy" (written in Hebrew on the stone pictured next to the blog's title) comes from Deuteronomy 16:15, and is a wish for all her readers as they cook along with her ... may you always be happy here!
You can contact Mary at yentamary@gmail.com.