Posted on
Sat, Nov 28, 2009 : 11:45 a.m.
Transforming Thanksgiving leftovers
By Mary Bilyeu

I am a huge fan of leftovers! If I liked something once, I will happily eat it again; but I can also be creative and transform the food into something completely new, thus preventing boredom from déjà  vu all over again. I haven't yet eaten a turkey sandwich, which is a beautiful and underrated treat, though Jeremy has done his part in that area to compensate for my negligence. Rather, for this year's post-holiday food fest -- in which it seems I've done as much cooking as I did for Thanksgiving itself! -- turkey and vegetables contributed to a rich
gumbo
, bread was immersed in custard and became a pudding,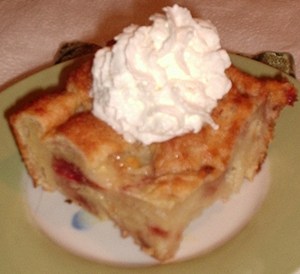 Mary Bilyeu, Contributor
and cranberry sauce became the filling for a cookie … how fabulous is that??? I still have plans for a pumpkin risotto, too, which might have some leftover mashed yams stirred in as well if nobody beats me to them. And a turkey curry (Indian cuisine being a huge favorite of mine) might still show up on a menu at some point.
I can't really offer a recipe for the gumbo because it involves a spoonful of this, a dash of that, and "This isn't spicy enough, where's the Tabasco?" Making gumbo is an artistic endeavor, rather than a scientific one with precise measurements.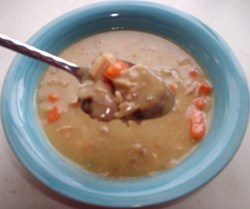 Mary Bilyeu, Contributor
The basic premise involves cooking some fat (oil, butter, or turkey
schmaltz
) with flour to make a
roux
that thickens the soup, slowly whisking in stock, adding vegetables and chopped turkey and sausage and spices, then letting it all simmer into a beautiful bowl of comfort food. The preferred sausage is a zesty
Andouille
; and if you've got some
filé powder
(ground sassafras) for authentic flavor, that makes it all the better!
Bread pudding is one of my very favorite foods, and I make many variations -- some with flavored instant cocoa and chocolate chips stirred into the custard for extra richness, some just plain and beautiful in their simplicity.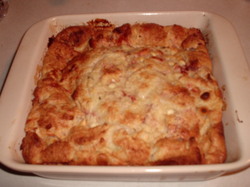 Mary Bilyeu, Contributor
For a potluck we went to on Thursday night, Jeremy and I brought one that had been made with a loaf of Strawberry-White Chocolate bread from the Stone Hearth Breads and Bakery table at the
Ypsilanti Winter Farmers' Market
. Served warm with a dollop of whipped cream … sigh. It makes me smile just to think about it!
Finally, I started my Christmas baking by using up the leftover cranberry sauce.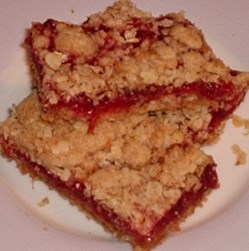 Mary Bilyeu, Contributor
Every year, I make 15-20 varieties of cookies for giving to friends, family and other loved ones. In order to accomplish this, I start early and take advantage of the freezer in my basement to bake at my convenience and then store everything until it's time to defrost, decorate and distribute. To put the cranberries to another use besides just acting as a condiment, start with a simple shortbread-based crust, spread the gorgeous sauce to serve as the filling, and top with more of the base mixture to serve as a streusel topping … it's that easy!
If your Thanksgiving meal was wonderful, you can either look forward to repeats of the same fabulous food, or you can transform your leftovers into ingredients for new variations ... either way, there are many delicious meals awaiting you!
Basic Bread Pudding
3 large eggs 1/4 cup confectioners' sugar 1/4 cup brown sugar 1-1/2 cups half-and-half 6 thick slices of bread, cut into 1-1/2" to 2" pieces 1/2 cup chocolate chips or white chocolate chips, optional
Preheat the oven to 375° F. Grease an 8"x8" glass baking dish.
In a large mixing bowl, whisk together the eggs, confectioners' sugar, and brown sugar; slowly whisk in the half-and-half. Place the bread into the custard, and press down to immerse the bread as much as possible. Let the bread soak in the custard for 15 minutes, then stir in chocolate chips (if using them). Pour the mixture into the prepared pan, and bake for 45 minutes or so until the pudding is puffed and golden brown and a knife inserted into the center comes out clean. Let the pudding rest for 5 minutes, then serve warm with whipped cream or ice cream.
(If you want to flavor the custard with cocoa, use a 1-1/4 ounce packet of any flavor and whisk it in after adding the half-and-half. Many grocery stores sell either variety packs or individual packets of cocoa.)
Cranberry-Oat Bars
I'm not sure where the original recipe (which I've tweaked) came from; but the format looks remarkably like that of our late Ann Arbor News.
1/3 cup sugar 2/3 cup brown sugar 1-3/4 cups flour 1/2 teaspoon baking soda 1/2 teaspoon kosher salt 1 teaspoon cinnamon 1/2 cup butter, softened 1/4 cup shortening 1-1/2 cups quick-cook oatmeal 2 cups whole berry cranberry sauce
Preheat oven to 350° F. Grease a 9"x13" baking pan.
In a large bowl, combine sugar, brown sugar, flour, baking soda, salt and cinnamon. With a pastry cutter or your fingers, mix in the butter and the shortening until the mixture is crumbly. Stir in the oatmeal, then scoop out 1 cup of the mixture and set it aside.
Press the rest of the oatmeal mixture into the prepared pan, and bake for 10 minutes. Carefully spread the cranberry sauce over the base, then sprinkle the reserved oatmeal mixture over the cranberry sauce. Bake for 40 minutes until the edges are golden brown. Let cool.
Trim 1/4" off the edges, then cut the cookies into 4 columns by 6 rows to make 24 cookies.
Mary Bilyeu has won or placed in more than 60 cooking contests and writes about her adventures as she tries to win prizes, feeds hungry teenagers and other loved ones, and generally just has fun in the kitchen. The phrase "You Should Only Be Happy" (written in Hebrew on the stone pictured next to the blog's title) comes from Deuteronomy 16:15, and is a wish for all her readers as they cook along with her ... may you always be happy here!
You can contact Mary at yentamary@gmail.com.