Posted on
Wed, Nov 2, 2011 : 4:49 a.m.
Northern India Cooking Class; Lesson 2: Cauliflower (Phool Gobi)
By Peggy Lampman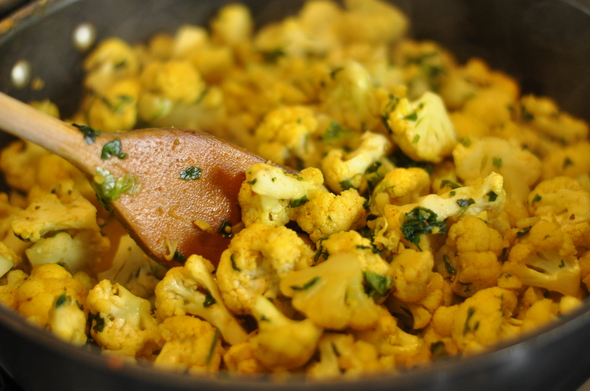 Peggy Lampman | Contributor

Note: This is the second of seven recipe installments, which compose a classic Northern Indian Feast. Fine Indian cuisine is not noted for its brevity. The good news is that each of Achla Karnani's recipes may be made well in advance, then reheated prior to serving. Or divide the recipes amongst your friends, staging your own Indian Feast pot luck. All spices and dry ingredients are available at Bombay Grocers on Packard.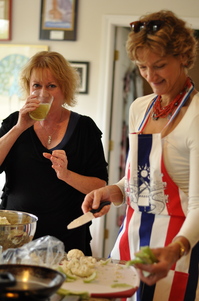 "My mom is a perfectionist with a heart of gold; she makes the best cauliflower, and this is her recipe."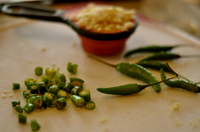 This recipe calls for lots of ginger and ajwain (bishop's weed or carom seed). Achla tells me both are anti-gas agents and often used (with vegetables and beans) in Indian cooking, for foods hard to digest.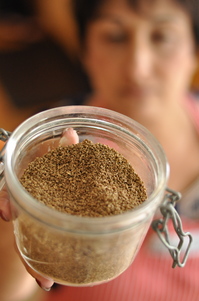 Traditionally, when making northern Indian variations of cauliflower, the lid is sealed when cooking by wrapping a strip of dough around the seam, so no steam escapes while cooking. When cooking Chicken Biryani, which I'll explore in Thursday's post, this technique (dum style) is often used as well. Ashla omits this step (thankfully!) and says to use a pan with a tight fitting lid, or cover the pan with foil before you put the lid on.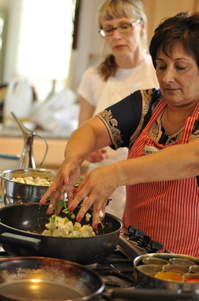 We're in the middle of cauliflower season, and this recipe is a magnificent way to celebrate the bounty. I would be happy with a dish of this, simply served with a bowl of rice.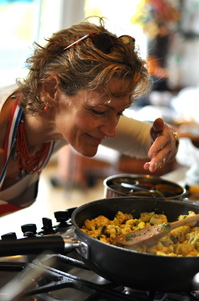 Yesterday I made a
Green Tomato Curry
, and through the middle of next week, I will submit postings for Dal (Black Lentil Puree), Chicken Briyani (in tomorrow's paper, as well), Cucumber-Tomato Salad, Meatballs and Chapati. If you're a fan of the kaleidoscopic cuisine of India, particularly Northern India, you may be interested in following them.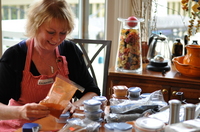 Yield: 1 of 7 recipes comprising an Indian Feast to serve 16.
Make ahead tips: Can be cooked up to 48 hours in advance to serving. If making in advance, cook cauliflower just until medium firm. Then, when ready to serve, heat until tender.
Ingredients
2 medium-sized white cauliflower heads, with green leaves intact
2-6 green Thai chilis*
4 tablespoons canola oil
1 teaspoon carom seeds (ajwain)
1/4 cup finely chopped ginger
4 tablespoons canola oil
2 teaspoons garam (gurum) masala (gurum means hot but doesn't mean its temperature or chili hot - it means it warms you.)
1-2 heaping teaspoons turmeric
1/2 teaspoon ground Indian red chili pepper
1 cup chopped cilantro
*2 peppers will add mild heat, each pepper adding incremental levels of heat. We used 5 chili peppers, which was too spicy for some, but perfect for me. The dish was hot but not "Indian hot". Achla would have preferred adding more.
Directions
1. Remove florets from cauliflower and cut into bite-sized pieces. Remove rib from leaves and cut into ribbons. Place cauliflower and leaves in a large pot of water.
Wearing plastic gloves and with a sharp knife, chop chilis and discard stem (remove seeds if you prefer less spicy food).
2. In a large pan with a 2-inch lip or wok, heat oil to high heat. Add ajwain, chilis and ginger. (Avert face or use a splatter guard.) Once it begins to sputter, add cauliflower, allowing some of the water the cauliflower was soaking in into the sauté pan. Stir in the garam masala, 1 teaspoon of the turmeric, chili pepper; add kosher salt to taste. Add additional turmeric until the cauliflower is a deep yellow color, if necessary.Reduce heat to low and cook, uncovered, 20 to 30 minutes, occasionally stirring, or until cauliflower is tender but not falling apart. Sprinkle with cilantro prior to serving.
My new web site (packed with holiday recipes) is coming soon! But in the meantime, If you're looking for a specific recipe, click here for dinnerFeed's recipe search engine; type the recipe or ingredient into the search box. I am a real-time food writer and photographer posting daily feeds on my website and in the Food & Drink section of Annarbor.com. You may also e-mail me at peggy@dinnerfeed.com.