Posted on
Thu, May 26, 2011 : 4 p.m.
Delicious juicy grilled blueberry burgers
By Peggy Lampman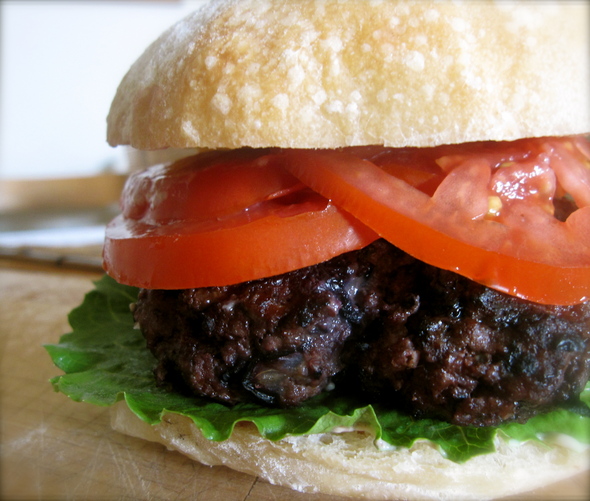 Peggy Lampman | Contributor

Peggy Lampman's Thursday dinnerFeed
It's interesting to contemplate those life-defining moments that may have influenced one's destiny: Falling in love, having a child, receiving the Nobel Peace Prize. Sinking my teeth into a hamburger was one of my life-defining moments.
The year: 1976. The place: Del Rio Bar on Liberty; Ann Arbor, Mich. The meal: A Det Burger.
I was a junior at Michigan; potential career directions were like arrows pointing every which way, including backwards. I was seeking guidance... a sign... (remember it was the 70s), which would inspire my next step. Oddly, it wasn't a professor that showed me the light, but a burger.
It happened one evening while salivating over a townie favorite steamed in beer — bits of mushroom, olive and gooey cheese dribbling down my chin. It was in that moment I wondered: could eating be a considered a legitimate vocation?
Fast forward to 2011. I'm grilling burgers and eating (yes, it turned into a vocation) in Ann Arbor (yes, I'm still here) with my uber-health-conscious husband, Richard. But the burgers we're making are not Det Burgers, not by a long shot.
Today's burger recipe uses sustainable, grass-fed, lean ground beef. The juiciness in the recipe is not from the beefy fat, butter and heavy cream as is found in a classic Det, but from anti-oxidant rich blueberries. Consummate local food-lover, Wendy Williams, who also adds a bit of Lenawee Steak Sauce to the grinds in the recipe, gave me the idea.
Was it good? Yes. It was good, and the berries did lend a fresh, juicy bite. Was it as good as a Det Burger? Well — no. My husband, however, disagrees. Vehemently. "This burger's delicious. Think of your heart; think of your arteries! I'd prefer not having heavy cream and fatty mystery meat in my burgers."
He's got a point about the meat. I'm a rare to medium-rare kind of a woman, and the less cooked the burger, the more I want to know the beef's origins — especially with grinds, which may comprise a variety of feed-lot trims cut up from whatever. Was it possible to get that sought-after fat (20 percent) to lean (80 percent) meat ratio for the perfect burger in a grass-fed grind? I asked a local expert.
Arbor Farms'' Robert Cantelon offers a 100 percent Michigan Grass-fed Ground Beef (80 percent lean) at $3.99 per pound.
"This has a similar fat content to a ground chuck, which is what would make the best burger. We also carry a 94 percent extra lean ground sirloin at $4.99 per pound. This is a bit too lean for great burgers. Because we primarily use beef from Lamb Farm, we have enough trim product to sell a single-source, all-Michigan grass-fed ground beef — not the bad-stuff of documentaries."
What about the other ingredients? Chef Rebecca Wauldron, director of prepared foods for Plum Market, has plenty to say on the subject.
"My philosophy of burgers is simple — get a good grind, season it and don't mess with it. I prefer using a ground chuck (both bison and beef) for burgers on the grill. The fat content gives it perfect flavor and texture. Keep in mind that bison and Piedmontese beef are naturally lower in fat than standard beef, so you don't want to cook them as long."
"Less fat means that the individual muscle fibers are not as insulated from the heat; thus leaner grinds will cook faster and dry out quicker," she continued.
I mentioned my addition of blueberries to inject juiciness to lean grinds to Chef Rebecca. "A lot of the fat actually drips off during the grilling process, so I don't feel the need for a leaner grind." (Hear that, Richard?)
The ever-expanding People's Coop also carries frozen grind options in one-pound packages, one of which is grass-fed, pasture-raised ground beef from AppleScrhram Orchard in Charlotte, Mich.
I've been having difficulty locating grass-fed bison of late. Chef Rebecca tells me bison is most sought after and very hard to get right now. Demand has soared faster than the animals can grow. At the moment, Bob Sparrow of Sparrow Meats carries frozen ground bison.
Back to that life-altering Det Burger experience. Since the 70s, this burger has been immortalized by Food Network star, Sarah Moulton. Sarah Moulton's first job was as a cook at the Del Rio in the 70s.
Another bit of trivia to contemplate: did the Food Network super star make that life-altering burger I devoured? Strange days, indeed.
Note: Sadly, Del Rio shuttered its doors several years ago. Don't despair! Jessica Webster recently wrote an extensive article on other excellent burgers to be had in our fair city.
Yield:Â 3-4 burgers (depending on burger size)
Prep Time: 5 minutes
Grill Time:8-12 minutes
Ingredients:

2 teaspoons finely minced shallot or onion
1 pound of your favorite grind
1/4 teaspoon kosher salt
1/4 teaspoon freshly ground pepper
1/3 cup chopped blueberries
3-4 artisan hamburger buns or
ciabatta bread, sliced horizontally if whole*
3 tablespoons Dijon mustard
3 tablespoons Hellman's mayonnaise
Romaine or other leaf lettuce
Sliced tomatoes
*If using a lean grind (anything higher than 80 percent lean) in the following recipe, I'd recommend purchasing a freshly baked ciabatta bun. It's out of the oven flavor has a wonderful "chew" and absorbs juices- the perfect housing for this scrumptious, if slightly messy, burger. The berry juices would saturate a fluffy, light pillow type of bun.
Directions:
1. Prepare gas or charcoal grill to medium-high heat .
2. Combine shallot or onion, grind, salt, pepper and blueberries. Form into 3-4 patties.
3. Oil grill grates and carefully place burgers on your grates. If using a lean grind, handle with care: These burgers are a bit more fragile than their fatty brothers!
4. Grill 3-5 minutes on each side, or until desired doneness. (For lean grinds, cooking to well-done is not recommended.) Meanwhile combine the Dijon and mayonnaise.
5. Spread the Dijon-mayo on the cut side of each bun half. Arrange lettuce and tomatoes on buns and tuck burgers in-between.
Looking for a specific recipe? Click here for dinnerFeed's recipe search engine; type the recipe or ingredient into the search box. I am a real-time food writer and photographer posting daily feeds on my website and in the Food & Drink section of Annarbor.com. You may also e-mail me at peggy@dinnerfeed.com.