Posted on
Thu, Jul 15, 2010 : 10:30 a.m.
The quest for the best burger in Ann Arbor - what's your favorite?
By Jessica Webster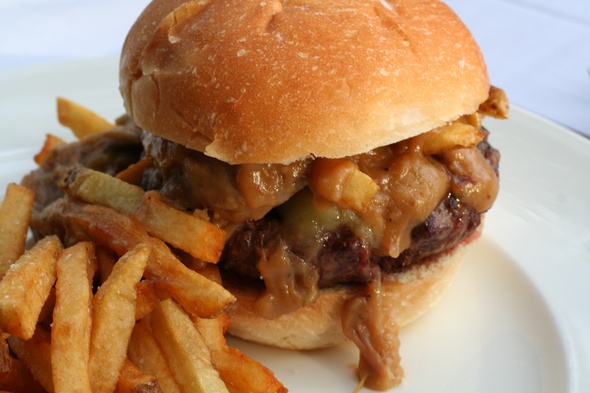 Jessica Webster | AnnArbor.com
I was looking through the pictures on my camera the other day, and realized that I take a lot - I mean a lot - of pictures of hamburgers. This led to two epiphanies. First, I realized that this burger eating might be one of the reasons that all my trips to the gym aren't budging the scale, but that's a tale for another time. The
other
epiphany I had while looking through my phone pictures is that I appear to be on a quest to find the best hamburger in Ann Arbor.
Burger places are popping up in Ann Arbor at a semi-alarming rate, with @Burger scheduled to open on Saturday and Five Guys Burgers on the schedule for early fall. The question becomes not whether to have a burger, but where to have a burger.
With that in mind, I have redoubled my efforts. Further threatening my waistline (and compensating with more hours at the gym), I have been trying out burgers all over town. I've tasted townie favorites and fancy upscale burgers and even some of those chains. I was happily surprised by some for whom I had low expectations and sadly disappointed by others whose burgers didn't live up to the hype.
My favorites: Krazy Jim's Blimpy Burger prices vary, fries are extra If you are going to talk about hamburgers in Ann Arbor, you have to start with Blimpy Burger. Profiled everywhere from the Food Network's "Diners, Drive-Ins and Dives" to the recent segment on WGN America's Sky Dives, Blimpy is a true Ann Arbor institution. The burgers, ground fresh daily, are greasy but delicious. According to a sign in the restaurant, there are 2,147,483,648 different Blimpy combinations, but beware: if you don't follow the ordering etiquette, you may get scolded.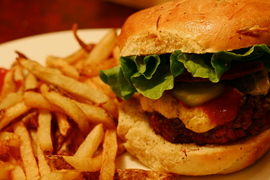 Jessica Webster | AnnArbor.com
Zingerman's Roadhouse Pimento Cheeseburger
$12.95 (includes unlimited fries) I have a hard time not ordering this burger when I eat at the
Roadhouse
. The meat comes from the fabled
Niman Ranch
, known for its sustainable and humane livestock practices, and it's topped with Zingerman's own pimento cheese, made from
Grafton Village
2-year cheddar and Hellmann's mayo. The burger is served with lettuce, tomato, onion and delicious crunchy pickle slices.
The Roadhouse also offers a Cornman Farms burger, from grass-fed cattle raised on Chef Alex Young's farm. With pimento cheese, the burger runs $15.95, but it can be had with a salad for $13.95 on Burger Mondays.
Poutine burger from Grange Kitchen & Bar. $14 (includes fries) Chef Brandon John's take on the French-Canadian specialty is delicious. The grilled grass-fed burger was in perfect proportion to the fresh bun, and the Grassfield aged cheddar added a subtle tang. But the real star of the show was the poutine that topped it: french fries and creamy cheese curd in a duck confit gravy was almost too decadent. Almost, but not quite. I'm still dreaming about this burger, which was paired perfectly with Grange's signature GGGinger cocktail. The poutine burger is on hiatus for the summer, but the bar menu is now offering a hamburger with a bacon jam and blue cheese.
Jessica Webster | AnnArbor.com
Jolly Pumpkin JP Burger $13 (includes fries) What's not to love about this grass-fed burger? A generous slice of melted cambozola cheese, crimini mushrooms and bacon, all on a tasty challah bun. The shoe-string fries are tasty, and can be made even tastier with truffle salt and fresh rosemary (for an additional $2). Ask for the sambal mayonnaise or the garlic aioli - both are great on the burger or as a dip for your fries.
Habana Burger from Café Habana $9 (includes boniato chips) Made from local, grass-fed beef and topped with bacon, swiss cheese, grilled onions and avocado, this burger impressed me more than anything else I have eaten at Café Habana. The burger was expertly grilled, and the onions were advertised as "grilled" but came deliciously caramelized. My only complaint was that the bacon almost seemed like overkill - the burger would be just as good, if not better, without it.
The burgers that didn't make the cut
Here are the burgers that, for a variety of reasons, didn't impress me.
The Train Wreck burger from Bagger Dave's: Redolent of Big Macs, but even less flavorful.
Red Robin Gourmet Burgers: I loved the option of being able to order my burger as a lettuce wrap, but the grease-to-flavor ratio was way off. The burger just didn't taste like anything.
Red Hawk burger: This was my biggest disappointment. Red Hawk used to be on my short list of burger destinations, but the one I ordered recently had the texture and (lack of) flavor of a prefab frozen patty. I'm hoping it was just an off night, but I'm not sure I'll ever order another one to find out.
Worth a mention: Casey's Tavern burgers often get mentioned as among the best in town. $8.75 gets you a 7-ounce patty on an onion bun with your pick of three toppings and a portion of tasty steak fries. It's a perfect post-softball game burger stop.
Great Plains Burger Company's slogan proclaims that they do one thing and do it well, and I am not inclined to disagree. Fresh, natural, locally sourced beef or turkey, served on Zingerman's buns, with your choice of gratis toppings, all for $4.50 (cheese and fries are extra). The Guernsey milkshakes are pretty delicious, too.
Kosmo Deli in Kerrytown may be better known for their Bi Bim Bop, but I'm a sucker for their Kosmo burger. There's something anachronistically pleasing about ordering a classic double cheeseburger with all the trimmings at a busy lunch counter. The burger runs $4.99, and fries are extra.
In the end, I didn't find one favorite burger, but I did find that Ann Arbor has an extraordinary selection of excellent burger offerings. How about you? Where do you go to satisfy your burger cravings? Is it the patty, the toppings or the bun that makes the burger? Chime in below, or e-mail me at JessicaWebster@AnnArbor.com.
Jessica Webster will gladly pay you Tuesday for a hamburger today and leads the Food & Drink section for the AnnArbor.com community team. You can reach her at JessicaWebster@AnnArbor.com.