Peggy Lampman's Thursday dinnerFeed: Valentine's Day Filet Mignon with Red Wine-Mushroom Sauce
Posted on Thu, Feb 10, 2011 : 4:33 a.m.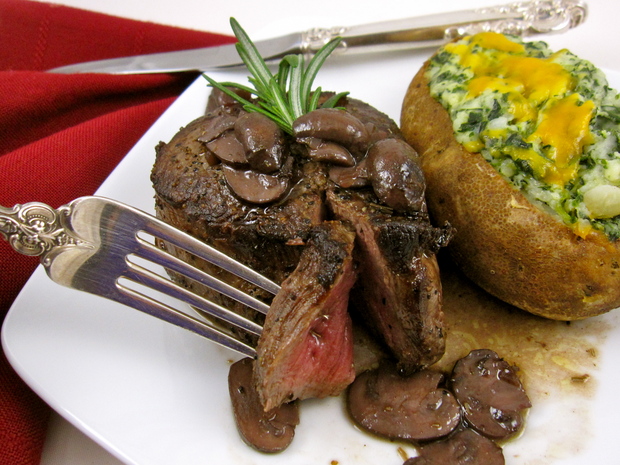 Peggy Lampman | Contributor

Cupid's Favored Love Potion: Combine equal parts pink champagne, cut-out paper hearts, red roses and anything chocolate, with old-school, piano-bar, steak-house glamor; shake well and serve.

Nothing tugs at my heartstrings like an old-fashioned, elegant meal sprung from Cupid's bow; a smooth, buttery steak, a steak as luxurious and as tender is the night. On Valentine's Day, only a filet mignon will do.

Filet mignon translates from French to mean a "cute" or "dainty" tenderloin. This Coeur de Filet, these hearts from the tenderloin, lack some of the flavor of meat that has the bone attached. In order to maximize the mild flavor, I rub the steaks with garlic, aggressively season the meat with salt and pepper, then sear it on both sides to give it a rich flavor and dark crust.

Purchasing beef tenderloin for filet mignon is confusing. Why do the prices vary so greatly-between $5-$30 per pound? Can a $5-per-pound cut of beef dare call itself "tenderloin"? There is a distinct difference between grades of beef tenderloin; the choice you make may influence how you prepare your beef.

Bob Sparrow, the owner of Sparrow Meats in Kerrytown, is not adverse to selling and cooking with the less expensive, lower-grade beef tenderloins. "As long as you marinate it or coat it with olive oil and herbs 24 hours before preparing," he said. But a top-grade, well-marbled, prime-cut tenderloin, needs no alteration; and it is at its pinnacle, unadulterated, and cooked to rare or medium-rare.

When laying out this kind of cash for a meal you want to make sure the meat is cooked properly, and I hesitate to specify exact cooking times with premium cuts of beef. Your oven may heat differently than mine, your steaks may not be as thick, I may have seared mine longer than yours; a $6 meat thermometer is worth the investment.

You could cut into the meat, but this allows precious juices to escape. If you don't have a thermometer, I've found the "touch" method to be reasonably accurate. Press the meat — if it feels soft and mushy and leaves an imprint, it is rare. If it is soft, but slightly resilient, it is medium-rare. The minute it begins to feel firm, it is well-done.

I prefer making the mushroom sauce a day in advance. Gently reheat while the steaks are in the oven, then whisk the beef pan drippings into the gravy before serving. Twice-Stuffed Spinch Potatoes are the perfect side dish.

Be mine, medium-rare.

Cost: Approx. $55
(for premium cuts)
Time for beef to rest (optional but recommended): 1 hour

Active Time: 30 minutes

Ingredients

4 (2-inch thick) beef tenderloin steaks (filet mignon)
1 large garlic clove, cut in half
2 tablespoons grape seed or canola oil

2 tablespoons unsalted butter

2 cups washed and thinly sliced button or crimini mushrooms (approx. 8 ounces)

1 tablespoon minced shallot

2 teaspoons minced garlic

1 cup plus 2 tablespoons good red wine

2 cups beef stock 

1/2 teaspoon minced fresh rosemary, plus extra for garnish

2 teaspoons corn starch (3 teaspoons, if you prefer a thicker sauce)
1 teaspoon truffle oil, optional

Directions



1. Preheat oven to 325 degrees.
2. If time allows, let steaks rest at room temperature 1 hour before cooking. Line a baking sheet with parchment or foil. Rub both sides of steaks with cut side of garlic. Liberally season both sides of beef with kosher salt and freshly ground pepper. Heat oil in a heavy-bottomed skillet until hot but not smoking. Add steaks to the skillet and sear on one side for 2-3 minutes, or until a crust forms. Flip steaks, add butter to pan, and sear an additional 2-3 minutes. Do not jiggle or move pan while searing so steaks may develop a crust.
3. Remove seared steaks from pan, reserving 2 tablespoons pan juices, then turn off heat on stove. Place seared steaks on baking sheet, on middle rack of oven, five to twenty minutes or until steaks are cooked to the desired level of doneness, 120-130 degrees for rare to medium rare. Remove steaks from oven and tent with foil.
4. While steaks are in oven, make sauce by sautéing mushrooms until just limp in pan juices. Remove and reserve. Add shallots and garlic to the reserved pan juices in skillet and sauté, stirring over medium heat, for 1 minute. Stir one cup of the wine and the stock into the pan. Over medium-high heat, reduce liquids to approximately 1 1/2 cups.
5. Combine the cornstarch with the 2 remaining tablespoons of wine. Whisk the cornstarch-wine mixture, and rosemary into the reduced pan liquid and simmer for several minutes, whisking the sauce until it thickens. Add kosher salt and freshly ground pepper to taste, if needed. Return mushrooms into the pan and heat through.
6. Spoon the sauce over the steaks, drizzle with truffle oil, if using, and garnish with rosemary sprigs if desired.


Looking for a specific recipe? Click here for dinnerFeed's recipe search engine; type the recipe or ingredient into the search box. I am a real-time food writer and photographer posting daily feeds on my website and in the Food & Drink section of Annarbor.com. You may also e-mail me at peggy@dinnerfeed.com.