Posted on
Sun, Dec 13, 2009 : 7 a.m.
Eating latkes on the 3rd night of Chanukkah
By Mary Bilyeu

Latkes
-- potato pancakes -- are one of my very favorite foods. (Fried potatoes -- what more could I ask for, when I'm 1/4 Irish with the soul of a
yenta
???) Fortunately -- thanks to the abundance of oil that they require -- they are a mandatory offering during
Chanukkah
celebrations, and can be served on any (or all!) of the 8 nights of the holiday.
Mary Bilyeu, Contributor
Latkes
must
be served with both applesauce and sour cream, the standard accompaniments, as settling for either one or the other is insufficient. And while others may choose to serve their latkes with pesto or with chutney or some other such concoctions, this is one area where I am a vehement traditionalist!
Of course, it's also traditional to make the batter by mixing grated potatoes with onion, egg, and flour or matzah meal; but I use a convenient Manischewitz mix as the base, adding some freshly grated potatoes to get nice, crispy edges rather than a softer, rounder pancake. Manischewitz has been good to me, having selected me as a semi-finalist in its 2nd Annual Simply Manischewitz Cook-Off; so I try to use their products when I can ... especially in my trials for the upcoming 4th Annual Cook-Off that I hope to be selected for!
Latkes have absolutely no redeeming nutritional value -- they are simply good for your soul. Eat them hot, fresh out of the oil ... there is little in life that can make you so happy ... :)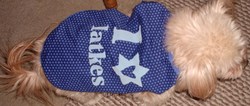 Mary Bilyeu, Contributor
Latkes
2 eggs 2-1/4 cups water 1 6-ounce box Manischewitz potato pancake mix 1 teaspoon kosher salt 3 cups grated baking potatoes (as much liquid as possible pressed from them) or frozen hash browns lots of oil for frying
In a medium bowl, beat eggs; stir in water. Add the potato pancake mix and salt, then stir to combine; let batter rest for 5 minutes, then add the grated potatoes.
Heat oil in a large skillet over medium-high heat. (If you want to pretend that this is health food, just lightly coat the skillet with oil. If you want the full latke experience, pour the oil 1/4" deep and be sure to refill the skillet for each batch, if needed.)
Scoop the batter by 1/4-cupfuls into the oil and fry until golden brown, about 4-5 minutes per side. Repeat until the batter is all gone. Makes 12 latkes.
Serve hot with sour cream and applesauce.
Applesauce
10 large apples, peeled, quartered, cored, cut into 1/2" dice 1 cup apple cider 1-1/2 teaspoons cinnamon 1/4 cup brown sugar
Place all ingredients into a medium saucepan and cook, covered, over medium-low heat for 15 minutes until apples are very tender. Using a potato masher, mash the apples until they have absorbed the remaining liquid and you have a slightly chunky applesauce.
Mary Bilyeu has won or placed in more than 60 cooking contests and writes about her adventures as she tries to win prizes, feeds hungry teenagers and other loved ones, and generally just has fun in the kitchen. The phrase "You Should Only Be Happy" (written in Hebrew on the stone pictured next to the blog's title) comes from Deuteronomy 16:15, and is a wish for all her readers as they cook along with her ... may you always be happy here!
You can contact Mary at yentamary@gmail.com.