YOU SHOULD ONLY BE HAPPY ....
recipe:

Roasted vegetable pasta salad perfect for fall's unpredictable weather

Posted on Thu, Sep 15, 2011 : 8 a.m.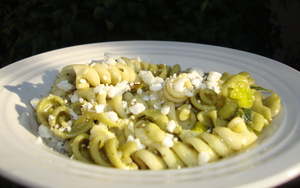 Mary Bilyeu | Contributor
Last week's game against Notre Dame was unbelievable, wasn't it?
Now, this week, next door neighbor Eastern Michigan University is coming to The Big House on Saturday.
Sadly, this isn't particularly a fair play date: Eastern doesn't have a particularly stellar football history, though they did beat Howard University in style in their season opener, 41-9. They're also 2-0 for the first time since 1998 after beating Alabama State last weekend. I'll spare you my rant about these uneven match-ups; I'm just here for the food, after all!
So, what food to offer for a game between Eastern and U of M? And what to serve when the weather 'round here can go from morning temperatures in the 90s to thunderstorms in the afternoon, followed immediately by days of highs in the 60s?
Pasta. Everyone loves it, it's easy to make, it goes with almost everything and is appropriate no matter what the weather is. I even made it green and white to honor Eastern's team colors. A girl's gotta have some fun with feeding the masses for the football games, after all!
Eastern Michigan University at University of Michigan
Saturday, Sept. 17 at noon EST
GO BLUE!
Roasted Vegetable Pasta Salad
6 asparagus spears, cut into 1-inch pieces
1 cup green beans, cut into 1-inch pieces
3 tablespoons extra-virgin olive oil, divided
1 teaspoon kosher salt, divided
12 ounces green and white rotini
2 ounces crumbled feta cheese
1/3 cup jarred pepperoncini, drained, chopped
2 tablespoons chopped fresh oregano
1/4 teaspoon freshly ground black pepper
1/4 cup pesto
1 tablespoon fresh lemon juice
Preheat oven to 400 degrees. Place the asparagus and beans into a pie pan; toss with 2 tablespoons of the oil and 1/2 teaspoon of the salt. Roast for 20-25 minutes until tender and slightly caramelized.
Prepare rotini according to package directions; drain and rinse under cold water, then place into a large mixing bowl.
Add the roasted vegetables to the mixing bowl, along with the feta, pepperoncini, oregano, pepper and remaining 1/2 teaspoon salt.
Combine the pesto, lemon juice and remaining tablespoon of oil; pour over the salad and toss to coat.
Serve at room temperature or chilled.
Makes 8-10 servings.

has won or placed in more than 60 cooking contests and writes about her adventures in the kitchen. She was thrilled to have her post about Scottish Oatmeal Shortbread named as one of the daily "Best of the Blogs" by the prestigious Food News Journal.
Go visit Mary's blog — Food Floozie — on which she enthuses and effuses over all things food-related. Her newest feature is Frugal Floozie Friday, seeking fun and food for $5 or less ... really! Feel free to email her with questions or comments or suggestions: yentamary@gmail.com.
The phrase "You Should Only Be Happy" (written in Hebrew on the stone pictured in this post) comes from Deuteronomy 16:15 and is a wish for all her readers as they cook along with her ... may you always be happy here.