Posted on
Sun, Sep 4, 2011 : 4:20 p.m.
Eastern Michigan wins football opener, 41-9, over Howard
By AnnArbor.com Staff
It came a day later than planned, but the influx of new defensive players still made an immediate impact on the Eastern Michigan football team.
The Eagles beat Howard 41-9 Sunday at Rynearson Stadium in a game that was postponed from Saturday night because of severe weather.
With the gates open for the rescheduled noon kickoff, those in attendance got a free glimpse of the famous Howard marching band, a new-look EMU defense and the Eagles celebrating their first home victory since 2008.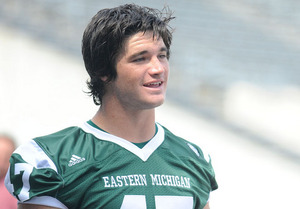 Angela J. Cesere | AnnArbor.com
"I'm one of the few guys that have been around here since our last home win," said senior offensive lineman
Bridger Buche
. "It's great to see the young guys that have come in and put so much work in, and the coaches - this is their first home win, too - I'm happy for everybody. This is going to be a fun year."
The Eagles' last home win at Rynearson Stadium was a 56-52 victory over Central Michigan in the 2008 season finale, the final game of former coach Jeff Genyk's tenure.
The third season for current coach Ron English started off a little rocky, but the former Michigan defensive coordinator saw some new playmakers on the defensive side of the ball.
Junior college transfers Justin Cudworth (13) and Blake Poole (7) led the team in tackles from their linebacker spots. Cudworth added a sack and a forced fumble.
"I've been saying all along that Cudworth is a good football player," English said in his postgame press conference. "We really developed that (weak-side linebacker) position for a player just like Justin Cudworth. He's athletic. He can tackle. He's physical. And he's going to get smarter and smarter. I'm really excited about Justin."
In the secondary, Marlon Pollard, a transfer from UCLA, made an interception, and Latarrius Thomas, a transfer from Louisville who missed most of last season with an injury, recorded six tackles.
Howard, a Football Championship Subdivision team that went 1-10 last season and was playing its first game for new coach Gary Harrell, isn't the toughest test the Eagles will face this season. But Eastern Michigan did limit the Bison to 201 total yards, 250 less than teams averaged against the Eagles last season.
"We've added some pieces, I think that helped," English said. "I want us to rush the passer better out of a four-man rush, but we've added some perimeter guys that can run around and make some plays."
After a slow start, the Eagles' offense eventually found some traction.
Kody Fulkerson made two field goals, the second pulling Eastern Michigan within 9-6 of Howard early in the second quarter before the Eagles rattled off five unanswered touchdowns.
The first pass that quarterback Alex Gillett threw was intercepted by Julien David and returned for a Howard touchdown. From that point, Gillett completed 12 of 20 attempts for 115 yards and touchdowns to Joe Fleming and Garrett Hoskins.
"I don't think we threw the ball very well at all, and that had not been what we showed at camp," English said. "I think we'll settle down and throw the ball better."
Dominique Sherrer and Javonti Greene, who battled this fall to become the Eastern Michigan starting tailback, were identical in their production on Sunday. Each gained 120 yards and a touchdown on 14 attempts.
Sherrer's 77-yard touchdown on the second play of the second half put Eastern Michigan ahead 34-9.
Gillett also rushed 13 times for 76 yards and another score.
Terrance Leffall led the Bison with 53 rushing yards and freshman quarterback Greg McGhee was 15 of 27 for 105 yards.