Posted on
Fri, Jun 1, 2012 : 3:09 p.m.
Satchel's and Red Rock chosen by readers as best BBQ in Washtenaw County
By Jessica Webster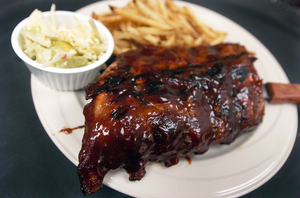 Chris Asadian | AnnArbor.com
The results are in, and AnnArbor.com
readers have chosen
Satchel's BBQ in Ann Arbor and Red Rock Downtown BBQ in Ypsilanti as the best in Washtenaw County.
The competition was intense and the opinions flew in the comments section. Some alleged that "there is no good BBQ in this town," while others lobbied hard for their personal favorites. In the end, Satchel's took a commanding lead and held it, eventually winning with 31 percent of the vote. Impressively, Red Rock Downtown BBQ—whose grand opening took place just a little over a month ago—grabbed 26 percent of the vote for a solid second-place finish.
Now that we have chosen our local winners, we'll get to see how they stack up against the best BBQ across the rest of Michigan. Entertainment reporter John Gonzalez from our partner site MLive will be traveling all around the state next week, eating barbecue and taking notes.
Gonzo released his schedule yesterday. He will be hitting Washtenaw County next Friday evening, dropping by Satchel's (3035 Washtenaw Ave. in Ann Arbor) at 6:30 p.m. and Red Rock Downtown BBQ (207 W Michigan Ave. in Ypsilanti) at 7:30 p.m.
We'll be live-blogging the festivities via Twitter and Instagram, but we'd also love to see you out there in person. Stop by to ask Gonzo questions, or just come watch the barbecue magic happen.