Posted on
Mon, Dec 10, 2012 : 11:20 a.m.
Smoked Trout Appetizer Spread is centerpiece of holiday platter
By Peggy Lampman
Peggy Lampman | Contributor

The new Holiday Cookbook answers all of your cooking needs. Strapped for time? Check out the well-tested Super-Simple section.
The Smoked Trout Spread from Plum Market is delicious spread on crackers or cucumber slices without alteration. And if you've more time than I do today, you could pipe or stuff the spread into cherry tomato shells.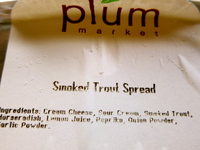 There's really no reason to alter the Plum Market recipe further. But I couldn't help myself; I have some sort of recipe disorder that won't allow me purchase a ready-made food without adding to it, as in the recipe below.
The container cost me about $5, and there were no funky preservatives or ingredients that could only be translated by a chemist. It's scratch-made with the fish, cream cheese, sour cream and other seasoning by real folks, not machines.
Ann Arbor delis are filled with yummy read-to-go party fare such as this. Monahan's, Traklements, Back Alley Gourmet, Zingerman's, Whole Foods, Produce Station, Mediterranean Market, Arbor Farms and Busch's come to mind. How about a platter of artisan smoked meat from Biercamp? A friend of mine has Mediterrano fill her own bowls with party fare. Have you ever baked off any of those frozen spinach phyllo triangles from Trader Joes? Pretty dang good. And ordering a tray of freshly prepared sushi from one of the many Japanese Restaurants around town could be the most popular appetizer in a spread.
Here are some examples of other ready-mades I've dressed up for parties: Fruit and Cheese Platter, Mediterranean Appetizer Platter, and Smoked Duck and Apples.
Yield: 1 small bowl of dip
Time: 5 minutes
Ingredients
1/3-1/2 pound container of Plum Market Smoked Trout Spread
2 tablespoons capers
1 teaspoon chopped red onion
2 tablespoons fresh chopped dill
1 or more teaspoons horseradish, optional
Bread rounds, crackers, cucumbers, celery slices for serving
Directions
Combine trout spread with capers, onion, dill and horseradish to taste, if using.
Peggy Lampman is a real-time food writer and photographer posting daily feeds on her website and in the Food & Grocery section of Annarbor.com. You may also e-mail her at peggy@dinnerfeed.com.