Posted on
Thu, Jul 7, 2011 : 4:26 a.m.
Strawberry-Rhubarb Cake the perfect combination of sweet and tart
By Peggy Lampman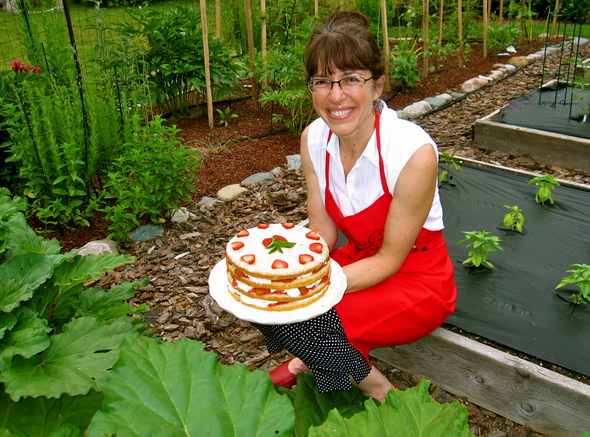 Peggy Lampman | Contributor

Peggy Lampman's Thursday dinnerFeed
Ann Arbor, for me, is best described by its neighborhoods: a tapestry of people woven together in brick and wooden homes, safe-guarded through the winter as wrapped and valuable gifts. As spring meanders into summer, as each present is carefully unwrapped, colorful jewels emerge, scattered about our town.
Tucked between Packard Road and South Industrial, you will find one gem such as this; an eclectic neighborhood with chicken coops, a few dirt roads and lovely flower and vegetable gardens, some strung together and tended to by exceptional cooks.
"We inherited this rhubarb patch," said Annamarie, as I gazed at an army of large leaved plants with thick, red and green stalks. "The people who sold us the house did so on the stipulation that we promised to give our neighbor, Mrs. Larsen, some of the rhubarb every year which, we gladly did, until she passed away."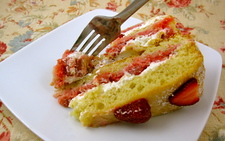 Peggy Lampman | Contributor
Do your lips pucker when you say "rhubarb"? Indeed, if you are brave enough to nibble at a stalk (the leaves should not be eaten), you'd find it tart and spine-tingling. But there is nothing like fresh rhubarb to balance the sweetness of desserts, sauces, jams and jellies.
Rhubarb thrives in chilly locales, such as Michigan, and is one of the first garden edibles to appear after long winter months.
In September of 2009, Annamarie Asher shared with Ann Arbor.com readers her recipe for a Luciously Lemony Wedding Cake with Blackberry Sauce. She's the personification of her cakes; sweet, but not overwhelmingly so; whimsical, but with down-to-earth goodness.
The recipe below, bursting with the zing of rhubard, the sweetness of strawberries and sugar, and the earthiness of freshly ground nutmeg, mirrors her sensibilities. Nutmeg is a seed from the fruit of a tree grown in the Spice Islands, and this cake is a recipe for nutmeg lovers, to be sure. Annamarie's family and I love the pervasiveness of the freshly grated nut, but feel free to eliminate it from one or more layers if you're not taken by its sultry appeal.
The Strawberry-Rhubarb cake is far simpler to execute than the aforementioned wedding cake. The cake and compote be completed well in advance, and the recipe has been well-tested through the years.
"I've been making this cake a couple times each year since my daughter, Alison's, first birthday in 1993. It's remains her favorite!"
Annamarie, like other local gardeners, also grows heirloom tomatoes, chard, arrugula, mixed greens, cayenne peppers, green beans, nasturtiums and fresh herbs. The modest, charming garden blushes crimson under the setting sun, and my admiring gaze.
The following recipe was adapted from Bon Appetit, May 1993.
From Bon Appetit: "This cake was first made in the north of England by young women for their fiances. It's usually just layered with whipped cream and strawberries, but we spread the cake with a berry and rhubarb compote for extra moistness. If your guests don't eat all of this, serve it with tea the next day."
Yield: 10 servings (9-inch cake)
Ingredients for Cake:
2 sticks unsalted butter, room temperature, plus additional butter for greasing pans
Parchment paper for lining pans
1 cup white sugar
4 large eggs
2 teaspoons vanilla extract
2 3/4 cups all purpose flour
4 teaspoons baking powder
1 teaspoon ground nutmeg, freshly ground preferred
1 teaspoon salt
1/4 cup whole milk
Powdered sugar for dusting cake
1 sprig fresh mint, optional garnish

Directions for Cake:
1. Preheat oven to 350 degrees.
2. Butter two 9-inch diameter cake pans with 1 1/2-inch sides. Line bottoms with parchment. Using electric mixer, beat butter until light. Add sugar and beat until fluffy. Beat in eggs one at a time followed by vanilla. Sift together the flour, baking powder, nutmeg and salt into a bowl. Fold the flour mixture into the butter mixture. Gently mix in the milk.
3. Divide the batter between the prepared pans. Bake cakes until firm to the touch, about 30 minutes. Cool cakes in pans on racks for 15 minutes. Turn out cakes onto racks and cool completely.
4. Split each cake into 2 layers, using a serrated knife. This works best if the cakes are cold or even slightly frozen. If you are making the 12-inch diameter cake (instructions below), it's a lot easier if the cakes are very cold. (Cake may be made then frozen up to two weeks in advance.)

Ingredients for Whipped Cream
1 1/2 cup heavy cream
6 tablespoons sugar, plus more if desired
1 teaspoon vanilla
1 teaspoon ground nutmeg, freshly ground preferred

Whip cream, sugar, vanilla and nutmeg until stiff peaks form, adding additional sugar for sweeter whipped cream, if desired.

Ingredients for Strawberry Rhubarb Compote

4 cups, sliced into 1/2-inch thick pieces, rhubarb (1 generous pound)
1/2 cup white sugar
2 tablespoons water
1 quart of fresh strawberries, washed and hulled, plus extra sliced berries for garnish
1/2 teaspoon vanilla extract
1/2 teaspoon ground nutmeg, freshly ground preferred

1. Combine rhubarb, sugar and water in a heavy medium saucepan. Bring to a boil and immediately reduce heat, cover and cook, stirring occasionally, until rhubarb is tender, about 5 minutes.
2. Remove from heat; mix in berries, vanilla and nutmeg. Chill until cold and stir before using in recipe. (May be made one day ahead. Keep refrigerated.)

Assembly
Place one cake layer, cut side up, on a platter. Spread with 1/3 of the compote, then 1 cup whipped cream. Repeat layering with 2 more cake layers, compote and cream. Top with last cake layer, cut side down. (May be prepared 6 hours ahead. Keep refrigerated.) Dust with powdered sugar. Arrange berries and mint sprig, if using, atop cake.
12-inch variation
Make the cake as described above, but put all of the batter in one 12-inch spring form pan. You will need to repeat this so you have two, 12- inch cakes to start with. Double the cream and compote, making a bit more than double of the compote.
Looking for a specific recipe? Click here for dinnerFeed's recipe search engine; type the recipe or ingredient into the search box. I am a real-time food writer and photographer posting daily feeds on my website and in the Food & Drink section of Annarbor.com. You may also e-mail me at peggy@dinnerfeed.com.