Posted on
Thu, Sep 6, 2012 : 10:45 a.m.
The best things I tasted all summer
By Jessica Webster
Jessica Webster | AnnArbor.com
My coworker Melanie and I got takeout from Mani Osteria last week, after Mario Batali and Travel + Leisure both gave the restaurant their stamps of approval. Melanie sat down in front of a bowl of gazpacho, and within three spoonfuls had declared it, "one of the best things I have tasted all summer."
She was right. It was delicious. And it got me to thinking: what was the best food I tasted all summer?
Putting together this list was surprisingly easy. Because I am an unrepentant food photographer, I've got a photographic record of my favorite meals. All I had to do was scroll through the photos on my iPhone.
We'll start with Mani Osteria. All of the national press has focused on their wood-fire pizza ovens and innovative pizza toppings. Don't get me wrong, I love their pizzas, but they aren't the menu items that have me pining for my next Mani visit. Instead, I'm a fool for their soups.
I won't tell you about the soups that have come and gone, burning brightly on the Mani menu and then fading away as the seasons rotate. That wouldn't be fair. You'd hate yourself for missing that delicious fresh pea soup, the sublime zuppa di primavera and the cucumber soup that sent me scurrying off to my kitchen to try to copy it.
Instead, I'll quickly tell you that you should rush to Mani while the gazpacho is on the menu. The soup tastes impossibly fresh; little bursts of San Marzano tomato explode gently on your palate. The dollop of lump crab offers a nice texture variation. Get it while you can, but don't despair if you miss it. The next soup is bound to be just as good ($10 per bowl).
Speaking of foods that have sent me scurrying back to my kitchen, you have got to try the Pad Thai at The Lunch Room at Mark's Carts. The description makes it sound so simple: "A peanut coconut milk sauce with tofu and topped with red bell pepper, cucumber, lime, crushed peanuts, and cilantro." I've made some decent Pad Thai attempts in the past couple of weeks, but nothing yet compares to what Phillis and Joel are serving up at the cart ($7 for a generous portion).
Earlier this year, Ann Arbor's west side experienced something akin to a taco explosion. Two authentic Mexican restaurants opened within a block of each other, and both are serving delicious, borderline-addictive tacos. Chela's has been getting the lion's share of the press —and they're definitely worth writing about —but I find myself craving the tacos al pastor at Taco King.
This unassuming, primarily take-out taqueria, located within Tienda La Libertad on West Liberty at Stadium, has been a pretty exciting discovery for the taco lovers in my household. For more adventurous eaters, I've heard that the tongue tacos are great. We've stuck with al pastor, carnitas, carne asada and barbacoa and loved every bite. The tomatillo salsa is to die for ($1.50 per taco).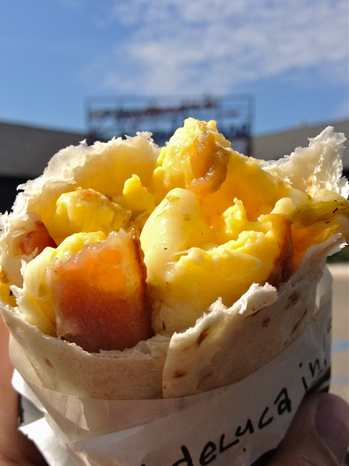 Jessica Webster | AnnArbor.com
Also on the west side, I recently made a new food discovery at one of my longtime favorite local restaurants. People have a lot to say about the prices at Zingerman's Roadhouse, but the Airstream trailer parked in front of the Roadhouse —Zingerman's Roadshow —is serving up equally tasty but moderately-priced meals to go.
My summer 2012 favorite breakfast food is their Diez Y Uno — a breakfast burrito filled with scrambled local eggs, New Mexico green chilies, jack cheese and applewood smoked bacon. At just $5.25 for a burrito filling enough to make lunch seem unnecessary, it's tempting to wander over to the west side every morning, but I try to limit myself to one per week.
It's been a good summer for food in Ann Arbor, and this is just a small sampling of the foods that caught my attention. And it's not over yet — tomatoes will continue to dominate seasonal menus for another week or more. But signs of fall are starting to appear, and pumpkin lattes, butternut squash, sage and cooler-temperature favorites are on their way.
Did you have a favorite dish or meal this summer? Comment below, or shoot me an email at JessicaWebster@AnnArbor.com and tell me all about it.
Jessica Webster leads the Food & Grocery section for AnnArbor.com. You can follow her on Twitter or email her at JessicaWebster@AnnArbor.com.