Posted on
Tue, Feb 12, 2013 : 2:49 p.m.
Taste test: The quest for Ann Arbor's best paczki
By Jessica Webster
Jessica Webster | AnnArbor.com
The Tuesday before the start of Lent is celebrated in many cultures across the globe as an exercise in excess. Mardi Gras in New Orleans. Carnival in Rio. The beer-drenched, costumed parades of Carnaval in the Netherlands. And here in Michigan, home of many first- and second-generation Poles, we've got
Paczki Day
.
I'll start off with a caveat. I am not Polish. It took a little bit of work for me to determine the difference between paczki and plain jelly doughnuts. According to my friend Emily, who used to bake them side-by-side in the kitchen with her Polish mother, paczki are richer and heavier than a traditional doughnut, and were traditionally fried in lard.
So after driving around the city and standing in line at seven different shops, your tired tireless food reporter is ready to check in with some paczki observations and opinions.
For the taste test, I visited seven different shops in the city of Ann Arbor. Some made the paczki in-house. Some had paczki that they had driven in from a secret location in Hamtramck, Michigan's paczki capital. And one was still unloading truckloads from a Polish bakery in Canada.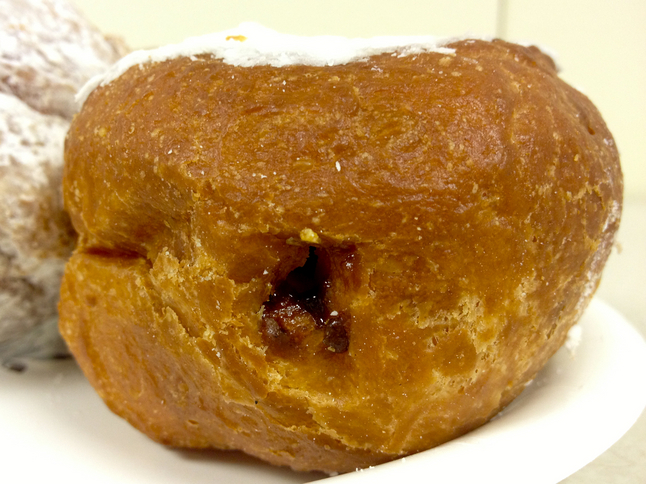 Jessica Webster | AnnArbor.com
The best paczki
This was a tough battle. I sampled four great paczki, two that were pretty good, and one that isn't really worth a mention. And out of all of them, there was one group of paczki that stood out as the best.
Wise Guys. Who would have thought that the best paczki in Ann Arbor could be found in a neighborhood corner hot dog joint? But these paczki are the real deal — a slightly chewy interior; not too dense, not too cakey. The exterior is perfectly fried, giving it nice crunch. The filling is sweet without being cloying, and the balance between pastry and filling is just right.
Kerry Thompson, co-owner of Wise Guys, says that the paczki tradition has been in his family for 30 years. The family used to own a deli in Birmingham, and they've been serving up paczki from the same Hamtramck bakery the whole time.
Which Hamtramck bakery? Well, that's a secret.
"We don't tell people where we get our paczki from. It's a 30-year family secret," said Thompson with a smile.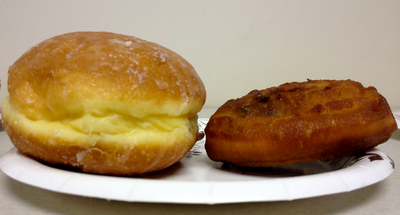 Jessica Webster | AnnArbor.com
The runners-up
Copernicus European Delicatessen. I stopped by Copernicus first thing this morning. The place with bustling with very efficient Polish women, serving an ever-expanding line of patient paczki seekers. There were pallets filled with the pastries lining the walls of deli, and even more being unloaded from a truck in the parking lot.
I asked one of the very efficient Polish women where the paczki were baked, and got a very efficient answer in response.
"From Canada. Next!"
The paczki from Copernicus are really, really good. They are not overly sweet, owing at least in part to the lower filling-to-pastry ratio in the paczki. The pastry has a good bite to it, and there's no funky aftertaste.
Big City Small World Bakery. This west-side corner bakery has been importing paczki on Fat Tuesday for a few years now. AnnArbor.com crime reporter Kyle Feldscher declared that these pastries have the best filling of the batch, and I am inclined to agree. The pastry has great flavor, but is a little bit less substantial than some of the others. The filling alone, though, is worth the price of admission.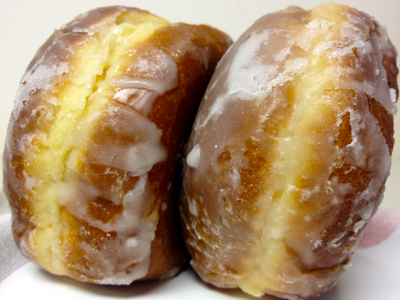 Jessica Webster | AnnArbor.com
Dimo's Deli and Donuts.
Once I was done with my taste test, I opened the tasting up to the rest of the AnnArbor.com and MLive reporting staff, and Dimo's was a runaway hit. Business reporter Ben Freed called the pastry "perfect." Kyle Feldscher reported that this was a "sweeter and messier" paczki.
Dimo's is most certainly a hit for Ann Arborites as well. I had to wait in a 20-minute line at the deli this morning. Paczki were snapped up as soon as they came out from the back-of-the-house bakery as owner Walid Dimo reminded the crowd that they'd be well served to order in advance next year. People behind me in line were laughing about waiting in line for so long just for a doughnut.
"This is not just a doughnut," retorted the man ahead of me in line. "These are paczki!"
Honorable mention
babo. Made in-house by the Sava's pastry chef, these paczki were among the least popular here in the office. The texture of the pastry was crumbly and almost cookie-like. We wondered if perhaps the dough hadn't been given enough time to rise. The flavor and fillings were nice, but the pastry itself was not inspiring.
Zingerman's. These were the most expensive and one of the least popular paczki we tried today. Like the babo paczki, the pastries from Zingerman's were flat and a little bit oily. We did love the chocolate filling, though.
Don't bother
For comparison's sake, I picked up a box of paczki from Kroger. I won't be doing that again.
What is your favorite paczki destination?
Jessica Webster leads the Food & Grocery section for AnnArbor.com. Reach her at JessicaWebster@annarbor.com. You also can follow her on Twitter or subscribe to AnnArbor.com's email newsletters.