Posted on
Thu, Dec 13, 2012 : 12:55 p.m.
The Week in Beer: It's the End of the World As We Know It
By David Bardallis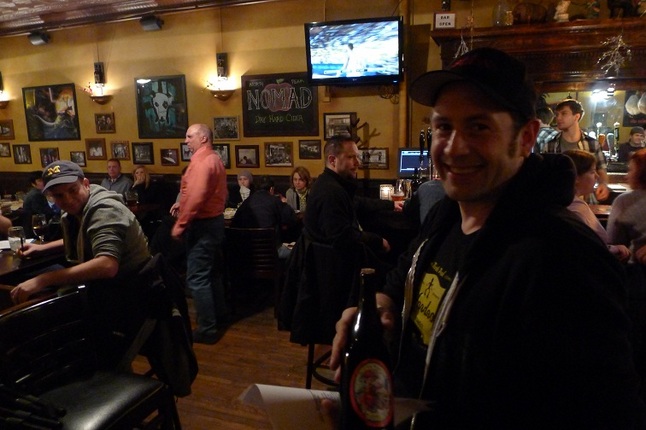 David Bardallis | Contributor

Doomsday, the End Times, the Apocalypse, Ragnarok, Judgment Day, whatever you want to call it, here at All the Brews HQ we're keenly tracking the latest end-of-the-world countdown to Dec. 21. You might think an event as significant as the Day of Reckoning wouldn't have much to do with beer, but that's where you'd be wrong, Dear Reader. Find out how wrong in a special omen-laden
Week in Beer
.
Thursday, Dec. 13
>> Tonight is the time to eat, drink, and be merry (for soon we all die!) at Arbor Brewing, 114 E. Washington, for their annual holiday beer tasting. From 7-9 p.m., enjoy samples of old ales, doppelbocks, Christmas beers, spiced ales, meads and more, along with an appetizer buffet, gifts and prizes and general revelry. Tickets are $30; call 734-213-1393 or buy at the door, if available.
Friday, Dec. 14
>> Michigan beer happy hour returns to Whole Foods Cranbrook, 990 W. Eisenhower, 5-7 p.m., and the featured brewery is Bell's. Draft list includes Best Brown Ale, Winter White Ale, Special Double Cream Stout, Cherry Stout, Hell Hath No Fury Ale, and a rumored "special" keg of something extra cool. Grocery shop 'til you drop, and then hit the Wine and Beer Bar to jingle your Bell's.
>> As the Mayan apocalypse approaches, some brewers are making beers they want to have in their hands when the end comes. Former Arbor and current Cranker's brewer Bill "Hophead" Gerds returns to Ann Arbor for a release party of his End of the World Double IPA at Ashley's, 338 S. State. Come out beginning at 6 p.m. to try the beer, chat with Bill about the beer, Cranker's (a brewery in Big Rapids), and his thoughts on the extinction of humanity.
Saturday, Dec. 15
>> Look out, all you bad boys and girls. Krampus, the Central European anti-Santa Claus demon thing who punishes the wicked, is coming back to the Corner Brewery, 720 Norris, Ypsilanti, for the annual Krampus Costume Ball beginning at 8 p.m. Don't have a Krampus costume? Not to worry, dress in your best alt-Christmas outfit and come out for music, beer, and the "Weirdoes March to Woodruff's Afterparty." On tap will be Naughty, a sour blonde ale brewed with tart fruit juice, and Nice, a peanut butter and jelly stout. Or maybe it's the other way around. One dollar from each glass sold of these beers supports the Shadow Art Fair. For a flavor of this event, see this AnnArbor.com gallery from last year's Krampus ball.
Tuesday, Dec. 18
>> Rejoice, fans of Short's Brewing! As a special Christmas treat, Ashley's is bringing in the boys (and girls) from Bellaire along with 20 taps of Short's mainstays and experimental brews. Head over to Ashley's at 6 p.m. and get you such unusual or hard-to-come-by brews like Dingle le Peu Black Farmhouse Ale, Howlin' Chinaski German Style Dortmunder (your correspondent wants to try this just based on the Bukowski nod), Superfluid Double IPA, and plenty more. See the full list here.
Wednesday, Dec. 19
>> At Liberty Street Brewing, 149 W. Liberty, Plymouth, look for the release of Doom and Gloom, two brews created especially for your apocalyptic pleasure. Doom is a 12 percent alcohol-by-volume (ABV) barleywine while its "lighter" cousin is an 11% wheatwine. Try either or, preferably, both before Gotterdammerung arrives.
Thursday, Dec. 20
>> The doomsday countdown clock that's ticked menancingly on the wall at Ashley's for the past month or so is rapidly approaching zero, and that means one thing: Unibroue's La Fin du Monde Belgian Tripel Style Ale on tap for the first time anywhere in Michigan! Around 6 p.m., raise the first glass of however many you can handle to our impending doom, as midnight reveals the apocalyptic truth of Mayan prophecy.*
>> Over at Fraser's Pub, 2045 Packard, they are also toasting the termination of man with Unibroue La Fin du Monde as well as Ephemere, Eau Benite, and Trois Pistoles.
* Something along the lines of "That's it? OK, pour me another, then."
Notes on the Napkin
David Bardallis is a freelance writer and editor, blogger, bon vivant, and man about town. Visit "All the Brews Fit to Pint" at AnnArborBeer.com, follow @allthebrews on Twitter, or join the "All the Brews Fit to Pint" Facebook page. Email your beer-related thoughts to annarborbeer@gmail.com.