Posted on
Thu, Jun 10, 2010 : 12:29 p.m.
The Week in Beer: Enjoy a local brew with your barbeque
By David Bardallis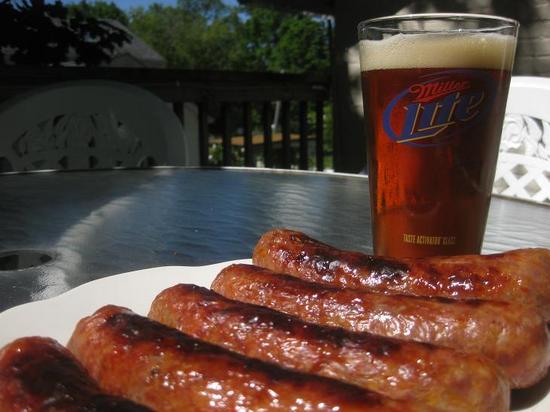 David Bardallis | Contributor
The Washtenaw beer scene continues to prove its vibrancy month in and month out with so many different ongoing events relating to locally produced beer, not to mention the freshness, creativity, and all-around great taste of the beers themselves. If you've always been tempted to try craft beer, but still find yourself instead buying the mass-produced, watered-down national brands, you owe it to yourself to give the real deal a chance. I promise you, you will never go back. Make the pledge to try local and craft beer this month, and while you're at it, here are some great ideas for where and how to do just that in the Week in Beer.
Today
A reminder that at 6 p.m. at Ashley's, 338 S. State, it's Mad Hatter Day, a celebration of New Holland Brewing's flagship beer, including Rye Hatter, Black Hatter, Imperial Hatter, and other versions of this tasty IPA. Brewery representatives will be offering giveaways, including a prize for the best Alice in Wonderland themed costume.
Tonight is also Fruit Beer Tasting time at Arbor Brewing, 114 E. Washington, from 7 to 9 p.m. Tickets ($25 in advance; $30 at the door, if available) include samples from a couple dozen beers and ciders, an appetizer buffet, and door prize drawings. Call 734-213-1393 or stop by the pub to get yours.
Saturday
Come out to Original Gravity Brewing, 440 County, Milan, to celebrate at the brewery's Year 2 Anniversary Party. Pints of OG beer are just $2 each until 4 p.m. Beginning at 2 p.m., there will be house-smoked chicken and sausage with homemade beans and slaw served until it's all gone. And beginning at 3 p.m., 20 different beers will be tapped, the result of a grand experiment wherein different strains of yeast were used to ferment the same batch of beer. All in all, this is a great reason to make the drive south to see what OG is all about!
Sunday, June 13
Another lazy afternoon of Halcyon Sundaze kicks off at 2 p.m. at the Corner Brewery, 720 Norris, Ypsilanti. Enjoy your favorite Corner brews as well as a small batch of Dannyboy Peron's Halcyon Summer Wheat and various deejays (including a rumored DJ Smooth Jimmy set) spinning a variety of lost or forgotten vinyl grooves. No cover.
Like grilled food with your beer? Come out to the Washtenaw Farm Council Grounds, 5055 Ann Arbor-Saline, from 3-8 p.m. where Arbor Brewing beer will be one of the ingredients of Grillin' 2010, an annual event to benefit Food Gatherers, which distributes food locally in the worthy cause of hunger relief. Tickets are $50 in advance for a single adult ($60 at the gate), $40 of which is tax deductible. Kids 13 and younger are $10. Call Food Gatherers at 734-761-2796 or visit www.foodgatherers.org to order yours. Live music will also be provided, and the show goes on rain or shine!
Wednesday
At 6 p.m. the latest of the monthly small-batch beers known as Rat Pad releases will be tapped at Corner Brewery. This time around, it's a two-for-one, with a duo of brews made by students at owner Matt Greff's homebrewing classes offered through Washtenaw Community College's Lifelong Learning program: Super Snapper V.S.B. (very special bitter) and Slam-Dunkelweizen. Both beers are available in carryout growlers (half-gallon jugs) after 9 p.m.
June 17
Speaking of Lifelong Learning classes, from 6-9 p.m., the latest in Corner Brewery owner Rene Greff's series of courses in beer appreciation takes place in the Tap Room at Arbor Brewing. "The Burgundies of Belgium" traces the unique history and beer stylings of arguably the most interesting beer-producing region in the world. Tuition of $49 includes beer samples and a light dinner. Advance registration (and government-approved drinking age) is required at WCC's website.
Notes on the Napkin

On tap now at Grizzly Peak, 120 W. Washington, is Antwerp Amber Ale, a Belgian style brew inspired by De Konnick Belgian Pale Ale, itself inspired by the ales brought by British troops deployed during both World Wars. At 4.8 percent ABV, it's a light, refreshing beer for a hot summer day. Pair one with Grizzly's just-released summer menu and enjoy both outside on the sidewalk!
Congratulations to all the winners of AnnArbor.com's Community Choice Awards, but most especially Arbor Brewing for winning the Best Place for Locally Brewed Beer and Sidetrack Bar and Grill, 56 E. Cross, Ypsilanti, for winning Best Happy Hour. Beer tastes are subjective, so people can argue about their favorite local brews, but there's no denying Sidetrack does offer an impressive deal for beer drinkers. With lots of Michigan and other craft beers available in tall sizes at recession-friendly prices, this beer drinker can recommend you check it out!
This Saturday, if you're out for a nice, quiet afternoon pint at one of Ann Arbor's fine brewing establishments, don't be surprised if a bus full of thirsty beer drinkers pulls up and piles out to join you. From 11 a.m. to 4:30 p.m. the Motor City Brew Tour bus will be in town with beer tourists from Detroit checking out the Ann Arbor brewing scene. Be sure to say hi!
Shameless self-plug warning: The June/July issue of Great Lakes Brewing News is out, and your correspondent's debut "Southeast Michigan Beer Notes" column is in it. Pick up a copy at your favorite local watering hole and see what's going on in beer this summer.

David Bardallis is a freelance writer and editor, blogger, bon vivant, and man about town. Visit his website, DavidBardallis.com, to engage his services or read his latest. Email your beer-related thoughts to annarborbeer@gmail.com, follow @dbardallis on Twitter, or join the "All the Brews Fit to Pint" Facebook page.