Posted on
Thu, Jan 24, 2013 : 12:12 p.m.
The Week in Beer: Weather frightful, beer delightful
By David Bardallis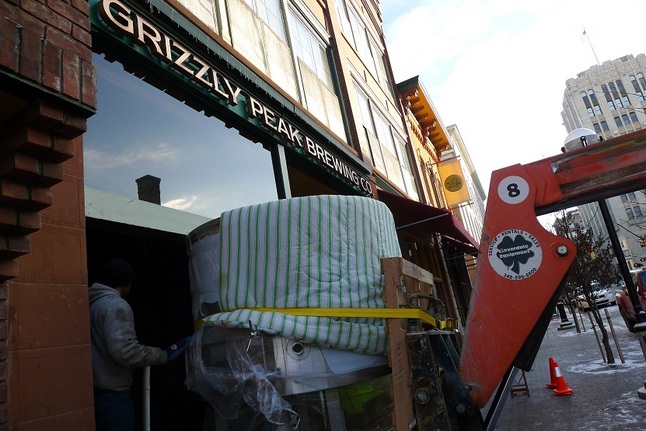 David Bardallis | Contributor

All right, all you people complaining that we haven't had a real winter, the cold is here and more snow is supposedly on the way, so you've gotten your wish. For the rest of us, it's time to hunker down in front of the fireplace, preferably with a good high-gravity stout, porter, double IPA, or even barleywine. But if you're willing to brave the bad weather, there's fun — and even free beer — to be had out there on the town. Read all about it in your
Week in Beer
.
Thursday, Jan. 24
>> Beginning at 7 p.m. tonight at Dan's Downtown Tavern, 103 E. Michigan, Saline, get ready for some Short's. Twenty-two taps, to be exact, including the likes of the Soft Parade, Bloody Beer, Key Lime Pie, Bellaire Brown Ale, Huma Lupa Licious IPA, Autumn Ale, Chocolate Wheat Ale, Pontius Road Pilsner, Captain Fantasy Pear Saison, Woodmaster Pecan Brown Ale, The Magician Red Ale, Bourbon Barrel Aged Wizard Barleywine, and more.You go, Dan!
Friday, Jan. 25
>> Are you hip to FREE BEER FRIDAY yet? Every Friday from 4-6 p.m., The Produce Station, 1629 S. State, just, like, gives you beer. For real. This Friday, they're going to give you two beers from New Belgium: Trippel Ale and Biere de Garde, a collaborative brew with Brewery Vivant of Grand Rapids. Okay, so that's sort of like one and a half beers from New Belgium. But both are awesome, and they're even more awesome when they're free.
Saturday, Jan. 26
>> The place to be today is the Corner Brewery, 720 Norris, Ypsilanti, from 2-5 p.m. That's because it's the annual Rat Fest, a celebration of, um, interesting beers created by area homebrew clubs on the Corner's "Rat Pad" 10-gallon system. This year's edition will be bigger and better than ever, with 36 beers from nine groups pouring forth like nectar from the gods. Or something. Anyway, read all about it in my post from earlier this week. And if you're planning on going, get your ticket now.
Sunday, Jan. 27
>> Return to the scene of the crime from 1-5 p.m. as the Michigan Brewers Guild buys Corner beers for volunteers willing to help count out tokens for the upcoming Winter Beer Festival. More free beer!
Thursday, Jan. 31
>> Head over to The Last Word, 301 W. Huron, at 7:30 p.m. for a beer tasting and meet-and-greet with owner Russell Springsteen of Right Brain Brewery, whose beers are now being distributed throughout the state. Russell will talk a bit about the Traverse City brewery and lead a tasting of Mangalitsa Pig Porter and three other brews. Tickets are $15 and include 6-ounce samples and Russell's right-brain musings; buy tickets at The Produce Station, 1629 S. State, or online here.
Notes on the Napkin
This week Grizzly Peak, 120 W. Washington, is installing its new brew system. It doubles the brewing capacity of the previous system, from seven to 14 barrels, meaning head brewer Duncan Williams and his hardworking team of beer gnomes can maintain Grizzly's status as the No. 1 beer-selling brewpub in Michigan and also occasionally get some sleep, or else work harder and make even more beer. The move will also support plans for a new basement bar reminiscent of the Old German, which occupied the space for 67 years.
Head brewer and owner Brad Sancho has been busy at Original Gravity, 440 County, Milan, rolling out interesting new beers. Now on tap for you to try: Bourbon Barrel Aged Bellywasher Scotch Ale, a small-batch Vienna Lager, and Funky Enough IPA, a Belgian-style black IPA. I know, there's no such thing as a Belgian-style black IPA, or at least there wasn't. But there is now!
Up in South Lyon, Witch's Hat Brewing, 22235 Pontiac Trail, has introduced the "growlette," a half-sized (32-ounce) growler for those times when you want to take home some fresh draft beer but just don't think you can put down a half-gallon in one sitting. (One wag proposed the name "howler" for "half growler" and I gotta say it's hard to argue with that.)
David Bardallis is a freelance writer and editor, blogger, bon vivant, and man about town. Visit "All the Brews Fit to Pint" at AnnArborBeer.com, follow @allthebrews on Twitter, or join the "All the Brews Fit to Pint" Facebook page. Email your beer-related thoughts to annarborbeer@gmail.com.