Wildcrafting: Mulberries are ripe and ready to be enjoyed
Posted on Mon, Jun 7, 2010 : 10:51 p.m.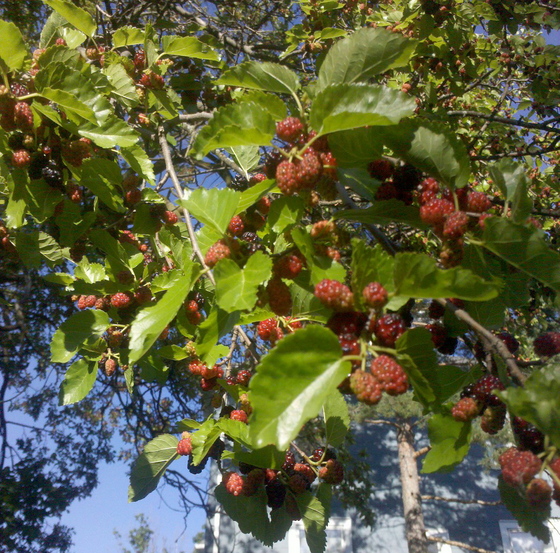 Linda Diane Feldt | Contributor
Mulberries are easy to spot - the squashed berries on the sidewalk give them away every year. People who have the tree often complain about the mess, but if they were picking the berries it wouldn't be nearly as bad!
Last year I picked mulberries into September. For more than three months I was treating myself daily from the trees I walk by. The taste can vary depending on rain (less flavor) and sun (melt in your mouth) or a dry spell (more concentrated and tart). At least that's what I found in my daily survey last year.
Berries are easy foraging food. Identify the tree or bush, make certain you have it correctly identified, be certain the berry is safe to eat, and once all that is out of the way eat. And eat some more. And pick some to bring home. And freeze them. And cook with them. And feel rich indeed that there are as many free edible berries to enjoy as you could possibly pick.
The mulberry leaves have a distinct pattern of deeply cut lobes; Google mulberry leaf for images of just the leaf. The berries, as shown above, are very distinct, and are not easily confused with any other berry, especially as they are growing in trees.
Another berry ripe now and usually in a shorter tree is the service berry. Ed Vielmetti just wrote about service berries for AnnArbor.com. Follow his tips for those. They are usually available for a short time; both the birds and the weather wipe them out fast. Mulberries ripen about the same time, overlap with black raspberries for a bit, and then the mulberries continue throughout the summer.
Eat them out of hand. You can make a pie (they tend to be more watery than most berries, so adjust recipes for liquid). You can eat them in your breakfast oatmeal, and you can put them over ice cream. You can bake them into a cake; you can add them to your favorite cornbread recipe.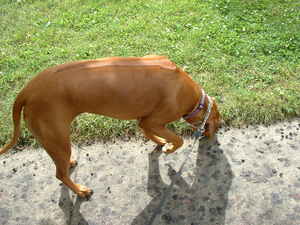 Linda Diane Feldt | Contributor
The downside of mulberries is that the stems are hard to remove; they add a bit of unwanted texture to an otherwise soft berry. Also, there is an occasional bug found in the berry. Usually when that happens the whole tree has them for a bit, I've avoided trees that seem to have bugs for a few weeks and come back to perfectly clean berries. I don't know a thing about bugs and mulberries, it has just been something I've encountered every couple years. Or I submerge the berries and rinse out any stray bugs, but washing mulberries removes a lot of flavor.
Here is a very simple pie you can make, the first time I ever really appreciated mulberries was with this pie. I was renting a house on the Old West Side with a huge mulberry tree in the backyard, and decided not to waste the fruit. I made this pie for most of the potlucks I attended for the two summers I lived there.
Make a graham cracker crust. I like to use about 3 tablespoons of butter, a handful of almonds (1/3 cup or so), and about 10 graham cracker squares. Use a food processor on pulse to blend until mixed; add a bit more butter if you need to until it holds together when you press a bit between your fingers.
Press that evenly with your fingers into a pie pan, going up the sides an inch or so.
Bake at 350 degrees for 8-10 minutes, until just slightly browned. Let cool.
Mix 1 ½ cups plain yogurt with either ¼ cup honey or ¼ cup maple syrup (you can increase or decrease this if you want). Mix well. Add 1 cup or more mulberries, mix gently, but enough to color the whole thing purple. Spoon into cooled pie crust. Freeze for about 2 hours, or longer.
Thaw about 15 minutes before serving. Serve in a bowl, and you can add more fresh mulberries if you want for yet more variety in texture and taste.
The pie is interesting in the many textures, (the crust with almond pieces, the slightly thawing yogurt, the frozen berries) nice and cold on a hot day, and just the right amount of sweet. Most kids I've tried it on do not like it though, and some adults who like their food to be "normal" think it's a little too weird. But I love the color, the simplicity, and as one more way to enjoy mulberries.