Posted on
Mon, Jun 7, 2010 : 11 a.m.
Berrypicking links: Juneberries are ripe - where to find them around Ann Arbor
By Edward Vielmetti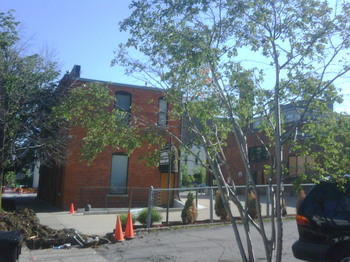 Edward Vielmetti | AnnArbor.com
The
Amelanchier
- variously called juneberries, sugarplums, serviceberries, shadberries or saskatoons - are starting to get ripe on the streets and in the parks of Ann Arbor and in the upland woods of the area. Every year I surprise passers-by and friends by stopping along my walk to pick a handful of the berries, and every year I try a little bit harder to find another tree to use as a destination for a trip.
The berries are smallish, a quarter-of-an-inch to a half-inch in diameter. When they are unripe they are green, and as they ripen they turn from pale red to a deep purple. You will be competing with the birds for the berries.
In downtown Ann Arbor, you can walk down Fifth Avenue, dodging construction along the way, and eat berries in front of the Library Lot, the Neutral Zone, Bank of Ann Arbor, the Ann Arbor Observer and Zingerman's. If there's a lot of construction, and a lot of construction dust, it would be prudent to wash the berries first.


Where are the berries
The City of Ann Arbor contracted with a tree service company to do an inventory of every tree on lawn extensions, rights of way and public parks. This will go into the city's first Urban Forest Management Plan. The city forestry website has plan details.
A list of every city Amelanchier tree on Ann Arbor in 2009 was based on a spreadsheet from the data.
There are also tree data sets from the city in its City of Ann Arbor Data Catalog, though the tree inventory copyright says "No part of this product shall be reproduced or transmitted in any form or by any means, electronic or mechanical, for any purposes, without prior written permission from the City of Ann Arbor. The City of Ann Arbor and its mapping contractors assume no legal responsibility for the content and/or inappropriate use of information represented on this map."
I have found no online inventory of trees on the University of Michigan campus, but I have spotted them by the Chemistry building on North University, in front of the Undergraduate Library by the regular site of Tom Goss playing harmonica and washboard, as well as other places around and about.
The Fall 2005 Washtenaw County Parks and Rec newsletter writes of Osborne Mill Preserve, located just south of Delhi Metropark on the other side of the Norfolk Southern tracks, which includes juneberries in its dry upland forest.


What to do with juneberries
They are good enough to eat right from the tree, if they are ripe enough. The taste is vaguely almondy, and is described by some as "insipid." (More for the rest of us.)
I would not describe them as delicious - not in the same way that the strawberries, which are also ripe now, are delicious.
Recipes for juneberry pie include Aunt Marilyn's Juneberry Pie from Sunny Savage and a "thick, rustic berry explosion" from The Pleasant House. In North Dakota, you can get juneberry pie year round from Lund's Landing, a lodge on Lake Sakakawea.


Juneberries in fiction and the movies
The book which I keep finding every year when I write this is L'amélanchier, a coming-of-age novel by Jacques Ferron from Quebec; it's available (somewhere) in translation by Raymond Chamberlain as The Juneberry Tree, and it was made into the movie Tinamer.
Edward Vielmetti dashes into the bushes and re-emerges with a handful of berries for AnnArbor.com. Contact him at edwardvielmetti@annarbor.com.