Posted on
Tue, Mar 30, 2010 : 11:30 p.m.
Wildcrafting: A look at raw milk and how politics, safety, freedom and fear play into our food chain
By Linda Diane Feldt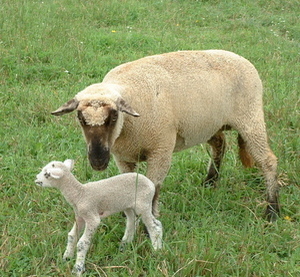 Linda Diane Feldt | Contributor
Do it yourself. Wild food fans and foragers are exactly the types to taste the unknown, try new things for the fun of it and not wait until a food is washed and free of dirt before consuming it. We've already stepped off the path of packaged, cleaned and processed food, Styrofoam and plastic containers and antiseptic packaging. Food to mouth means no one else has approved or prepared the food for us, and food safety is literally in our hands.

Any successful food forager knows the basics for his or her area - the look-a-likes (poisonous or toxic plants are similar to safe ones), the areas to avoid (near railroad tracks, power lines and manicured lawns, all places of likely chemical spraying). We know to taste before eating and to spit out anything that tastes wrong.
Wildcrafted food comes from strange places - marshes and forests, above the ground and in the muck. Anything is possible, and so many things can be tasted, no matter how they look. Flavors are expansive and often new. Foragers are adventurers and experimenters.
Isn't it dangerous? That is one of the first questions so frequently asked about wild harvesting. Are the foods in the store somehow safer, approved and more comfortable? For many people what is real comes from a store. Anything else? Too strange and too risky.
Even a few decades ago, no one would think twice about finding an apple tree on a walk, and tasting the ripe apples. Picking berries out in the woods and cramming them into your mouth by the handful. Even digging up a bit of sassafras root to nibble on or pulling up a cattail root, fresh from the stream, to crunch between your teeth. Or sharing a dipper of milk, fresh and warm from a family cow.
Living life is a little different after even a few years of eating in the wild, and the ancillary effects are life changing. There is increasing interest not only in wild foods, but also in homegrown, do-it-yourself, not-from-the-store foods. And as we adventure off the path of normal and "approved," individuals have to take greater responsibility for what they put in their own mouths and what they feed to their family and friends.
It is surprising, and frustrating, that this independence and exploration will at times meet a brick wall, the federal government and local authorities. Working for us to protect us, they can also deny us access to foods we might choose to eat. That ranges from protected and endangered plants to farm-raised meat that isn't inspected or unpasteurized milk sold to the consumer as part of a "herd share" agreement, where the consumer buys a share of the herd in order to enjoy the milk produced.

Linda Diane Feldt | Contributor
This last weekend, a dairy with a couple hundred members abruptly quit supplying milk to those members. There were allegations of
bacterial contamination in the milk
that were being investigated with no evidence yet of the contamination. Yet there were also a number of herd share members who believed they had gotten sick from milk that was contaminated. The state and federal governments moved swiftly to "protect" the public, even though there were no actual members of the "public" involved. None of the milk was sold commercially, and no one who didn't own a part of the cows had access to the milk. It was a private arrangement, which had purposely (and unsuccessfully) removed itself from government oversight and regulation.
There are a multitude of side issues and questions, for which there are few black and white answers. Is raw milk safe? Can you get sick from raw milk? Is there a conspiracy against small farmers from the larger agri-business interests? Should private arrangements for food be regulated the same as commercial products? To what degree should people be allowed to make their own decisions about what is and is not safe to eat?
You might think that the answers would be simple, even non-negotiable. Local food is good, organic and sustainable foods are the best, small farmers should always be supported. But when it comes to the realities of living those principles, making those decisions, it can get complicated. And personal. And people can get hurt. They may put their livelihoods at risk and lose; they may get sick from someone else's error or sloppiness. They may end up breaking the law.
I have many feelings, having seen people I care about be frightened, having to watch people I've come to know and respect lose their primary source of income. Having to scramble myself to ensure I have access to the foods I find keep me healthy. Discouraged after being insulted and ridiculed after posting comments on AnnArbor.com this past week supporting raw milk and asking that a farmer be considered innocent until proven guilty.
There are many good things coming to pass in the locavore movement. Ann Arbor is a leader in awareness and activism around food and food politics. But as we step further down this path, exploring both new and very old options, there are going to be some casualties. People doing their jobs, thinking they are making us safer, and a whole other concept of what is safe and what is fair having to emerge.
This isn't just about food preferences, it is about fundamental freedoms and rights. It is about considering that you might be wrong, and being willing to accept new ideas. Some food that we think is safe is not, and some that we think is dangerous is actually making us healthier.
I hope we can do this paradigm shift with kindness, with compassion, and especially with wisdom. I ask that of the state and federal regulators, as well as those of us with passionate opinions and judgments about what is right and wrong. I'm trying to do better.
Linda Diane Feldt is a local Holistic Health Practitioner, writer, and teacher. You can follow her on www.twitter.com/wildcrafting or check out her Web site www.holisticwisdom.org.