Posted on
Fri, Jun 11, 2010 : 10:45 p.m.
Wildcrafting: Ripe serviceberries can be found all over Ann Arbor
By Linda Diane Feldt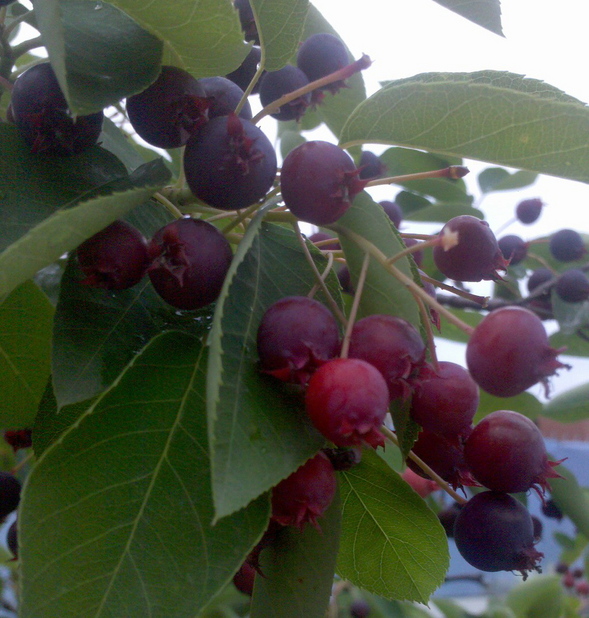 Linda Diane Feldt | Contributor
This is a fruit I was oblivious to for most of my life. And a great illustration of how fear can transform to enthusiasm.
About 20 years ago I traded bodywork (massage, polarity therapy and craniosacral therapy is what I do most of my time) for plants. She was a landscaper who had a collection of plants for sale, and I got to choose a bunch for my lakeside cabin and home garden. She talked me into taking a serviceberry tree, Amelanchier arborea. I had never heard of it.
She said it would grow well in my poor soil, would bloom early, and the birds would like it. I had two dying birch trees and needed something to take their place. So I planted it. It had beautiful blossoms that first year, even as a small little tree. A few years later I noted the berries and the happy birds.
Then someone told me that the fruit was edible. Really? How do you know? Are you sure? My informant wasn't there to demonstrate on the spot that it could be eaten without dying, and this was before Google searching allowed immediate answers.
A few books said the berries were edible but not much more. Would I even want to eat the berries? I wasn't as much into fruit back then. I missed the next few harvests after I heard they were ripe. The birds got there first. Then one day I was there, the berries were ripe and I took what felt like a big plunge. I ate one of the berries.
Well, it didn't taste bad. I ate another. It actually tasted pretty good. I ate a few more. Kind of like blueberries, which I have always really liked. And then I tried to share them with the people around me. I advertised them as probably safe to eat. So no one was willing to try more than a few, and they were pretty cautious. Nowadays, if I suggest people eat something I'm usually greeted with respect and enthusiasm. But when I was starting out I didn't have any confidence myself and had few compatriots. I was on my own, trusting what I was told, learning how to be cautious but also guide others to the benefits and wonders of wild food.
Growing up I had a short list of wild plants I knew were safe to eat, but I hadn't expanded on that list. I stuck to what people I knew told me was safe, and didn't stray and didn't explore. And their knowledge was pretty limited. But at least it was a start.
So the serviceberry provided me with a moment. A strange tree, a wonderful fruit, probably as full of antioxidants as a blueberry, and solid reinforcement that I needed to get out more, greatly expand my repertoire of wild foods and start enjoying what was right in front of me. And I did.
Ed Vielmetti wrote about serviceberries a few days ago (although he insists on calling them juneberries). His article gives a few local locations. The small trees are planted all over the city on lawn extensions, and as fill-ins. I ate my fill of berries by the underground construction site on South Fifth Avenue a few nights ago. In my neighborhood on the Old West Side they are intermingled with other trees on people's lawns as well as near the street. While it is great to eat them as you go, you can also pick a bunch and freeze them for later. Use them like blueberries in pies, cornbread, in your cereal, as a cobbler, a turnover, in fruit salad or as a garnish for ice cream. Freeze the clean berries directly. I just put them into freezer bags and eat them all year.
They are at their peak around here right now, so the most important thing is to go out and enjoy them. The ripe ones are a deep purplish blue. I love to go for walks and find treats along the way. And serviceberries are a welcome treat!
Linda Diane Feldt is a Holistic Health Practitioner, Herbalist, writer, and teacher. She has "provided an integrated approach to holistic health care since 1980." You can follow her on twitter, visit her website, and next Friday morning she will be the guest chef for Breakfast at SELMA, including a few wild greens into the breakfast fare.