Posted on
Tue, Nov 3, 2009 : 8 a.m.
Celebrating National Georgia Pecan Month
By Mary Bilyeu

According to
Chase's Calendar of Events: The Ultimate Go-to Guide for Special Days, Weeks and Months
, November is
National Georgia Pecan Month
"to herald the Georgia pecan harvest and recognize Georgia's status as the nation's top pecan-producing state, providing 50 percent of the nation's supply." It's also
Vegan Month
,
American Diabetes Month
, and Gluten-Free Diet Awareness Month, each of which can also be accommodated and celebrated with today's feature: Pecan-Garlic Penne with Broccoli.
Chase's is quite the amusement, listing everything from the anniversary of the day Paul McCartney met John Lennon (July 6, 1957) to National Honesty Day (April 30), from the publication anniversary of The Joy of Sex (Oct. 1) to National Whiners' Day (Dec. 26), from the Australia Day Cockroach Races (Jan. 26) to the Founding Anniversary of Alcoholics Anonymous (June 10). Birthdays, anniversaries, odd holidays … you name the day, it's likely to be in there. (I did note, however, that International Voodoo Day - Jan. 10, which is also Jeremy's birthday - has been missed. They 'd better fix that omission - don't mess with Papa Legba, the guardian of the crossroads!)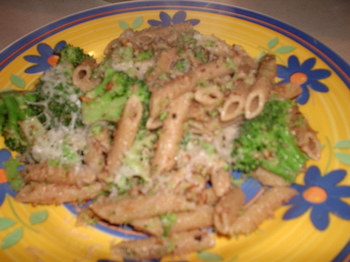 Mary Bilyeu, Contributor
Anyway, in honor of National Georgia Pecan Month, I debated what to make. I have a legendary sweet tooth, so pecan pie was a ready option; but that's been done, as have pecan tassies, candied pecans, turtles, and pecans tossed into salads. So I went in a new direction, and decided to coat pasta with ground nuts that had been sautéed with olive oil and garlic … hardly traditional, but then why not play with tradition???
If you're a vegan, you can feel free to omit the Parmigiano. If you have diabetes be sure to use whole wheat pasta (as I always do, for the nutritional benefits), which has a lower glycemic index than white pasta. If you eat a gluten-free diet, this recipe would still work perfectly with a rice pasta. And if you want to participate in each cause's celebration, be sure to use brown rice pasta with no cheese … and I promise that you'll still enjoy the meal.
Pecan-Garlic Penne with Broccoli
1 pound whole wheat penne 2 cups broccoli florets 5 tablespoons extra-virgin olive oil 3 large garlic cloves, minced 1 cup pecan halves, ground 3/4 teaspoon kosher salt 1/2 teaspoon freshly ground black pepper Parmigiano-Reggiano cheese, grated
Bring a stockpot full of salted water to a boil. Add pasta and cook for 7 minutes. Add broccoli and cook for 2 more minutes; drain.
While the pasta cooks, heat the oil over medium heat in a 10" skillet. Add the garlic and cook for 30 seconds, just until fragrant. Add the ground pecans, the salt and the pepper; stir occasionally, and cook for 5 minutes until pecans are lightly browned.
Once the pasta and broccoli have been drained, return them to the stockpot. Add the pecan-garlic mixture to the pasta, and stir to coat the pasta with the pecans. Place into a large serving bowl and top with Parmigiano cheese, if desired.
Mary Bilyeu has won or placed in more than 60 cooking contests and writes about her adventures as she tries to win prizes, feeds hungry teenagers and other loved ones, and generally just has fun in the kitchen. The phrase "You Should Only Be Happy" (written in Hebrew on the stone pictured next to the blog's title) comes from Deuteronomy 16:15, and is a wish for all her readers as they cook along with her ... may you always be happy here!
You can contact Mary at yentamary@gmail.com.