Posted on
Thu, Dec 17, 2009 : 7 a.m.
Eating orange cake on the 7th night of Chanukkah
By Mary Bilyeu

Chanukkah
is almost over -- tomorrow is the last night -- and yet there are so many more celebratory foods to enjoy! I debated whether to make Ricotta Latkes (really lovely cheese pancakes, served with jam) or White Chocolate Cocoa (rich and creamy, perfect for keeping warm during winter), which honor
the dairy tradition
;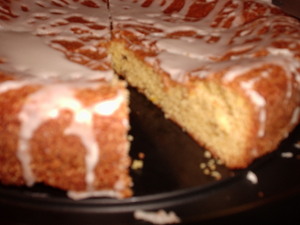 Mary Bilyeu, Contributor
or whether to cook Pumpkin Risotto (coating the grains of rice with oil before slowly adding liquid to make a creamy dish), paying respect to
the miracle of the consecrated oil
. But I've made all of those before and wanted to try something new. So instead, I baked a beautiful Orange Cake with the somewhat surprising ingredient of olive oil.
When I told people that I wanted to try this, they universally thought that it sounded odd to use olive oil in the cake. Oil in a cake mix batter is apparently alright, but folks seem to expect that butter is going to be used in a made-from-scratch cake ... and, truth be told, that is usually the norm with recipes I've made. But extra-virgin olive oil has a fruity flavor that complements the citrus without overpowering it, and it helps to make an extraordinarily moist cake.
This treat received excellent reviews when I brought some in to work! It is perfect for anyone who is lactose intolerant, so be sure to remember it during the slew of holiday celebrations still to come if you'll be hosting guests who can't eat any dairy products. And it is also pareve [PAHRv] -- neither meat nor dairy -- so those who keep kosher can serve it at either type of meal. But really, it's just perfect ... period.
Enjoy!
Orange Cake
Adapted slightly from a recipe by Florence Fabricant for The New York Times.
Cake:
2 eggs 1 cup sugar 3/4 cup brown sugar grated zest of 2 oranges 2/3 cup fresh orange juice 2/3 cup extra-virgin olive oil 1/2 teaspoon baking powder 1/2 teaspoon baking soda 1/2 teaspoon kosher salt 1-1/2 cups flour
Glaze:
1/2 cup confectioners' sugar 3 tablespoons fresh orange juice
Preheat oven to 375⁰ F. Grease and flour a 10" springform cake pan.
In a large mixing bowl, beat the eggs and the sugars together until thickened. Add the zest, 2/3 cup juice, oil, baking powder, baking soda and salt until well combined. Stir in the flour, then pour batter into the prepared pan. Bake for 40-45 minutes until a toothpick inserted into the center comes out clean. Let cake cool completely.
In a medium bowl, whisk together the confectioners' sugar and the 3 tablespoons orange juice; drizzle the glaze over the cake. Let the glaze set before cutting and serving. Makes 12 servings.
Mary Bilyeu has won or placed in more than 60 cooking contests and writes about her adventures as she tries to win prizes, feeds hungry teenagers and other loved ones, and generally just has fun in the kitchen. The phrase "You Should Only Be Happy" (written in Hebrew on the stone pictured next to the blog's title) comes from Deuteronomy 16:15, and is a wish for all her readers as they cook along with her ... may you always be happy here!
You can contact Mary at yentamary@gmail.com.