Posted on
Thu, Nov 5, 2009 : 6 p.m.
National Men Make Dinner Night
By Mary Bilyeu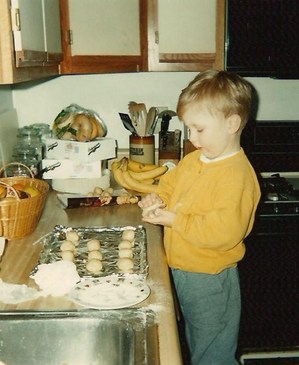 Mary Bilyeu, Contributor
I usually do all the cooking at my house … I like doing it, it's relaxing, and my son Jeremy has a fairly limited repertoire of meals he can prepare because, quite frankly, he simply doesn't need to know how to cook when a consummate people-feeder like myself is here to take care of that little detail. (Not to mention Jeremy having his own pizza and burger money now, too, as well as a car.) That, and his interest level has waned considerably in the 15+ years since this picture was taken. He used to love helping me in the kitchen, particularly baking; but these days, Jeremy is happier to share in the bounty without doing any of the work.
However, today is "National Men Make Dinner Night" -- yes, give credit to Chase's Calendar of Events: The Ultimate Go-to Guide for Special Days, Weeks and Months for pointing this date out to me! - so Jeremy was put to work to feed our little family. Being an 18-year-old male, his first thought was macaroni and cheese; having some leftover bratwurst in the refrigerator only added to the charm of this "guy food" fest. I gently suggested that we should have a vegetable tray for a touch of nutrition, to which Jeremy replied: "Nope. I'm supposed to be cooking and that doesn't need to be cooked." He had spoken.
Jeremy very proficiently put a bit of oil in the skillet to brown the bratwurst as he waited for the water to boil so he could cook the macaroni.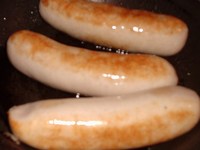 An old pro at making this when he has to fend for himself, he drained the pasta, measured the butter, poured just the right amount of milk instinctively, sliced the bratwurst, and mixed everything together into a unified whole.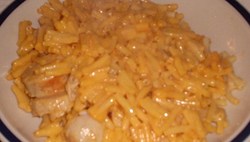 Mary Bilyeu, Contributor
He even told me what to take pictures of as he cooked, and just how to do so, as well … my future Food Network star???
So, Mom got a night off and a good dose of comfort food, too … not a bad deal! And Jeremy had fun participating in this day that doesn't even qualify as a "Hallmark holiday," but which was fun for us nonetheless … :)
Mary Bilyeu has won or placed in more than 60 cooking contests and writes about her adventures as she tries to win prizes, feeds hungry teenagers and other loved ones, and generally just has fun in the kitchen. The phrase "You Should Only Be Happy" (written in Hebrew on the stone pictured next to the blog's title) comes from Deuteronomy 16:15, and is a wish for all her readers as they cook along with her ... may you always be happy here!
You can contact Mary at yentamary@gmail.com.