Posted on
Sat, Dec 12, 2009 : 7 a.m.
Eating Indian snacks on the 2nd night of Chanukkah
By Mary Bilyeu

I absolutely adore Indian food! I love it so much that I chose to eat at
Temptations
for my birthday a few days ago. And a few days before that I shared a "bon voyage" Indian meal with a beloved friend who went snowbirding to New Mexico this week, just in time before the bitter cold blew in. (Hi, Jayne!)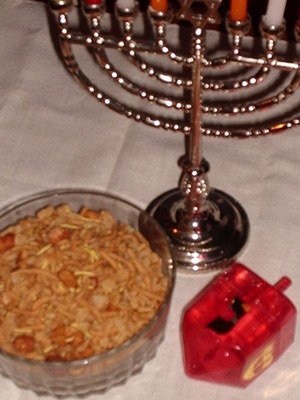 Mary Bilyeu Contributor
And so it only seemed logical, as I seek new twists on
Chanukkah
culinary traditions (which generally feature oil in celebration of the miracle of 1 day's worth of consecrated oil lasting for 8 days), that I should find my way to
chivra
Chivra, according to my admittedly minimal research, seems to simply mean "Indian snack mix." And when I go into Indian markets, I am astounded by the variety of chivras available! All sorts of cereals and nuts and crispy and spicy items are combined to make delicious things to nibble on. But what, exactly, might this have to do with Chanukkah, you ask???
Oil. Whatever dry ingredients you feel like tossing together are coated with spiced oil before being baked briefly to crisp the mix. And so, even in eating this very non-stereotypically-Jewish food, the miracle of the oil is being celebrated!
I took a little bit of what I had on hand and a little bit of what I picked up during my last trip to the grocery store, and stirred it all together to make my own chivra. This will become a tradition in my home (frankly, it will become a regular treat!). It is absolutely addictive!
Chivra (Indian Snack Mix)
3 cups Rice Krispies 2 cups chow mein noodles 1 cup honey roasted peanuts 1/2 cup vermicelli (very thin, small pieces of pasta) 1/2 cup oil 1 teaspoon hot curry powder 1 teaspoon garam masala 1/4 teaspoon seasoned salt 1/4 teaspoon Cajun seasoning pinch of saffron (buy a machine-processed version at Middle Eastern markets: $4.99 for about a cup)
Preheat oven to 400° F.
In a large mixing bowl, combine Rice Krispies, chow mein noodles, peanuts and vermicelli.
In a small skillet, heat the oil and all of the spices, swirling the pan to combine everything, for 1 minute. Pour spice mixture over the cereal mixture and stir to mix well. Pour mixture onto a baking sheet and bake for 10 minutes. Let cool, then serve.
Mary Bilyeu has won or placed in more than 60 cooking contests and writes about her adventures as she tries to win prizes, feeds hungry teenagers and other loved ones, and generally just has fun in the kitchen. The phrase "You Should Only Be Happy" (written in Hebrew on the stone pictured next to the blog's title) comes from Deuteronomy 16:15, and is a wish for all her readers as they cook along with her ... may you always be happy here!
You can contact Mary at yentamary@gmail.com.