Posted on
Mon, Sep 12, 2011 : 10:56 a.m.
George Clooney declares love for Ann Arbor at Toronto International Film Festival
By Martin Bandyke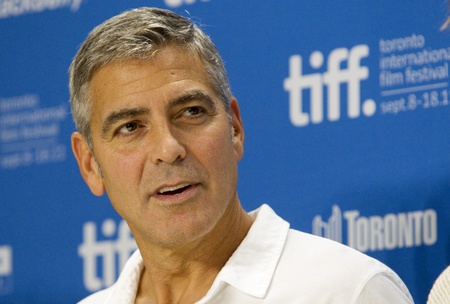 Darren Calabrese | The Associated Press
TORONTO—During Friday's jam-packed press conference at the 36th
Toronto International Film Festival
, mega-star
George Clooney
had high praise for both Ann Arbor and Detroit, two locales where he
shot parts of his latest movie
—
"The Ides of March
."
"We loved it there," said Clooney, in response to my question about how much he enjoyed being in town earlier this year. "First of all, Ann Arbor is an amazing city. We got there on St. Patrick's Day and everyone was drinking beer and everyone was screwed up, and I was like, 'This town was made for me.' "
After that initial bit of glibness, the director, co-star and co-writer of "The Ides of March" continued his Michigan love-fest on a more serious note. "We loved being on the campus, we loved shooting all around Detroit and Ann Arbor," said Clooney. "When you go to Detroit you see a town that is resilient, that's just fighting to win again, and there's an energy to that. Just watching a city really fighting to get back on its feet and watching the inner strength of a city is tremendous."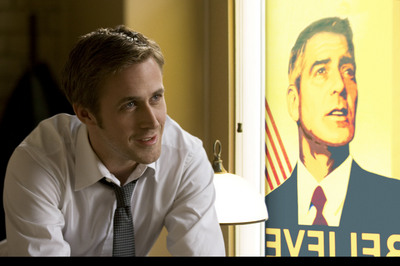 courtesy of the Toronto International Film Festival
A political drama that stars
Ryan Gosling
as the press secretary to a presidential candidate portrayed by Clooney, "The Ides of March" also features
Philip Seymour Hoffman, Paul Giamatti, Marisa Tomei, Jeffrey Wright
and
Evan Rachel Wood
as part of its impressive cast. Ann Arbor looks pretty impressive as well, with easily identifiable scenes shot in Power Center and the Michigan League.
Clooney is playing a double-header at Toronto this year, as he also stars in "The Descendants," the latest from "Sideways" director Alexander Payne. I'll have a full review of "The Ides of March" closer to the film's opening in Ann Arbor, but for now let's call it a relevant but cynical film about backroom political games. And between "Ides" and "The Descendants" in the Oscars sweepstakes, place your money on the latter film.
Since we're talking Academy Awards, look for "The Artist" to be in the running as well. The best thing I've seen so far at TIFF—that's what everyone calls the Toronto Festival—this one's an exquisitely-made tribute to 1920s Hollywood by director Michel Hazanavicius. A film about making films, a la "Sunset Boulevard" and "A Star is Born," the artist in question here is silent film star George Valentin, magnificently portrayed by Jean Dujardin. Cocky and arrogant, Valentin refuses to believe that the sound era will soon replace silent pictures, and before long he finds himself without a career, his mansion and his marriage. With almost no dialogue and shot in black & white, "The Artist" boasts a magnificent music score and is both audience-pleasing and an artistic triumph.
Other buzzed about TIFF titles hopefully coming to our Michigan Theater over the next several months include Aki Kaurismäki's delightfully satisfying "Le Havre," Agnieszka Holland's powerful Holocaust-themed "In Darkness" and Jean-Marc Vallée's "Café de flore," which stars a radiant Vanessa Paradis. "Shame" was the first major film to be picked up for distribution at TIFF this year, and is sure of to turn heads if and when it comes to Ann Arbor. Starring Michael Fassbender and Carey Mulligan, this one has tons of full-frontal nudity and a kaleidoscopic range of sexual activity.
And as always, TIFF delivered on star power, with Clooney and his cohorts joined here by the likes of Brad Pitt ("Moneyball"), Madonna ("W.E."), Francis Ford Coppola ("Twist"), Michelle Williams ("Take This Waltz"), Ralph Fiennes ("Coriolanus") and hundreds of other movie stars and directors.