Posted on
Thu, Oct 14, 2010 : 5:56 a.m.
Batten down the hatches: Great Big Sea rolls back to the Michigan Theater Wednesday
By Roger LeLievre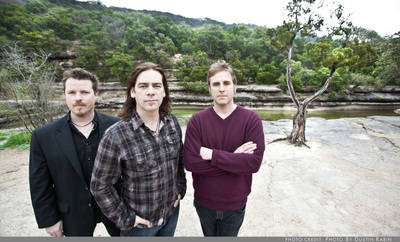 Alan Doyle, of the Newfoundland-based folk/rock and traditional music group Great Big Sea, is a bit bummed out.
He and his bandmates are in Pittsburgh for a concert but, much as they'd like to, they have zero time to take in a baseball game. Making matters worse, the stadium is right across the street from their hotel.
"We're sports-minded fellows," he said during a recent phone call. "I would really like to go to a major-league baseball game in the United States. ... But today is not the day."
One thing Doyle is definitely not bummed out about, however, is the recent release of GBS' 10th CD, "Safe Upon the Shore." They'll play tunes from the disc, as well as old favorites, at an Ark-sponsored concert Wednesday night at the Michigan Theater.
Anyone who has seen the band live knows to expect a crowd that's on its feet for most of the show, singing and dancing along. The band's audience rapport is among the best around, with the tangents they head off on during between-song-patter almost as entertaining as the songs themselves.
Although they can act a little goofy on stage, all the members of Great Big Sea are talented, hard-working multi-instrumentalists, fluent in everything from guitar and drums to the accordion, mandolin, Irish whistles, concertina, fiddle and bodhran. They fuse the traditional music of Newfoundland with modern pop and rock, playing both Newfoundland standards and original tunes with group vocal choruses.
PREVIEW
Who: Rowdy Newfoundland-based band consisting of Sean McCann, Bob Hallett, Alan Doyle, Kris MacFarlane and Murray Foster.
What: Original music with traditional sounds and instruments.
Where: Michigan Theater, 603 East Liberty Street.
When: 7:30 p.m. Wednesday.
How much: $25.50-$46.50 Tickets available online at Ticketmaster.com, by phone at 734-763-TKTS, or in person at the Michigan Union Ticket Office.
Doyle said the new CD displays has two distinct personalities.
"One is very old school and insular — that (part) we did in out own studio in our own little spaces, in dressing rooms and in the back of the bus. That stuff could have been on a Great Big Sea record in 1994. And there's the other side, which we recorded in New Orleans, and that stuff is totally, totally different for us — trombones, harmonica players and washboard players and the like. It's a bit of a double-edged sword; it's a lot of stuff people are used to from Great Big Sea and a lot of stuff that is totally brand new."
The band traces its origin to 1993, when Doyle, Sean McCann and Bob Hallett started GBS in an attempt to create a new approach to Newfoundland folk music, one that combined their original songs with the traditional sounds and instruments they grew up with. In 2002 and 2003, they added drummer Kris MacFarlane and bass player Murray Foster.
They're lifers now — they can't get out if they try," Doyle quipped of the newer members. "They pricked their fingers and signed in blood."
Listen to a selection of songs from the Great Big Sea album "Safe Upon the Shore":
The crowd at the Michigan can expect a two-set show of about 30 songs, with no opening act. Doyle promised plenty of crowd favorites alongside tunes from the new disc. Among songs fans are sure to recognize are barnburners like "The Night Pat Murphy Died" and "The Old Black Rum."
He said that whenever the band records a new CD it deliberately puts in a song or two that will get the crowd up on its feet during the live shows.
"We've always been focused more on the live show than anything else," he said. "Certainly, with the record industry the way it is, the live show has become so important to a band's career. It used to be part of it, now it's practically all of it. It's the only way you can make money, pay the bills. Luckily for us we have always liked that, and have put most of our eggs in that basket."
The release of the new CD also allows Doyle to ponder the passage of time.
"(That) has always been a source of fascination for me, to be honest," Doyle said. "Some things feel like it was yesterday. When we had our first record, that feels like two months ago. The beginning of this tour, which was 11 days ago, feels like 10 years ago. It still confuses me, the difference between the present and different points in the past."
One thing no one should be confused about is Doyle's musical ability. He plays electric and acoustic guitars, bouzouki, mandolin and banjo, and he sings as well.
Not only is Doyle a busy working musician, he's also gone Hollywood, appearing in several films and TV shows. Movie fans may have caught him as the lute-playing Allan A'Dayle in "Robin Hood," alongside pal Russell Crowe this past summer. GBS' rowdy tune "Company of Fools," from the band's 2008 album "Fortune's Favour," was written by Crowe.
He's not the only one busy with side projects, and that's fine, he added.
"There's a lot of creativity in this band," said Doyle, "too much for an album every two years. We all have lots of other ideas, ambitions, and paths we want to travel — that said, we wouldn't have stuck together this long if we didn't know how special this band was. We are not finished yet by a long shot."
Doyle said he is looking forward to getting back to a town that holds fond memories for him.
"We've been there a whole bunch of times and we always have a lot of fun. It's one of the first places we had good success in the States. … I guess it was The Ark. It's a great music town … everyone plays in Ann Arbor," he said.
Roger LeLievre is a freelance writer who covers music for AnnArbor.com.
Great Big Sea performing live in New York earlier this month: