Posted on
Tue, Aug 2, 2011 : 3:16 p.m.
Indie film 'AWOL' transforms part of South U into Vietnam-era protest
By Jennifer Eberbach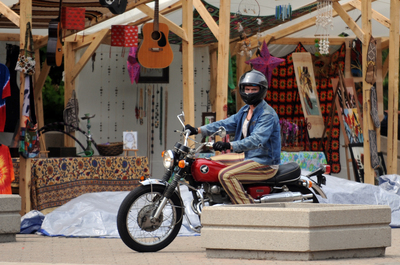 Melanie Maxwell | AnnArbor.com
Indie film "AWOL" is filming
outside of Ulrich's Bookstore on South University today.
The film, which is based on a true story, is about a Vietnam soldier played by Austin Stowell ("The Secret Life of the American Teenager") who goes AWOL with his best friend played by Liam Hemsworth ("The Last Song") to win back his ex-girlfriend played by Aimee Teegarden ("Friday Night Lights," "Scream 4").
A production assistant on the scene said they plan to be there filming until around 6 p.m. this evening. Some areas are blocked off; however, onlookers can get a clear view of the action from the sidelines.
The film is set on the U-M's campus at the height of the anti-Vietnam War movement. The corner near the entrance to the Diag is transformed to look like the Vietnam era — old police cars, actors with hippy-style clothing and hairdos, and art fair booths (one selling tie-dye) set the scene.
Some of the giant puppets that have appeared in Ann Arbor's annual FestiFools parade are featured in the scene. The colorful, funky, and visually striking artworks seem right at home in the scene.
Around noon, filmmakers shot a group of young protesters jumping and dancing around, which was a little funny without any music to go along with it (presumably they will add that in later). Some carried protest signs with popular phrases from the Vietnam era including one that reads "Flower Power."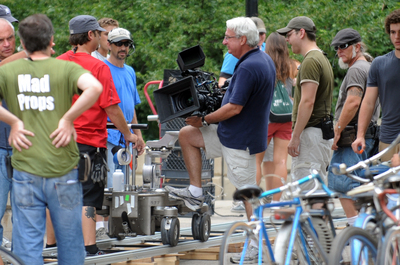 Melanie Maxwell | AnnArbor.com
Debbie and Dave Kopf
of Highland were on campus waiting for their son to finish a math class at U-M when "we saw a police car blocking off the street. We thought it was some kind of art fair or event going on that we'd want to check out. Then we saw they were filming a movie, and we've been watching for about a half an hour already.
"We enjoy looking at all of the props. We both had bikes like the ones they are using. The clothing, the cop cars — it's kind of a flashback. It looks authentic," Debbie said.
U-M freshmen Kelli Graham and Precious Thomas "were in class taking a test, and our teacher and whole class were all looking out the window in the middle of our test to see if we could see Miley Cyrus," who dates Hemsworth and has been spotted around town, Graham said. "I haven't seen her down here yet, but I'm hoping to see her," she says. "We all started running to the window, but then we had to stop and take our quiz!" Thomas said with a laugh.
"This is the first time I've seen a movie being filmed. It's very different than what I thought it would be like. I thought it would be more closed off, but there are students and people walking back and forth watching them film around most of this area," Graham said.