Posted on
Sun, Aug 8, 2010 : 5:55 a.m.
Ingrid Michaelson set for sold-out show — with help from 'super-geeked' Abigail Stauffer
By Roger LeLievre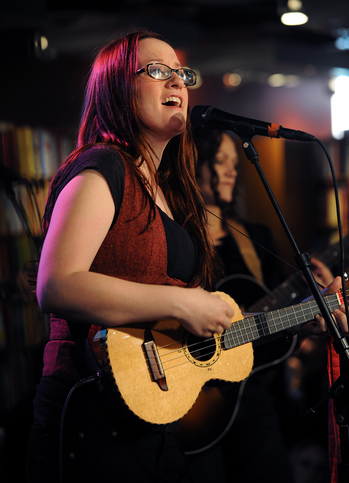 Lon Horwedel | AnnArbor.com
One of the extra-cool things about pop singer Ingrid Michaelson's sold-out show at The Ark Monday night is the performer who's been engaged as the opening act.
That job falls to up-and-coming singer songwriter Abigail Stauffer, a Dexter native and University of Michigan linguistics grad who last winter won an online contest to create a video for Michaelson's single "Everybody." The grand prize was a chance to perform a song on stage with Michaelson. Instead, Stauffer gets to open the show.
"I am geeked, super-geeked!" she said. ""It's more than I expected."
Ironically, Stauffer, who works at Espresso Royale on Main Street, actually lost the contest before she won it. Criteria included whichever entrant got the highest number of views on YouTube and a voting round where fans cast ballots online. Stauffer said she came up short on votes and the grand prize went to someone else. However, Michaelson stepped in and elevated Stauffer to co-winner.
"I already thought I had lost. I got disqualified in the second to last round, then she threw me on as a wild card," Stauffer recalled.
According to a post on the contest website, ""Ingrid thought Abigail did the best job of embodying the message of the song," and Michaelson said in a phone interview with AnnArbor.com that she thought Stauffer did an "outstanding" job with the video.
Abigail Stauffer's video for Ingrid Michaelson's "Everybody":
"She is good. She put a lot of time and effort into her video. Also, it was one of the Top 10 most viewed of the videos. … She was really sincere and I like that," Michaelson explained.
Michaelson, who has sold out The Ark in previous appearances, is an independent singer-songwriter known for the songs "The Way I Am," "Be OK" and "Everybody." She was first noticed after four of her tunes were used on TV's "Grey's Anatomy," and gained greater fame when "The Way I Am" was featured in an Old Navy commercial.
The Ann Arbor show is a result of having a space in her schedule as opening act for English alt-rock band Keane's U.S. tour, Michaelson explained. "We thought, instead of having a day off, let's play a fan-only show in Ann Arbor."
The show was announced through Michaelson's e-mail list of area fans and on Twitter and sold out almost immediately.
"The idea of the show was only for fans to get tickets, because I think we are going to come back in the fall and do the Michigan Theater. I love The Ark, but I think it's time to go to a bigger place that accommodates all the people who want to buy tickets," she said.
PREVIEW
Who: Independent singer-songwriter. Ann Arbor's Abigail Stauffer opens.
What: Hits such as "The Way I Am," "Be OK" and "Everybody."
Where: The Ark, 316 South Main Street.
When: 8 p.m. Monday.
How much: SOLD OUT.
Information: 734-761-1451.
Besides touring with the "Everybody" album, Michaelson fans can expect a new, stand-alone single, titled "Parachute," this fall.
"We're not going to put it on an album; we're just going to let it live out in the world on its own," she said.
Michaelson said one of the keys to her popularity could be the personal approach she takes in her songwriting. "I've been told I say things that everybody feels, in a way they never thought of thinking about it," she said. "And a few of my songs help people motivationally — which I didn't really intend. I'm very selfish when I write music, it's pretty much all about myself."
Michaelson said there were 200 entries in the "Everybody" video contest and that she personally viewed each of the Top 30 candidates.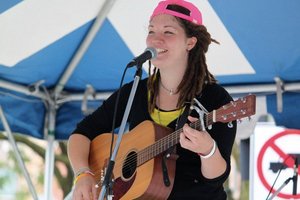 Stauffer, who released her first CD two years ago and is working on a follow up, said she and a group of friends spent a couple of hours shooting the video on the University of Michigan campus. "It was on the spot, we didn't plan out everything. (It was) whatever ideas came to our mind, we would videotape it." Listen to Abigail Stauffer "Life Unfolds" (MP3).
Although she acknowledges that the opening gig could lead to bigger and better things, Stauffer is not trying to get her hopes up, especially since an opening slot for Melissa Ferrick a while back didn't translate into increased success.
"I am keeping my expectations low. Hey, this is a great opportunity but maybe not my big break, but I don't know."
Roger LeLievre is a free-lance writer who covers music for AnnArbor.com.