Posted on
Tue, Dec 11, 2012 : 8 p.m.
Ann Arbor resident appears on 'Jeopardy!'
By Bob Needham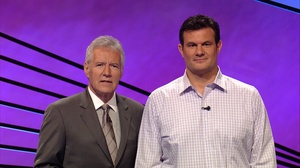 Jeopardy Productions
An Ann Arbor resident on the TV game show
"Jeopardy!"
on Tuesday saw his appearance end after one day, though he was in contention until the end.
Jan Rishoi of Ann Arbor appeared on the program Tuesday, and in the segment where host Alex Trebek chats briefly with the contestants, Rishoi mentioned a family tradition of seeing "Casablanca" at a movie theater each Labor Day—presumably the Michigan Theater.
After the first round of the competition, Rishoi found himself with $0 in winnings. But he rebounded nicely in the "Double Jeopardy" round, at one point moving into first place, thanks partly to a successful $4,000 wager on a "Daily Double" response.
At the end of the second round, Rishoi was in third place with $9,600, while the other competitors had $11,600 and $12,000.
The "Final Jeopardy" category was Businessmen. The answer: "Thomas Watson Jr. appeared on the March 28, 1955 cover of Time with the caption 'Clink. Clank.' This."
Both Rishoi and the returning champion responded incorrectly, leaving Rishoi with $5,400. But the other challenger correctly responsed "What is 'Think'?," leading to a $19,600 total and a win for the day.
Earlier this fall, Stephanie Jass of Milan enjoyed a record-setting run on the program: Her seven straight wins was the most successful run ever for a female contestant.
Locally, "Jeopardy!" airs at 7:30 p.m. weeknights on WDIV, channel 4 in Detroit.
Bob Needham is director of entertainment content for AnnArbor.com. Reach him at bobneedham@annarbor.com or 734-623-2541, and follow him on Twitter @bobneedham.