Posted on
Sun, Jan 10, 2010 : 5:11 a.m.
After the Firefly Club: Jazz lives on, but without full-time home
By Roger LeLievre
Live jazz in Ann Arbor may have lost its home when the Firefly Club closed last August, but the music still plays on. Most of the local acts that performed regularly at the Firefly have landed elsewhere — however, musicians and jazz fans say it's not the same.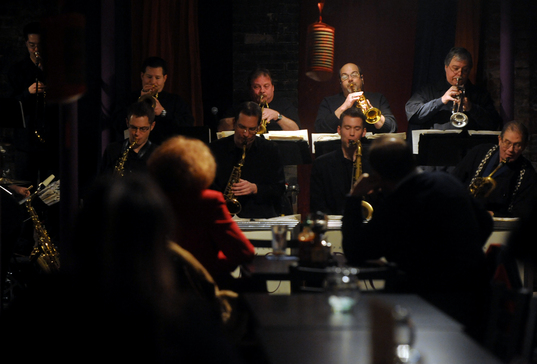 Melanie Maxwell | AnnArbor.com
"There's no hot spot — it's all spread out," said drummer Sean Dobbins, who played often at the Firefly. "It was the musicians' central meeting place. … It was a club that we could call our own."
Ed Dubin of Belleville said he and his wife, Joy, used to be regular customers at the Firefly. Both lament the club's closing. "It was like an old friend disappearing," Ed Dubin said. "We have migrated to the Keystone Underground in Ypsilanti, but it's not the same. They don't bring in the (national) acts the Firefly Club did, and we miss it. When you have opportunity you generate interest. By losing opportunity, the interest is going to start declining. … I think jazz as a live performance has been hurt."
Susan Chastain, who owned the Firefly, put it most succinctly: "We lost our sandbox," she said.
The closure of the Firefly Club has left Ann Arbor without a full-time jazz club for the first time in nearly 25 years. The club was known for bringing in a mix of touring as well as top local talent and for offering valuable opportunities for student musicians. Treasury officials seized the property because Chastain fell short on $120,000 worth of back sales tax payments. On October 8 the club's assets were auctioned off; a group of jazz fans bought the piano and relocated it to the Keystone, where Paul Keller's big band holds court on Monday nights, much as it did for years at the Firefly. Another Firefly regular, The Doug Horn Trio, plays there on Thursdays.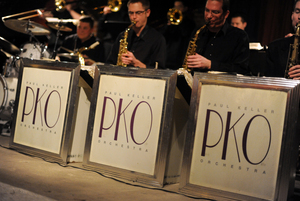 Melanie Maxwell | AnnArbor.com
"We're hoping we can get enough people in there on a regular basis to keep the big band in there on Monday and Doug on Thursday and even have some special jazz events at other times," said Paul Keller of the Keystone, which opened last summer in the basement of the former Kresge store below J Neil's Mongolian Grille on Michigan Avenue.
As far as the other Firefly musicians, Dixieland favorites The Easy Street Band, featuring cornet player Paul Klinger and Chastain as vocalist, has relocated to Zal Gaz Grotto Club on Tuesdays from 6-9 p.m., while Phil Ogilvie's Rhythm Kings now perform from 5-8 p.m. on Sundays at Live at PJ's. Latin jazz band Los Gatos, which had a regular Thursday show at the Firefly, is currently without a regular gig.
Kerrytown Concert House continues to book occasional jazz shows (pianist Ellen Rowe will hold a CD release party on January 15, and there are 3 jazz shows on KCH's calendar for February).
"We're lucky to have Kerrytown," Sean Dobbins said. "They want to do concerts there. Goodnite Gracie (Live at PJ's' smaller sister club, which books a lot of jazz acts) is really wanting to keep things going. But I think for a real scene you need more than 1 or 2 clubs. You need 3 to 5 clubs going on."
Dobbins said complacency on the part the local jazz crowd was a key ingredient in the Firefly's demise.
"I think no one could ever imagine Ann Arbor without a jazz club. For almost 20-30 years there's been a club — the Bird of Paradise and the Firefly — people said there's no way possible we'd never have a club.
"If everybody that said they were sorry about the Firefly Club had come in once every two months, the Firefly would be open — just 1 cover charge or 1 drink would have done it from those people that say they're sorry it's gone. It doesn't take much," he said.
Susan Chastain agreed.
"If the community doesn't support it, the community doesn't get it," she said. "That's just the way it is. … If everyone who sent me an e-mail had come in once a month and spent $5 at the bar there would have been my tax payment every month."
Although she didn't have a choice at the time, she says now that moving the club from South Ashley Street, where she had lost her lease, to South Main Street in 2007 hurt business.
"Our move killed us; that's part of it," she said. "I had to go, and where else would I have put it? There are not many places … I thought we were established enough and we were enough of a destination that we could make it 4 blocks south of downtown (she laughs). But it just wasn't enough."
Despite how things have turned out, Chastain said she isn't bitter and is looking forward, not back.
"I would have never have closed it myself. I would have dragged on 'til I was a dishrag and so maybe it's for the best," she explained, adding that she has been focused on her family and on a few local singing gigs. She has been going back and forth to Florida helping her daughter-in-law, who has a new baby, and performing when she's in town with the Paul Keller Orchestra and the Easy Street Band.
"I am sleeping better, my voice is better from not being in all that cigarette smoke and I'm not worrying; I feel a whole lot better. This gives me a chance to help do some promotion of other bands, maybe I can get a booking myself, although it is a little tough all over right now.
"Everything has a life span. Businesses come and go. I'm OK, my kids are OK, my grandson is healthy and nothing else matters. I have my moments, when I feel like an idiot … I think that if I had done things differently, if only I had done blah blah blah — but you do the best you can at the time. As with child rearing, you do your best out of total love and that's all you can do.
"I'm proud of all those years," Chastain said.
With an eye to the future, she said she has set up (with the help of Detroit's Attic Theatre) a non-profit entity called the Great Lakes Jazz Company which has an educational component of workshops and seminars called Jazz Greenhouse. According to a promotional brochure, "We are planting the seeds for the future of jazz."
Chastain pointed to a launch early this year, maybe by the first of March.
Dobbins said the closing of the Firefly hit not only musicians and adult jazz fans, but the education scene as well, since the club had several programs that allowed high school and college students to play alongside professional musicians.
"There's no bandstand now that your kid can come to and listen and learn something from and actually get a chance to play," he said. "I remember when I was 14, I would go hear the Ron Brooks Trio (at the Bird of Paradise) and if I was really good, after a while Ron would say 'Come on up.' That's when Susan was working there and she would babysit me. She'd put me in the chair and get me a Sprite and say 'You sit right there…' (At the Firefly) Susan was doing the same thing, giving students a chance to come in and hear the music and play."
Meanwhile, John Bogard, general manager of Goodnight Gracie and Live at PJ's, said he believes there is still a strong market in Ann Arbor for live jazz.
"It really entails the locals to start coming out and supporting it," he said, adding that he hopes to bring in some of the national jazz acts that used to draw audiences for the Firefly. "We definitely believe there is a viable market and we want to get back to that," he said.
Roger LeLievre is a freelance writer who covers music for AnnArbor.com