Posted on
Thu, Nov 15, 2012 : 3:45 p.m.
Jeff Kinney will bring the 'Wimpy Kid' to town; Twitter CEO Dick Costolo returns to U-M
By Ann Dwyer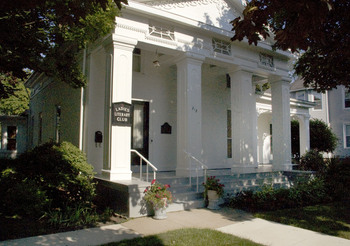 Tom Perkins | AnnArbor.com
CHRISTMAS
The Ladies' Literary Club of Ypsilanti will hold its annual Christmas Bazaar and Luncheon on Friday. 9 a.m.-4 p.m. Held in the club's historic 1840s Greek Revival house, this is the area's oldest Christmas bazaar, now in its 50th year. Handmade arts and crafts, "elegant junque," homemade preserves, candies, baked goods and more. There will be a raffle ($1 per ticket) of a Lewis Jewelers' gift certificate, a Lewis Jewelers' necklace, a handmade quilt, a painting, a monkscloth throw, a hand-embroidered luncheon set, a designer pillow and two gourmet baskets. Coffee and tea are served in the morning and lunch ($12.50) is available from 11 a.m.-1:30 p.m. No admission charge. 218 N. Washington St., Ypsilanti. 734-482-7615.
LECTURE
University of Michigan alum Dick Costolo, CEO of Twitter, will give a lecture at Rackham Auditorium on Friday. 1-2:30 p.m. He will discuss how he went from the trenches of computer science at the U-M to leading a world-changing company. He'll discuss Twitter's role in communication and free expression in the modern world. He will also take a look back at the evolution of communications throughout history and Twitter's role in the future of global communication and democratized information. Don't worry, he'll use more than 140 characters. Free and open to the public. 915 E. Washington St., Ann Arbor. Read more here.
KIDS
It'll be Family Fun and Movie Night at the Morris Lawrence Building at Washtenaw Community College on Friday. 6 p.m. The movie starts at 7 p.m. There will be lots of fun with inflatables, pizza, movies and more. Sponsored by Mosaic Church. A free event, all are welcome. 4800 E. Huron River Dr., Ann Arbor. 734-973-3300.
BOOKS
It's "Found Magazine"'s 10th Anniversary Tour, with founder Davy Rothbart at Live/The Last Word (formerly Live at Pj's/Goodnite Gracie's) on Friday. 7 p.m. and 9 p.m. Davy will share recent finds from the mailbox at Found HQ, while his brother Peter offers songs based on Found notes, and Davy will share stories from his new book of personal essays, "My Heart is an Idiot." $6 for students; $8 for the general public. 102 S. First St., Ann Arbor. 734-623-1443. Read about it here.
BOOKS
Parents, don't let your "Wimpy Kid" fans down. Author Jeff Kinney will be at Nicola's Books on Sunday. This is a ticketed event. Tickets for this event are limited. Each ticket is good for two people. To get a ticket, you pre-purchase a copy of the new "Wimpy Kid" book from Nicola's Books. Your ticket will also act as your line ticket for the signing portion of the evening. You must bring your ticket to get into the event, no exceptions. A special "Wimpy Kid Experience" will take place from 6-9 pm and offers snacks, photo opportunities and a live D.J. with Jeff Kinney arriving at 7 p.m. to begin the signing portion of the event. For more details, visit www.nicolasbooks.com, or call 734-662-0600. 2513 Jackson Road, Ann Arbor. 734-662-0600.