Posted on
Thu, Jan 27, 2011 : 3:17 p.m.
Ann Arbor resident takes on "Jeopardy!" tonight
By AnnArbor.com Staff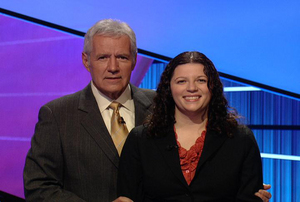 photo courtesy Jeopardy Productions, Inc.
An updated article, including the outcome of the competition, can be found here.
Ann Arbor is in jeopardy once again. Well, on "Jeopardy!", that is. Tonight, Ann Arbor resident Kara French steps up to the game show where questions are the answers. Check out her "Hometown Howdies" video short at the "Jeopardy!" website, where she hopes to "win one for the Wolverines."
"Jeopardy!" airs locally at 7:30 p.m. on WDIV-TV, channel 4 in Detroit. Check out the Entertainment section of AnnArbor.com tonight to find out how French fared.