Posted on
Fri, Feb 5, 2010 : 10:59 a.m.
Ark show, musical friends will help Kitty Donohoe celebrate a milestone
By Roger LeLievre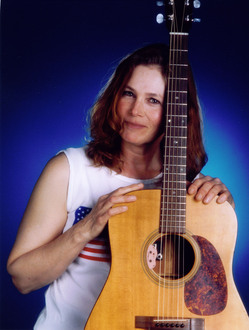 Kitty Donohoe
— the local singer-songwriter whose ballad "There Are No Words," commemorating the 9/11 terrorist attacks, struck a chord across the nation — is planning on marking another, happier occasion closer to home
Thursday night, February 11
.
That's when Donohoe will celebrate her 60th birthday with, appropriately, a concert at The Ark. She's asked a few musical friends to stop by, and so far David Mosher, David Reske, Wanda Degen, most of The Yellow Room Gang, Tyler Duncan, Katie Geddes, Doug Berch, John Sands and even Donohoe's kids have all promised to make an appearance.
"I've never filled The Ark, and it would make my decade if this was the night," Donohoe said.
Hard at work on her next CD, a long-dreamed-of project musically exploring the spread to America of the Irish culture, Donohoe has also launched a new venture called The Wine Gypsy. She recently appeared on the Kennedy Center for the Performing Arts' Millennium Stage in Washington, D.C. and performed "There Are No Words" at the dedication of the Pentagon's 9/11 memorial in late 2008. Understandably, the experience still looms large in her mind. Listen to Kitty Donohoe "There Are No Words" (MP3).
"It was really the gig of a lifetime. I can't imagine anything could beat that. It was an astounding experience in every possible way," she recalled.
"There were 16,000 people in the audience and they were all in some way connected to someone who had died at the Pentagon. It was a very somber and yet elegant thing. It's kind of hard to describe. There was just a vibe of incredible togetherness."
Donohoe never dreamed that song would touch as many people as it has. "I had no idea. I wrote it for myself, and it just took its own flight path and kept going in its own direction," she said.
Although "There Are No Words" brought her into the spotlight, she is busy working on projects that will bear fruit now and in the future.
"I have a brand new venture called The Wine Gypsy that is going very well so far," she explained. "I've partnered with Sandhill Crane Vineyards outside of Jackson to offer private wine tasting / mini-concerts. I've been in and out of the wine business for years, so it's natural to merge that with my music. I integrate about maybe 6 or 7 songs throughout the process — they'll taste a wine or 2, I'll do a song, then another tasting, another song, that kind of thing.
"It's the perfect pairing of my skills — the music and the wine knowledge," she added.
---
PREVIEW

Kitty Donohoe

Who: Emmy Award-winning Ann Arbor singer-songwriter known for her 9/11 song "There Are No Words."

What: Folk-roots music show is also an excuse to observe Donohoe's birthday.

Many of her musical friends, such as members of the Yellow Room Gang, are expected to come and help her celebrate.

Where: The Ark, 316 South Main Street.

When: 8 p.m. Thursday, February 11

How much: $15.

Info: The Ark web site or 734-761-1451.
---
Then there's the Irish-American CD she's finally decided to get down to business and complete.
"It's essentially about the diaspora, the spreading to America of the Irish culture," she explained. "It starts pre-famine and then explores the crossing to this country and their experiences here. Even though it's going to be sort of told through the eyes of my family — both my parents' families came from Ireland — it's also going to be everybody's Irish American experience told from a personal point of view."
She's been working with an accordion player with the same name, Martin Donohoe from County Cavan, Ireland, and hopes he and his band can appear on the CD, which will be 70 percent original and 30 percent traditional material. Despite having the same last name, the Ann Arbor Donohoe hasn't quite figured out if they are related.
"We probably are — the first time I saw his picture I thought he looked like my brother. But it doesn't matter, he feels like a relative," she said.
For her milestone birthday, Donohoe said she's decided to celebrate "the best way I can think of — with friends, music and cake. I have invited lots of people who have played with me over the years, we've going to do an evening with Kitty Donohoe music with special guests. My plan is to make it a celebration and anybody who wants to can show up."
Roger LeLievre is a freelance writer who covers music for AnnArbor.com.