Posted on
Tue, Feb 26, 2013 : 3:47 p.m.
Later release date announced for Iggy and the Stooges' Michigan Theater concert DVD
By Bob Needham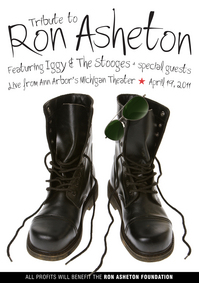 Just a few days after the announcement of an
upcoming DVD
for the 2011
Iggy and the Stooges
concert at the Michigan Theater
, the release date has apparently been delayed.
A new press release from production company MVD Entertainment Group says the DVD will be available June 4. Last week's initial announcement had the release as April 9.
There's no explanation for the change; it's called a "correction" in the new announcement. However—pure speculation here—the change may be related to a different announcement yesterday that Iggy and the Stooges are planning an album of new music to be released April 30. It's possible the band did not want the DVD release to distract attention from the new album.
The critically acclaimed concert took place April 19, 2011, at the Michigan, drawing national media attention. It marked the first time in many years the now-iconic band the Stooges, led by the legendary Iggy Pop, played in their hometown.
The concert served as a tribute to the late Ron Asheton, the Stooges' original guitarist, who continued to make his home in Ann Arbor until his death in 2009.
The DVD is available for preorder.
Bob Needham is director of entertainment content for AnnArbor.com. Reach him at bobneedham@annarbor.com or 734-623-2541, and follow him on Twitter @bobneedham.