Posted on
Sun, May 23, 2010 : 5:56 a.m.
WEMU's Linda Yohn loves being a musical tastemaker almost as much as she loves jazz
By Roger LeLievre
Angela Cesere | AnnArbor.com
Linda Yohn, one of the best-known personalities at WEMU, the public-radio station at Eastern Michigan University, lives a life that's filled with music.
From her fourth-floor office at EMU's King Hall, she reflected recently on her past, her present and her passion for jazz. She said she's loved every minute of her 23 years as music director at WEMU and is grateful for the opportunity she's been given to serve as a musical tastemaker for her listeners.
A two-time cancer survivor, Yohn admits she's slowed down and become more selective lately about how she spends her energy, which means curtailing some of her public appearances on behalf of the radio station and for a variety of other local causes.
In the past, she's given her time to local groups such as Jazzistry, the University Musical Society, the Eastern Michigan University Jazz Ensemble, the Michigan Jazz Festival, the Ann Arbor Summer Festival, the Ypsilanti District Library, the Detroit International Jazz Festival, the Detroit Blues Society, the American Cancer Society and many other organizations. Her photo can also be seen in various locations around town as part of a promotion for the Ann Arbor Transportation Authority.
She is also involved in station promotions and is one of the faces you'll see at fundraising events such as "For the Love of WEMU" held every February at the Northside Grill, where station staff volunteer as waiters and waitresses, with their tips benefiting WEMU (89.1-FM).
"I'll get out there and make my pitch, just like everyone else," she said. "People just love it."
Nationally, she has been nominated several times for the Willis Conover-Marian McPartland Award for Excellence In Jazz Journalism by the Jazz Journalists Association. In 2006 she received the highest honor from her peers at the annual JazzWeek Summit, the Duke Dubois Jazz Humanitarian Award.
Yohn, 58, has no qualms talking about her health challenges. She had rectal cancer in 2007 and surgery for another tumor, called a schwannoma, last December. She's been in physical therapy and some pain remains from being cut open.
"I am back at work, but there were some nerves, fascia, and some lung tissue that got sliced. … (but) I'm going to get back to 100 percent physically," she vowed. "And when you are back physically, you are back mentally and spiritually. I don't have as much physical stamina as I did before," she said of her energy level.
Jazz has been a constant in Yohn's life ever since she was little.
"There was always music; my mother was always making music — she was an opera singer and would listen to the Metropolitan Opera on the radio. For fun, my mother preferred big band music, a lot of Benny Goodman, Glenn Miller, Duke Ellington, Count Basie and novelty songs — Kay Kyser, Spike Jones. She played a lot of piano — her favorite artist for just relaxing and playing the piano was Jerome Kern."
"I think there have been various times in my life that the music has just insinuated itself into me. One time was when I was in Buffalo my mother had given me her radio. It was this gorgeous old Fada … when you turned this thing on it glowed. I would take this radio to bed, under the covers. I found a station out of Rochester, New York, that played jazz all night. I loved that music. One night my mother opened the door, listened to it and she looked at me. 'You know what that is? It's called jazz,'" Yohn recalled.
Young Linda soon graduated to a Channel Master transistor radio and "I went to sleep every night with jazz music."
As she got older, she delved more seriously into the genre.
"Somewhere upon graduating from college, when pop music went the direction of Mountain, I couldn't take it. I couldn't hear the art in it. That's when I started to go through my mother's jazz records. I'd go to the record store and they'd have Muddy Waters on the box and I'd say 'I want that.' 'Can I have more of something like that?' My waitress money was spent on records. One of my favorite things to do would be to buy a stack of LPs after I got done waiting tables and go to Dick's Den (in Columbus) and shoot some pool, drink some beer, follow that up by going to an all-night restaurant with bright lights, read the liner notes, and then go home to listen to them all."
With so much music from which to choose, it's surprising there's not a second's worth of hesitation when she's asked to pick her favorite artist.
"Duke Ellington is number one. There are things in Duke Ellington's music that are timeless, so contemporary and so modern people are still trying to 'get' how Ellington arranged so beautifully for his horn players. So Duke Ellington reigns supreme. Then, if you were to ask me today, Muddy Waters and Howlin' Wolf, Erik Satie, Mongo Santamaría. The next day it could be Charlie Parker, Billie Holiday, Us3 and The Bad Plus. The envelope is pretty big.
It's the tension and release of jazz that hooks her in, she said.
"(It's) where there is some improvisation that is more up-tempo and there's a lot of interplay and a lot of stuff going on, and then the segment where everybody calms down and regroups and then it comes back again. The tension and release aspect of jazz music really floats my boat."
Yohn said she can't imagine doing anything else.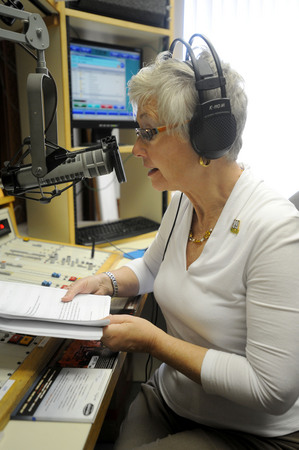 "I love what I do," she said, with an emphasis that leaves no doubt she means it. "I dreamed about doing this when I was 11. I wanted to be a DJ. There were no girl DJs in Pittsburgh. Even in Buffalo when I was 16, there were no girl DJs. Even when I was 20, going to school in Columbus, there were no women on the air. I still wanted to do it. I knew I could do it. So I did a little college radio and I really liked doing it."
Known for her dramatic speaking style, it comes as no surprise that Yohn once thought she wanted to be an actress, but, she admitted, "I wasn't very good. I got cast in old lady roles. I never got the ingénue roles because I didn't have nice legs. I wasn't thin, I wasn't blonde, and I wasn't tall. I was short, brown-haired, a little bit dumpy. Oh well.
"One thing I did do, I did a lot of tech, and I loved it! I ran lights, did a lot of sound and that kind of pointed the way. (I thought) you can still be creative, still be a part of the scene, but maybe you don't have to be out front. I tried singing, and I have a musical voice, but it's not the best. But I can listen. I was brought up in a musical household so I've got the ears for it. So I'm a tastemaker. And that's an OK place to be. You help shape the sound and the sound of the community. I love being in that position."
Yohn's day includes auditioning new CDs for airplay, dealing with record label reps, planning her show, which airs Monday through Friday from 9 a.m. to 12:30 p.m., answering e-mails, filling out station logbooks — "multi-tasking," she acknowledged. She marks the killer tracks on every CD after she listens to them, and before she passes on the discs to the on-air hosts she adds details about the performers.
Yohn estimated she auditions more than 40 new CDs each week. Only spectacular tracks get added to the station's playlist. "If a disc only comes up with 2 good tracks, forget it!" she exclaimed.
Yohn is quite clear on what she's looking for when she's auditioning new music.
"Solid production values. If you've got really poor technical values or production values, I don't want it on the air. … For my own personal sense I want melody. It could be funk, it can have a lot of different beats and things, but give me a melody. … It's still the old pop formula of hooks and riffs. It's got to be there. And I look for a wide variety of things — Brazilian music, world music, Latin music, really good blues, jazz — all the different music we play on WEMU."
Linda Yohn live in the WEMU studio:
She said she is pleased that, while other public radio stations have changed formats away from music, WEMU has not.
"Some people thought we should do that but (WEMU Executive Director Art Timko) never wanted to. He felt that we serve the community better with locally produced and hosted music shows. They are more expensive than syndicated programs, but it is much better customer and community service".
Now, she said, the challenge is make the station's format relevant to a new group of listeners.
"That's why there's maybe a little more contemporary-sounding stuff in a show," she explained. "We're still going to get Charles Mingus in. There's still going to be Duke Ellington and Charlie Parker and Billie Holiday. But The Bad Plus are here to stay, and Angelique Kidjo, and funky world-beat grooves are here to stay…. I think that's a good thing. It's got to happen. If we don't do that our jazz goose is cooked."
Before coming to Ypsilanti, Yohn was a music publicist in New York, working for a small firm that primarily represented jazz clients. Yohn said she left New York because she was tired of waiting for the Big Apple to discover her, and because she found the pace a little faster than she would have liked.
"There is just a level of dues-paying that I wasn't up for paying — and a quality of life I required. I really like open air. My speech a little slower and my pace a little slower. … I come from a very Midwestern family. I made a decision about my own life. I broke my own heart leaving New York, but it was the right thing to do. I haven't turned around and looked back since."
Roger LeLievre is a freelance writer who covers music for AnnArbor.com