Posted on
Thu, Jul 18, 2013 : 5:55 a.m.
Local artists share their personal ties to the Ann Arbor Art Fair
By Chelsea Hoedl
• The Mega Guide: Full coverage of the 2013 Ann Arbor Art Fair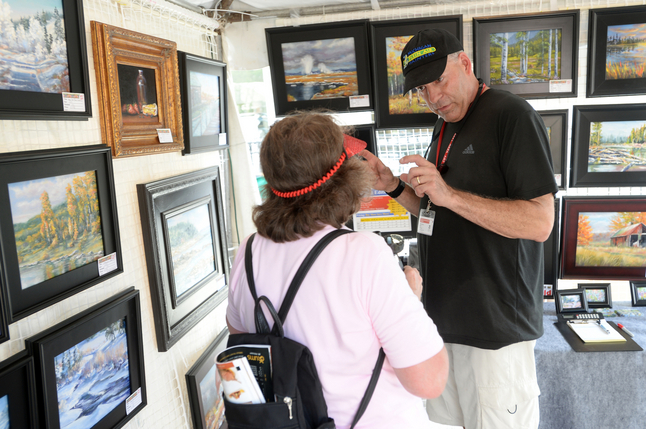 Melanie Maxwell | AnnArbor.com
Related: Ann Arbor Art Fair video: See a time lapse from day 1
The Ann Arbor Art Fair will attract artists from all over the country Wednesday through Saturday, but some will travel just a few miles to display their work in the event that draws an estimated 500,000 visitors annually.
Of the 1,000 artists that will participate in one of the four official fairs that make up the Ann Arbor Art Fair this year, about 60 of them are Ann Arbor residents, and others live elsewhere in Washtenaw County.
Melanie Maxwell | AnnArbor.com
Former Senior Vice President of the Stores Group for
Borders
Steve Davis
will run a booth just around the corner from the
closed book store
he once worked for.
"I've worked downtown for years and I always used to go to the art fair," Davis said. "I've lived in Ann Arbor since 1995 and I've gone to the fair almost every year since then, but now I'll be participating as an artist, something I never thought I'd do."
When Borders began to struggle, Davis turned to painting as a stress reliever after finding an old painting set in his basement.
"I took it out and at first, I failed miserably," Davis said. "Like anything else, you have to crawl before you can walk and my wife, Nancy, can attest to that. I have a toxic waste dump in my basement of paintings I would never show anyone, but with every painting I improve."
Davis began taking lessons from Heiner Hertling in 2009 and began selling paintings online.
"Then this year, I saw the application for the Ann Arbor Art Fair," Davis said. "It's known for how difficult it is to get into, but I said, OK, you know what—I'm going to try it; and sent in a couple of paintings. A few weeks later I got an email saying I was accepted."
Davis has about 50 landscape and still life paintings of all different sizes prepared for his debut in the State Street Area Art Fair.
"I think it will be great to talk to people that come in," Davis said. "Ann Arbor, I think, is really attuned to art. I think I'll get great feedback and in my own back yard, no less."
Bridget Vagedes, creator of delicate jewelry often featuring Murano glass, will also operate a booth for the first time this year in the State Street Area Art Fair.
While Vagedes isn't an Ann Arbor resident, she is tied to the city in a unique way; her birth mother, Lilli Blackburn, has been living in Ann Arbor for nearly 50 years and has run a booth in the Summer Art Fair for 12 years.
"About four years ago I was contacted by Bridget's husband," Blackburn said. "He was the husband of a daughter I had put up for adoption years ago and he wanted to know if I'd like to meet her."
Blackburn was nervous about the meeting, but she said the opportunity to reach out and build a relationship couldn't have come at a better time.
Art Fair 2013
Everything you need to know before you hit the fair
"She was coming to Ann Arbor to work at
Arts, Beats and Eats
in 2009 and I was floored," Blackburn said. "She's an artist living her life parallel to mine, participating in an art fair that I have applied to in the past. We met that year, did a great deal of catching up and have been keeping in contact ever since."
Vagedes, living in Los Angeles and traveling to art fairs across the country, will join Blackburn in the Ann Arbor Art Fair this year. Vagedes will sell her jewelry while Blackburn will showcase white wear clay featuring dogs and cats in a booth on Liberty Street.
"Having another offspring out there doing what I do without even knowing it was astonishing to us both," Blackburn said. "It is such an emotional thing to have her here, staying with me and doing what I do just a few blocks away."
First-time participants will join hundreds of artists who have participated in the fair for years. Among these seasoned Ann Arbor Art Fair artists is Dick Dokas, an Ann Arbor resident for almost 45 years who will display his silver print photography in the Summer Art Fair for the 35th year in a row.
"One of the best parts of this fair for me is seeing the people," Dokas said. "I get to see a lot of my former students, and it's always interesting to see someone who I haven't seen for 40 years. It's always a surprise for them to see their biology teacher from high school running a booth at an art fair."
Dokas said he has enjoyed watching the event transform over the years.
"It has actually changed quite a bit," Dokas said. "The emphasis has certainly become more on the art than on the carnival aspect of it. It's gotten a lot more serious in terms of the people that participate, both the artists and the crowds that come. It's a welcome change."
Dokas's corner booth on State Street will feature 62 images that offer more detail and store more information than your average photo. A camera that would have been used in the 1850s captures long exposure images that are developed in to vivid prints.
The camera takes about 20 minutes to set up and requires a great deal of planning and attention to detail, Dokas said.
"It's a contemplative form of photography and you can't be in a rush when you go out to take a photo," Dokas said. "A lot goes into it and the crowd at this fair realizes that. Ann Arbor has a very knowledgeable crowed that knows what they're looking at, and that makes it worthwhile to me."
Chelsea Hoedl is an intern reporter for AnnArbor.com. She can be reached at choedl@mlive.com.