Posted on
Tue, Jul 31, 2012 : 10:04 a.m.
Local favorite Dave Boutette to be featured at AnnArbor.com concert on the patio
By AnnArbor.com Staff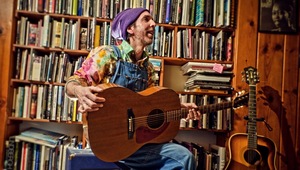 photo by Doug Coombe
The AnnArbor.com Summer Concert series this week showcases well-known and well-respected local roots musician and songwriter
Dave Boutette
.
The special intimacy that only comes from sharing firelight is where Dave Boutette finds his home. Songs of highway hijinks and wildcat oil drillers in the Michigan woods are as likely to be heard as old favorites that have been in your head and heart for years. For Boutette, it's the sharing of songs that holds all the magic.
Late last year, Boutette released a well-received new album, "Mending Time."
Stories, advice, observations, or raffles are as apt to appear during a Dave Boutette performance as are his songs. Blending many schools of American roots and popular music including folk, blues, swing, and old time country, his songs testify to the power of true love, rebirth, snow plows, and migrating fish.
For more on Boutette, check out his website or check out this feature story from AnnArbor.com.
Watch a video for his song "Crazy Girl":
Boutette will play at noon Friday, Aug. 3 on the patio of the AnnArbor.com Community Space at 301 E. Liberty Street, at Fifth Avenue. The AnnArbor.com Summer Concert Series continues at noon Fridays throughout the season; check out the website for more information.