popstar.com:

Local tween stars Ariel & Zoey & Eli talk about their TV show, music and more

Posted on Mon, Oct 3, 2011 : 12:44 p.m.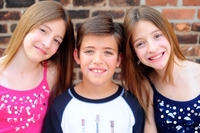 The website PopStar.com has an interview with Ariel & Zoey & Eli, the Ann Arbor siblings who star in their own syndicated TV show and also perform as musicians.

In the interview, they talk about highlights of the TV show, what it's like to work together, and other subjects.

The kids' TV show, called "Ariel & Zoey & Eli, Too," recently celebrated the start of its second season with a special event at the Michigan Theater.