with poll:

Locally filmed 'Scream 4' aims to draw new blood and a big box office take

Posted on Wed, Apr 13, 2011 : 5:58 a.m.
Last summer, Brighton's Justin Brandt — a 19-year-old Howell High School graduate — earned a principal role in "Scream 4," which was shot in Ann Arbor, Livonia, Northville, and Dearborn. (A "principal role" is one that ranks above extra, but below a lead role, and thus qualifies for union pay.)
Brandt spent four days on set, spread over two weeks, and got the chance to chat and eat meals with the film's main actors; since then, he's spotted himself in a "Scream 4" trailer now being screened in theaters.
Yet until the much-anticipated film — the first that the blockbuster horror franchise has released in 11 years — is released on Friday, Brandt can't share much more about his "Scream" experience than that.
"You'd be surprised at how much stuff I'm actually not allowed to talk about," said Brandt.
But we shouldn't be. Because expectations (in terms of quality and box office take) for this newest "Scream" installment are high, and because every "Scream" movie centers on a central mystery — namely, unmasking a masked killer known as "Ghostface" who always works within the orbit of a handful of beleaguered main characters — the cloak of secrecy surrounding last summer's shoot was extra thick.
For the most part, efforts to contain spoilers have thus far been successful. But in keeping with the series' tradition of surprises, the newest "Scream" is nonetheless allowing reviewers to publish reviews of the film before its official release date.
"They're not embargoing reviews until Friday, which is really unusual and shows they have a lot of faith in (the movie's) quality," said Jeff Bock, a box office analyst with Exhibitor Relations Co. "They obviously feel like the franchise has earned it. And by now, we all know what to expect, and with all the top-tier talent back, they're obviously satisfied with the product."
As a point of counter-programming, "Scream 4"'s biggest competitor at the box office this weekend will be a new, animated film from Fox called "Rio," about a domesticated macaw from Minnesota who nervously accompanies the bird of his dreams to Rio de Janeiro.
"Fox is now on par with Pixar and Dreamworks, in that it puts out animated movies of a quality that plays successfully to wide swath of moviegoers, and this is no exception," said Bock. " … Obviously, the two movies cater to completely different audiences. 'Rio' is rated G, while "Scream 4" is a hard R, and Weinstein's said this 'Scream' is the most grisly one since the first — which just makes sense in a post-torture-porn world."
"Scream 4" only recently began its publicity push, but this hasn't surprised Bock.
"This is one of those franchises that doesn't need a lot of push, even though it's been over a decade since the last one," said Bock. "There are only handful of horror icons out there today, so all you have to do is put Ghostface out there, and audiences recognize him and know about him."
Bock expects "Scream 4" to earn between $30-$35 million at the box office this weekend. Although the first "Scream" started small (a $6 million opening weekend) before drawing a huge mainstream audience by word-of-mouth, "Scream 2" and "Scream 3" both earned more than $30 million in their opening weekends. "With all the original stars back, I doubt there will be much of a dropoff for 'Scream 4," said Bock.
Plus, with a new slate of young stars (including Hayden Panettiere, Emma Roberts, and Anna Paquin), "Scream 4" clearly aims to draw both original fans and a new generation to the multiplex. "And I think they will," said Bock.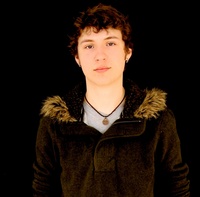 Brandt, meanwhile, who's working as a Jimmy John's delivery man while regularly auditioning for film work through his agency (and also trying to launch a music career), earned an invitation to the Hollywood premiere of "Scream 4." But because he'd have to travel on his own dime, he opted to see the film for the first time in a local theater with friends.
In other films, Brandt has worked as an extra and a featured extra, but "Scream 4" was his biggest role to date. Does he know what earned him a place on the roster?
"With the film industry — every audition you go into, it's a toss-up," said Brandt. "How you act is a very, very small part of the audition process. You walk in, and basically, it's how you look, and your personality. Because they can shoot it 700 times until they get a good take of you acting, but they can't shoot it 700 times to make you look the part."
"Scream 4" opens Friday. One local theater, Rave Motion Pictures on Carpenter Road, is planning a midnight screening Thursday night (that is, 12:01 a.m. Friday).
Watch AnnArbor.com in the coming days for more "Scream 4" coverage.