Posted on
Sat, Jun 1, 2013 : 5:57 a.m.
Your guide to this weekend's events around Ann Arbor
By Cole Bertsos
Looking for something new to do with your weekend? If you're in the Ann Arbor area, there's no shortage of food, spirits, entertainment and outdoor activities to catch your interest.
Festivals, live broadcasts, food fairs and art will be lining Ann Arbor streets this Saturday and Sunday — will you?
All-weekend events
40th annual Chelsea Painters Art Fair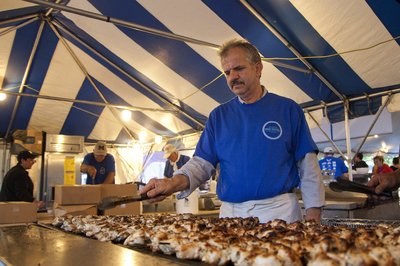 Jeffrey Smith | AnnArbor.com file photo
Twenty-five award-winning artists will display and sell original fine art and cards in a variety of media, including watercolor, acrylic, oil, pastel, gouache, encaustic and mixed media.
When: 10 a.m. to 5 p.m. both Saturday and Sunday. Free to the public.
Where: Silver Maples of Chelsea, 100 Silver Maples Drive, in Chelsea.
People of every cultural heritage gather together to celebrate spring with Greek food, dancing, live music, a marketplace and tours of the neo-Byzantine church.
When: 11 a.m. to midnight on Saturday and noon to 6 p.m. Sunday
Where: St. Nicholas Greek Orthodox Church at 3109 Scio Church Road, Ann Arbor
Saturday events
African American Downtown Festival
A free, full day of live music, arts, dance, food, kids' activities and more, in the footprint of Ann Arbor's former African American business district, celebrates the heritage and culture of the local African American community.
When: 8 a.m. to 9 p.m. on Saturday
Where: Downtown Ann Arbor around North Fourth Street and Ann Street.
New teen-led outdoor festival featuring music, poetry and dance. There will be teen-aged and some college-aged bands and solo musicians on 2 stages, art on exhibit and in the street, dance troupes, local food vendors, and other entertaining offerings.
When: 2 p.m. to 10 p.m. on Saturday
Where: In front of the Neutral Zone on the 300 block of East Washington Street.
"A Prairie Home Companion" live broadcast
Garrison Keillor, as part of Hill Auditorium's 100th anniversary celebration, will return to Ann Arbor for a live broadcast of his radio show, A Prairie Home Companion. The event will feature an ensemble cast, comedy sketches, musical interludes, special guests, and Keillor's signature monologue, "The News from Lake Wobegon."
Cost: $35 to $75
When: 5:45 p.m. on Saturday
Where: Hill Auditorium at 825 N. University Ave., in Ann Arbor
Ann Arbor Art Center's Paint the Town fundraiser
Participants will walk through the galleries, shops and studios and get a chance to see artists in action. The Patron Reception will offer specialty cocktails by the host restaurant, Habana, and the Main Event will have hors d'oeuvres as well as a selection of wines, spirits and crafted beers.
When: Patron Reception 6 to 7 p.m. and Main Event 7 to 10 p.m., both on Saturday
Where: The Patron Reception will be at Habana, located at 226 S. Main St., in Ann Arbor and the Main Event will be at the Ann Arbor Art Center, located at 117 W. Liberty St., in Ann Arbor
Sunday
Dexter-Ann Arbor 40th Anniversary Run
This annual race follows a trail along the Huron River and offers a half-marathon, 5K, 10K and kid's fun run. This year, the race will celebrate its 40th anniversary by awarding all participants with a special commemoration medal.
When: On Saturday, the Kid's Run will be 4 p.m. On Sunday, the 5K Run and Walk will be at 9 a.m., the 10K Run and Walk will begin at 8 a.m. and the Dexter-Ann Arbor Half Marathon will commence at 8:30 a.m.
Where: The course runs eastward from Dexter along the Huron River and ends in downtown Ann Arbor.
Area food fans are invited to sample dishes from more than 40 area restaurants, whose booths will line Main Street. The event is free, but tickets for food can be purchased for 50 cents each. Most dishes will be priced between four and six tickets.
When: 11 a.m. to 5 p.m. Sunday
Where: On Main Street between William and Washington streets.
"Telling Tales Out of School," a live storytelling event
The event, presented by the Student Advocacy Center and hosted by local storyteller Satori Shakoor, who has been featured on NPR's "The Moth Radio," will feature the talents of several storytellers. Their stories are intended to inspire, challenge and create a sense of community.
Cost: $25 and $15 for those with a student ID
When: 6 to 8 p.m. Sunday
Where: The Performance Network, located at 120 E. Huron St., in downtown Ann Arbor.
61st Annual Ann Arbor Home Tour
The tour visits a total of six homes and is a mix of both old and new homes. Tickets will be available at the Ann Arbor City Club at 1830 Washtenaw Ave., or can be purchased at the featured homes on the day of the tour. Lunch will be available at City Club for an extra charge.
When: 10 a.m. to 10 p.m. Sunday
Where: Meet at the Ann Arbor City Club at 1830 Washtenaw Ave.
Zingerman's is hosting this 4th annual bacon event as part of the town-wide Bacon Street Fair. Bacon fanatics can unite at the Ann Arbor Farmers Market in Kerrytown to sample and purchase bacon, as well as take part in entertainment and bacon-themed activities. The event is open to the public and a donation to Washtenaw County 4-H is suggested for admission.
When: 11 a.m. to 2 p.m. Sunday
Where: Ann Arbor Farmers Market in Kerrytown