Posted on
Mon, Jan 31, 2011 : 11:54 p.m.
Lovett, Hiatt, and surprise guest Jeff Daniels offer memorable show Monday at the Michigan
By Roger LeLievre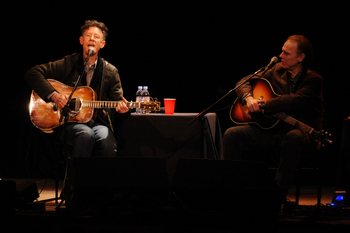 Melanie Maxwell | AnnArbor.com
Lyle Lovett and John Hiatt are a musical marriage that seems meant to be. Appearing together Monday night at the Michigan Theater for an acoustic show, the two singing-songwriting veterans traded songs back and forth for nearly two and a half hours and were, quite simply, superb.
But as extraordinary as those two were, leave it to a local to kick things over the top. Jeff Daniels, Chelsea-based bluesman and Hollywood leading man, was a surprise special guest, invited on stage to perform the nostalgic "Grandfather's Hat," one of his own compositions.
"I'm a student of theirs and always will be," Daniels said of Hiatt and Lovett, acknowledging the pair's status among the crème de la crème of influential American songwriters.
The show began on bluesy note, with Hiatt offering "Almost Fed Up With The Blues," and Lovett countering with "I've Got the Blues." They looked a little like bookends up on stage, two seasoned pros in dark suits, sitting in chairs, acoustic guitars in their laps. There's something so elemental about just a performer and his guitar that distills music down to its thrilling essence, and that feeling was present Monday night.
As the show progressed, each offered songs from their huge repertoire. Some of Hiatt's highlights included "Crossing Muddy Waters," "Perfectly Good Guitar," "Thing Called Love," "My Baby," "Cry Love," "River of Tears," "The Open Road" and "Real Fine Love." Among tunes Lovett played were "Road to Ensenada," "Good Intentions," "Don't Touch My Hat," "Cowboy Man," "Fiona" and, of course, "If I Had A Boat."
Both musicians were in fine form, Lovett's voice bending the notes until they almost cried out, and Hiatt's gruff voice cracking with emotion. Rarely did they jump in on each other's songs, with "Thing Called Love" the one exception. It sounded so good I wondered why they didn't do it more often — their voices play off each other perfectly.
Lyle Lovett and John Hiatt performing "Thing Called Love" live with Joe Ely last fall:
There was also plenty of friendly banter between them (the deadpan Lovett makes the perfect straight man), and Lovett took a moment to acknowledge the role of local acoustic venue The Ark and its importance to to musicians. "We wouldn't be here if it wasn't for The Ark," he said.
The show was also an anniversary: Lovett noted that it was 30 years ago Monday night that he first heard Hiatt on stage, in Austin, Texas.
Jeff Daniels, meanwhile, continued to impress. He's running with the big dogs now, literally and figuratively; if there was any further doubt, his performance during the encore should have laid that to rest for good.
If Hiatt's always amazing "Have a Little Faith In Me," which started off the encore set, was almost a religious experience, what followed was musical nirvana. Hiatt and Lovett brought Daniels back for the bluesy "My Baby Don't Tolerate," with Daniels and Hiatt trading guitar licks in a fascinating game of friendly oneupmanship. "This is like watching the Australian Open" (tennis championships)," Lovett quipped as the other two went back and forth.
I wish I'd had a camera to capture the three of them on stage; they looked so awesome, and the encore was one of the best I have ever heard. It brought the audience to its feet, cheering, well before the song was ended, and I was right there with them.
Roger LeLievre is a freelance writer who covers music for AnnArbor.com.