Posted on
Thu, Mar 11, 2010 : 5:26 a.m.
Mercy's brings Asian fusion approach to Bell Tower space
By Julie Halpert
Mercy's, the restaurant that opened January 22, succeeding The Earle Uptown in The Bell Tower Hotel, and previous to that the even more upscale Escoffier, is decidedly un-fancy. The ornate French bistro ambience of its predecessors — with delicate lace curtains, pastel paintings of European scenes and linen tablecloths — is gone. In exchange. there is a stark, contemporary feel: white walls; simple, yet elegant, hanging light fixtures; and modern pictures throughout. But while The Earle Uptown was often desolate, Mercy's was busy and lively on both our recent visits, perhaps because it's new — but also because the prices, while hardly inexpensive, are far more modest.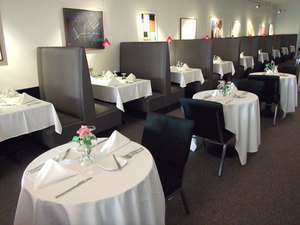 Erica Hobbs | AnnArbor.com
Mercy's is run by Steve and Mercy Kasle, who previously owned Kerrytown Bistro. Many of the dishes have a Burmese influence, drawn from Mercy's native country, and the menu has a distinct Asian-fusion focus. In addition to appetizers, there are various beef, seafood and meat dishes, with just a few catering to vegetarian diners.
Meals begin with a complimentary spread, either bean or lentil. The Asian-fusion approach worked well in the startlingly beautiful vegetarian spring rolls. Stacked in a visually appealing design, they tasted as good as they looked, stuffed with fresh cabbage, carrots, green onion, shiitake mushroom and rice hay, just lightly fried so they weren't too greasy.
The piahjaw, or fried pea patties, were inventive, though they looked and tasted very much like falafel, and were incredibly spicy. My favorite starter was the French onion soup, in a vegetarian version. Thick and hearty, with a thick layer of cheese, it didn't suffer from a lack of beef or chicken broth.
---
Mercy's Restaurant
Bell Tower Hotel
300 South Thayer
Ann Arbor
734-769-3010
Mercy's in AnnArbor.com restaurant guide
Hours: Tuesday and Thursday, 4:30 p.m.-9 p.m., bar open until 11 p.m.; Friday and Saturday, 4:30 p.m.-10 p.m., bar open until midnight. Hours will be expanding over the next few months. Check Mercy's web site for details.
Plastic: Visa, Mastercard, American Express, Discover. Liquor: Yes.
Prices: Moderate to expensive. Entrees, served a la carte, range from $12 for The Mercy Burger, to $34 for filet of tenderloin.
Value: Very Good.
Noise Level: On the loud side, when it's crowded.
Wheelchair access: Yes.
Smoking Section: No.
---
As for entrees, I enjoyed the ginger salmon wrapped in Swiss chard with a wonderful ginger-infused sauce, and the skate fish, a special, was heavenly. The lamb shanks, braised for six hours, were perfectly seasoned and fell gracefully off the bone. A citrus-ginger flavored sauce was a wonderful accent to the sea scallops, though the coconut sprinkled on the rice wasn't strong enough to lend it substantial flavor. The same goes for the Asian pesto noodles that accompanied the grilled prawns, which were entirely bland. The server recommended the canard de gastrique a l'orange, duck with an orange sauce, that sounded far more distinguished than it tasted. The pieces were extremely fatty.
To top off our meal, I really enjoyed the vanilla ice cream, which had an authentic vanilla-bean flavor. The sweet chocolate taste in the chocolate banana spring rolls didn't complement the crunchy shell, which more closely resembled the appetizer, not dessert. And the death by chocolate, gluten-free cake, was very dry. I longed to try the regular, non gluten-free brownie the next time, but they were sold out. Instead, we opted for the banana mango custard crepes, served cold. Serving them warm, to melt the banana, would have made this dish better. Our final dessert selection, crème brûlée, was a winner.
While servers fawned on us, and the owner stopped by to chat twice, Mercy's has some work to do in delivering its various courses in a timely manner. On our second visit in particular, we were there a full two hours before our entrees were served, and a total of three hours for the entire meal. While we didn't pursue the issue with our server because we were enjoying the company of our dining companions, it simply took too long for all our courses to arrive.
Valet parking is complimentary to guests, removing a big obstacle in this area.
Mercy's has a few kinks to work out to set itself apart as a fine dining establishment, but it's making an admirable attempt in this space, with decent food that's not priced exorbitantly high.
Julie Halpert reviews restaurants for AnnArbor.com.